There are a large number of vitamins, minerals, supplements and herbs to choose from at these different phases in a woman's life—all are important, but some are more important during pregnancy and some are more important, for example during menopause.
Women's Health, And The Importance Of Supplements
Just about every woman is concerned with their overall health and vitality. Women have additional concerns because a woman's nutritional needs can change over her lifetime. There are vitamins, minerals, supplements and herbs that are critical before a woman becomes pregnant and some that are critical before she enters menopause. Some supplements that a woman might consider are those that help support and balance the reproductive system, those for the heart, vascular system, immune system and mental functions.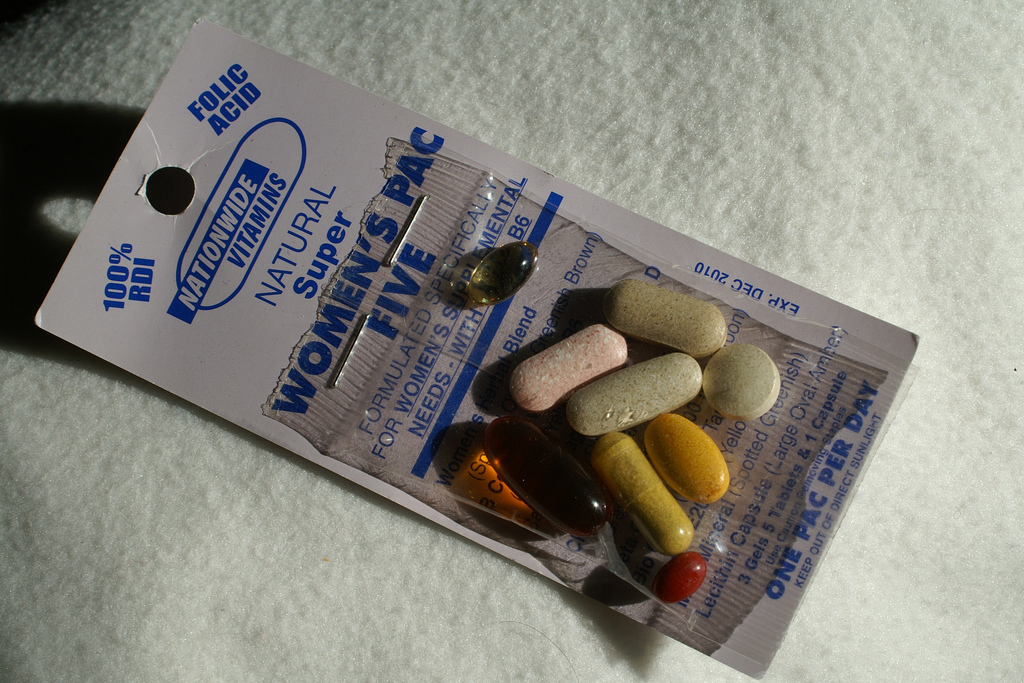 Some of the supplements are relatively specific for certain organ systems—
Vitamin D
and
calcium
, for example, are generally used to prevent osteoporosis and to maintain the immune system. Other supplements, like
black cohosh, trifolium
or
soy
may be used mainly for balancing the reproductive hormones and reducing the symptoms of menopause. Still others, like
fish oils
can be used throughout a woman's lifetime to maintain the blood vessels, mental sharpness and heart health. Other supplements that may be used to maintain mental alertness are the
B vitamins, phosphotidylserine and herbs such as Ginkgo biloba and Ginseng.
There are others, like
DHEA and melatonin
used for anti-aging properties, to maintain the adrenal glands or to help someone sleep. Minerals such as
boron, selenium, calcium, manganese and magnesium
may be useful for a variety of purposes, primarily to support bone health.
I have said it before—and will say it again: remember, all these supplements are just that—supplements. Nothing can replace a well-balanced, nutrient-filled diet and no pill can replace sleep. While I am a firm believer that these supplements, if used correctly, can make a huge difference in an individual's life, I'm also a firm believer in eating well, living well and taking the time to rest. My suggestion is always to work with a trusted health care professional to ensure you are taking the right supplements—but always remember that this is in addition to a good diet and exercise plan.
Vitamins and Women's Health
All vitamins are important, but some are tougher to obtain through food than others. Also, a stressful lifestyle can deplete certain vitamins, so it is important to make sure you have a good supplement. One thing to remember with Vitamins is that the % Daily Value you see on the label is designed for a 2000 calorie/day diet and is also designed to provide adequate vitamin and mineral levels for most people. I've never really met the "totally normal" person—meaning, everyone is different and everyone has different needs—your physician or other health care professional should take this into account when helping you determine those needs. For example, if you are at higher risk for breast cancer, you may want to increase the amount of
DIM
(derived from broccoli, cauliflower and brussel sprouts). If you have a chronic condition, you may benefit from one supplement or another. A glassful of soymilk may help one woman reduce hot flashes, but another woman may benefit more from herbs plus soy.
Again, speak to a trusted and knowledgeable healthcare professional to determine what is the right amount for you. As a general guideline— you can take too much of the fat soluble vitamins such as
Vitamins A,E,D and K
– you would have to take an awful lot, but there is the potential for taking toxic amounts. With the water-soluble vitamins—mainly the
B complex vitamins
, unless you have kidney problems, you have more flexibility. With minerals, there is some concern about taking too much, so, again, speak to a healthcare professional who has studied nutrition. If one is good, two is not necessarily better and you CAN get too much of a good thing!
Vitamin A, β-carotenes, Vitamin B Complex and Their Influence on Women's Health
Vitamin A and β-carotenes:
These are important anti-oxidants which may protect against cancer and cell damage. Vitamin A and β-carotenes are necessary for cell growth and repair, protect the heart and slow down the progression of osteoporosis. It is best to take most of this as β-carotenes, which converts into Vitamin A in your body.
Vitamin B complex:
There are a number of B-vitamins in B- complex. It's important to have all of them—but there are some single B-vitamins more important for mood or in high stress levels (e.g.
B1/ thiamine, and B5/pantothenic acid
) and other B vitamins very important for the heart, blood vessels and maintaining normal blood pressure (e.g.
B3/niacin, B6/pyridoxine, B12/cyanacobalamin, biotin and folic acid
) Other supplements that are related to the B-vitamins are
choline and inositol
, important in proper liver function. Folic acid, a B vitamin, is particularly important for women of child-bearing age because it a lack of folic acid can cause birth defects. You should take folic acid along with V
itamin B12. Vitamin B6
has been useful for treating some of the symptoms of PreMenstrual Syndrome (PMS)
2
Vitamin C, D and E and Their Influence on Women's Health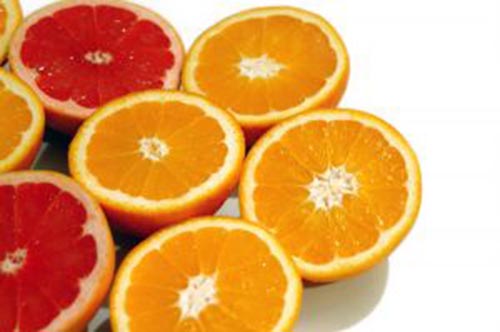 Vitamin C:
Most people know that Vitamin C is an anti-oxidant and helps the immune system. It is also useful in getting rid of heavy metals, reducing allergic symptoms, helping in wound healing, strengthening the blood vessels and maintaining healthy joints.
Vitamin D:
Vitamin D seems to be everyone's "new" favorite Vitamin—and it is a vitally important one for maintaining the immune system, maintaining healthy bones and joints
3
and it has been implicated in preventing diabetes, particularly Type 1 diabetes. Older women who take Vitamin D also appear to have less chance of rheumatoid arthritis.
4
While there is conflicting data (and there nearly always is) Vitamin D has also been correlated to a reduced risk of breast cancer.
5, 6
There is also some information that Vitamin D may reduce the symptoms of PMS.
7
Vitamin E:
Vitamin E—particularly the gamma (γ) form is an anti-oxidant and appears to be important in protecting against cancer. It can be used on the skin as well to increase wound healing and minimize scar formation. Vitamin E has been used to topically treat
vaginal dryness in menopausal and post-menopausal women
.
Minerals and Women's Health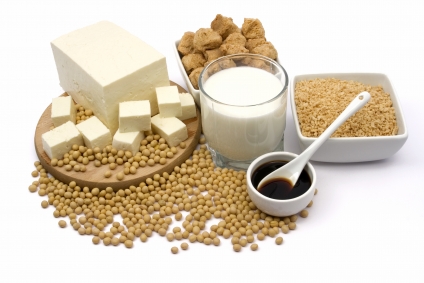 Vitamins can't do their work without minerals and the body can't survive without minerals. They are ALL important, but here are some of the most important for women.
Calcium:
This is a vitally important mineral in bone metabolism
8
and maintaining mood, reducing bloating and the discomfort of PMS.
9
It is best to take calcium supplements throughout a woman's life, but if you haven't, you can still benefit from extra calcium!
Iron:
Women lose red blood cells every period—and they need to ensure they have enough iron to maintain healthy red blood cells and avoid anemia. Generally, after menopause, women don't need to take extra iron.
Iodine:
Iodine is a central component of the thyroid hormones and the thyroid regulates metabolism. Thyroid disease is the reason iodine was put into all salt in the previous century. Iodine deficiency can result in thyroid disease. With so many people minimizing their salt intake, it is possible that the increase in thyroid disorders is due to a lack of iodine.
10
Magnesium:
Magnesium is critical for nearly every bodily system—and it is believed that many people are magnesium deficient—even with a good diet—because the soils in which our food grows is magnesium depleted.
11
Magnesium is important for your heart, nervous system, moods and respiratory system. Magnesium can help you sleep—this may be particularly important during menopause, when many women experience insomnia.
12
Read More: Nutritional Supplements: Men Vs. Women
Other Supplements and Hormones and their Influence on Women's Health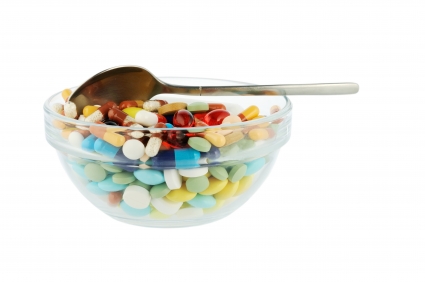 Coenzyme Q10
13
, or CoQ10 is found in every cell of our body, but particularly in heart muscle. It is an anti-oxidant and is particularly effective in protecting the heart and blood vessels. CoQ10 has been used with benefit in patients on the cholesterol-lowering statins, because statins reduce the body's stores of CoQ10.
14
Fish oil
is one of the standard supplements I nearly always recommend. Fish oils contain high amounts of omega 3 oils—these are anti-inflammatory substances. It is becoming clear that many diseases, including cancer, heart diseases, respiratory diseases, diabetes, high blood pressure and others, and many conditions such as pain, obesity, metabolic syndrome—all have inflammation as a major component.
15, 16, 17
Fish oil is a simple way to decrease the amount of inflammation in your body and has recently been shown to reduce the risk of stroke in women.
18
DIM
(Diindolemethane) is the active substance of those cruciferous vegetables—broccoli, brussel sprouts and cauliflower—you've been hearing about. DIM is thought to be effective in preventing breast cancer, and has been shown in animal models to shrink breast tumors.
19
Herbs for Women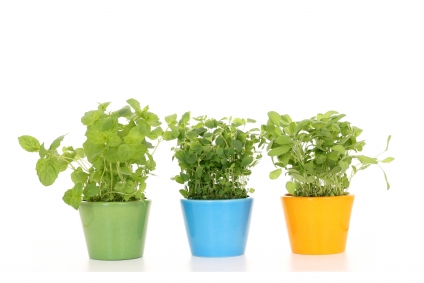 Many women return "to the earth" and use herbs to help balance some of the effects of the monthly menstrual cycle and the menopausal transition.
For mood,
chamomile, St Johns wort, gotu kola and kava kava
have benefits. Chamomile is easiest taken as a tea, while the others can be used in capsule form.
To maintain hormonal balance, there are many, many herbs. Some of my favorites are
soy, black cohosh, licorice, angelica, chaste tree, motherwort, dong quai and red clover
.
20
Different herbs may work better with one woman than another—there is no absolute "recipe". Most women find hot flashes decreasing if that have, for example, one bowl of cereal every day with about a cup of soy milk (that worked for me! After counting more than 30 hot flashes in one day, I started on soy…for me, within a week, the hot flashes were (mostly) gone!
For overall health and vitality
, ginseng, licorice
and
dandelion
are wonderful. Dandelion leaves are great for the kidney, while the roots help support the liver.
21
For the nausea and vomiting of pregnancy,
ginger
can't be beat!
22
Herbs have the potential to interact with medications and prescription drugs. Make sure you tell your health professional about all the supplements you are taking—and make sure they know where to look for herb-drug interactions!
Kim MK, Ahn SH, Lee-Kim. Relationship of serum alpha-tocopherol, carotenoids and retinol with the risk of breast cancer. Nutr Res 2001,21:797-809
De Souza MC, Walker AF, Robinson PA, Bolland K. A synergistic effect of a daily supplement for 1 month of 200 mg magnesium plus 50 mg vitamin B6 for the relief of anxiety-related premenstrual symptoms: a randomized, double-blind, crossover study. J Womens Health Gend Based Med 2000,9:131-9
Papadimitropoulos E, Wells G, Shea B, et al. Meta-analyses of therapies for postmenopausal osteoporosis. VIII: Meta-analysis of the efficacy of vitamin D treatment in preventing osteoporosis in postmenopausal women. Endocr Rev 2002,23:560-9
Merlino LA, Curtis J, Mikuls TR, et al. Vitamin D intake is inversely associated with rheumatoid arthritis. Arthritis Rheum 2004,50:72-7
Chlebowski RT, Johnson KC, Kooperberg C, et al. Calcium plus vitamin D supplementation and the risk of breast cancer. J Natl Cancer Inst 2007,100:1581-91
Garland CF, Gorham ED, Mohr SB, et al. Vitamin D and prevention of breast cancer: httppooled analysis. J Steroid Biochem Mol Biol 2007,103:708-11
Khajehei M, Abdali K, Parsanezhad ME, Tabatabaee HR. Effect of treatment with dydrogesterone or calcium plus vitamin D on the severity of premenstrual syndrome. Int J Gynaecol Obstet 2009,105:158-61
McGarry KA, Kiel DP. Postmenopausal osteoporosis. Strategies for preventing bone loss, avoiding fracture. Postgrad Med 2000,108:79-82,85-88, 91
Thys-Jacobs S, Ceccarelli S, Bierman A, et al. Calcium supplementation in premenstrual syndrome: a randomized crossover trial. J Gen Intern Med 1989,4:183-9
http://www.thyroid-info.com/articles/ray-peat.htm
http://lpi.oregonstate.edu/infocenter/minerals/magnesium/index.html
Hornyak M, Voderholzer U, Hohagen F, et al. Magnesium therapy for periodic leg movements-related insomnia and restless legs syndrome: an open pilot study. Sleep 1998,21:501-5
Young AJ , Coenzyme Q10: a review of its promise as a neuroprotectant. - CNS Spectr - 01-JAN-2007, 12(1): 62-8
Marcoff L, The role of coenzyme Q10 in statin-associated myopathy: httpa systematic review. - J Am Coll Cardiol - 12-JUN-2007, 49(23): 2231-7
Jones D, Functional medicine: httptheory, education, and practice. - Explore (NY) - 01-MAY-2009, 5(3): 177-9
Ferguson LR, Chronic inflammation and mutagenesis. Mutat Res - 7-AUG-2010, 690(1-2): 3-11
Gonda TA, Chronic inflammation, the tumor microenvironment and carcinogenesis. - Cell Cycle - 1-JUL-2009, 8(13): 2005-13
Larsson SC, Virtamo J, Wolk A. Fish consumption and risk of stroke in Swedish women. Am J Clin Nutr. 2010 Dec 29
Chen I, McDougal A, Wang F, Safe S. Aryl hydrocarbon receptor-mediated antiestrogenic and antitumorigenic activity of diindolylmethane. Carcinogenesis 1998 Sep,19:1631-9
http://www.blessedmaineherbs.com/womensherbs.html
Hussain Z, Waheed A, Qureshi RA, et al. The effect of medicinal plants of Islamabad and Murree region of Pakistan on insulin secretion from INS-1 cells. Phytother Res 2004,18:73-7
Chittumma P, Kaewkiattikun K, Wiriyasiriwach B. Comparison of the effectiveness of ginger and vitamin B6 for treatment of nausea and vomiting in early pregnancy: a randomized double-blind controlled trial. J Med Assoc Thai 2007,90:15-20
Photo courtesy of Lukas Mathis by Flickr : www.flickr.com/photos/l_k_m/2689747040/