Afraid of Interferon Side Effects?
Claude went through a one-year interferon treatment after being diagnosed with Stage II Malignant Melanoma. He is committed to helping others through this tough treatment, and created a collection of the most useful links about interferons together with the SteadyHealth team. Over the course of his treatment, Claude interviewed many patients. Read their stories and find out what it's really like to be on interferon.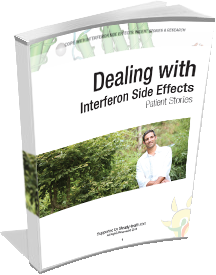 What's Inside
Dozen patients who were on interferon with different conditions share their real-life experiences
Interferon facts your doctor didn't share
A bonus interferon fact sheet — all important data on a single page
All the research — already done for you!
Possible alternative to interferon for your condition
Updates and news about interferon in your inbox
Become a part of the SteadyHealth community to talk about interferon and the conditions it treats
Tell us your story on interferon and get a free copy of the book
By sharing your story you can help other people who are currently on or going through any therapy with Interferon. Click on the button below to contact me for an interview. Share Your story with the world.
Contact us