Surviving SuboxoneTreatment & Withdrawals
SteadyHealth.com conducted a survey about Suboxone use and withdrawal with more than 1000 participants, who provided us with valuable personal experiences about Suboxone treatment and side effects. Ultimate goal was helping patients who are currently going through Suboxone/Subutex treatment or who are about to start the treatment. Their answers and experiences helped us to complete this book.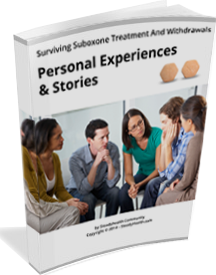 What's Inside
Dozen patients who were on interferon with different conditions share their real-life experiences
Interferon facts your doctor didn't share
A bonus interferon fact sheet — all important data on a single page
All the research — already done for you!
Possible alternative to interferon for your condition
Updates and news about interferon in your inbox
Become a part of the SteadyHealth community to talk about interferon and the conditions it treats

Tell us your story on interferon and get a free copy of the book
By sharing your story you can help other people who are currently going through treatment with Suboxone/Subutex. Click on the button below to schedule an interview. Share Your story with the world.
Contact us