A recent study, published in the September 6, 2011 issue of the "Canadian Medical Association Journal", has found that gestational exposure to any type or dosage of Non-aspirin NSAIDs is linked to miscarriage.
Non- Steroidal Anti- Inflammatory Drugs (NSAIDs) Linked to Miscarriage
Non-aspirin NSAIDs like ibuprofen and naproxen, are one of the most commonly used drugs during pregnancy with reports suggesting that almost 17% of all pregnant women pop these medicines some time or the other during their pregnancy. These NSAIDs may be acquired either through prescription or over the counter.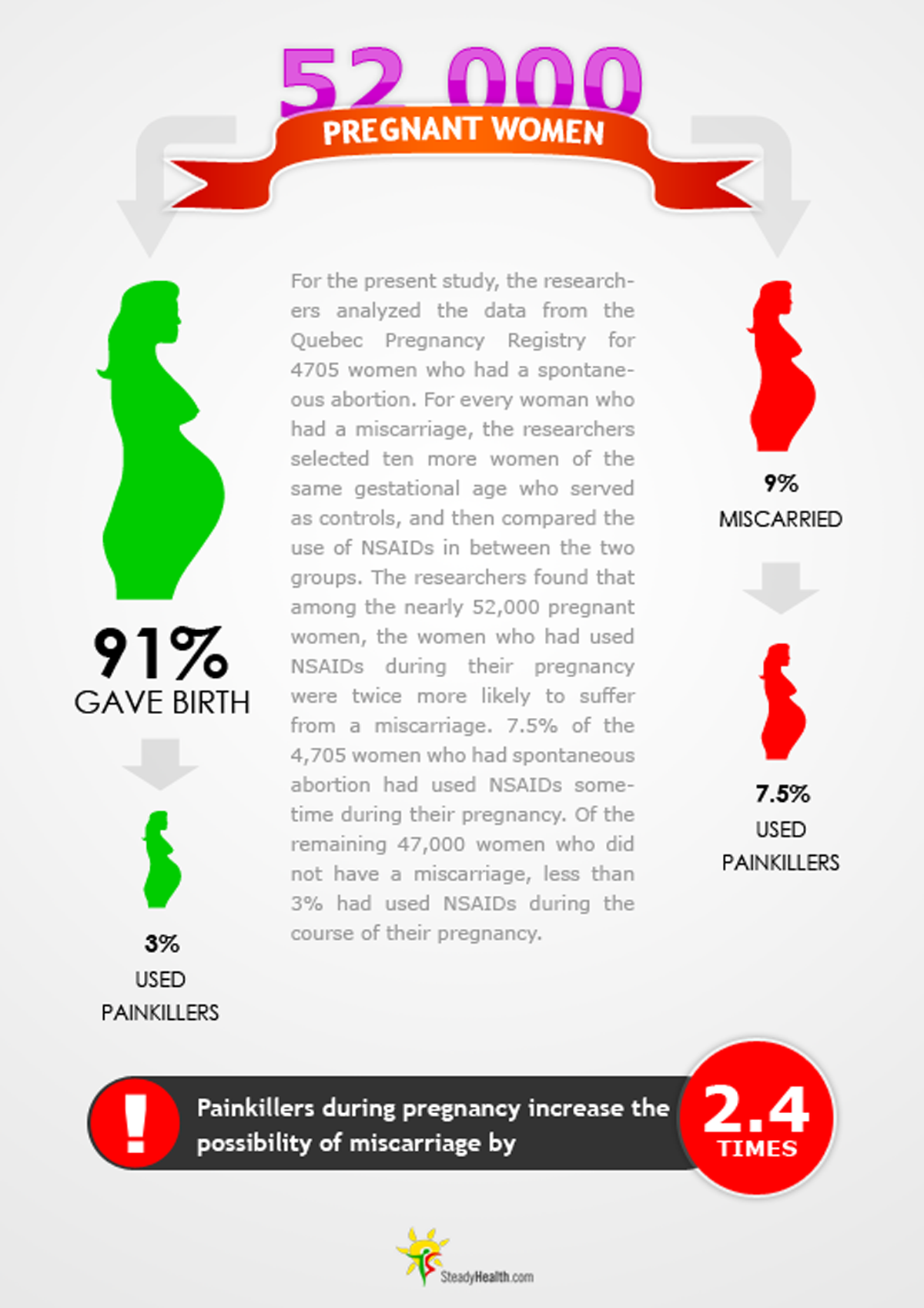 For the present study, the researchers analyzed the data from the Quebec Pregnancy Registry for 4705 women who had a spontaneous abortion. For every woman who had a miscarriage, the researchers selected ten more women of the same gestational age who served as controls, and then compared the use of NSAIDs in between the two groups. The researchers found that among the nearly 52,000 pregnant women, the women who had used NSAIDs during their pregnancy were twice more likely to suffer from a miscarriage. 7.5% of the 4,705 women who had spontaneous abortion had used NSAIDs sometime during their pregnancy. Of the remaining 47,000 women who did not have a miscarriage, less than 3% had used NSAIDs during the course of their pregnancy.
The
researchers concluded that use of NSAIDs during pregnancy increases the likelihood of miscarriage by 2.4 times
. According to Dr. Anick Berard, a senior researcher in the study, although the study could not directly prove the role of NSAIDs in causing miscarriage, it could very well be a result of some pharmacological effect of these drugs.
NSAIDs may Alter the Normal Prostaglandin Changes in Pregnancy, Resulting in Miscarriage
Though the exact reason behind the association of NSAIDs with miscarriage is not known, it has been postulated that they may
alter the normal prostaglandin changes in pregnancy
, resulting in miscarriage. Levels of prostaglandin in the blood change during the course of pregnancy.
NSAIDs are known to interfere with the normal production of prostaglandins
. This may result in miscarriage.
The researchers in the study found that the association of NSAIDs with miscarriage persisted even after other clinical conditions in the pregnant women, like rheumatoid arthritis and lupus, were taken into account. Therefore,
NSAIDs definitely play a role in spontaneous abortion
. This is all the more true, when these medicines are consumed in the early part of pregnancy.
Women, who use NSAIDs for short term pain relief like headache, are advised to
stay clear of Non-aspirin NSAIDs
during pregnancy. They can opt for
medicines like acetaminophen, which are considered to be safe in pregnancy
.
Those women, who use these medicines for
chronic conditions like rheumatoid arthritis and lupus
, can consult their physicians, about
switching to some alternate medicine or stopping these medicines completely, during their pregnancy.
This option is feasible as most of the chronic conditions go into a phase of remission during pregnancy. Similarly,
women planning for a baby, are also advised to avoid these medicines
, as in 15% cases, they may suffer from a spontaneous abortion even before they know they were pregnant. Till the time, the exact mechanism of action of NSAIDs in pregnancy is studied, it is better to err on the side of caution.
"Use of nonaspirin nonsteroidal anti-inflammatory drugs during pregnancy and the risk of spontaneous abortion", by Hamid Reza Nakhai Pour, Anick Berard et al, Canadian Medical Association Journal, published on September 6, 2011, accessed on September 14, 2011
"Common painkillers tied to miscarriage risk", by Amy Norton, Reuters, published on September 6, 2011, accessed on September 14, 2011