"A trip to the ER" is definitely not going to be on anyone's X-mas wish list — but plenty end up getting so carried away by the holiday spirit that they end up with this unwanted gift. Don't be one of them.
It's holiday season. Everyone is getting ready to celebrate, decorate, and loosen up a bit — and you, too, may be looking forward to ditching work, enjoying (quite) a few drinks, and spending some quality time with your loved ones.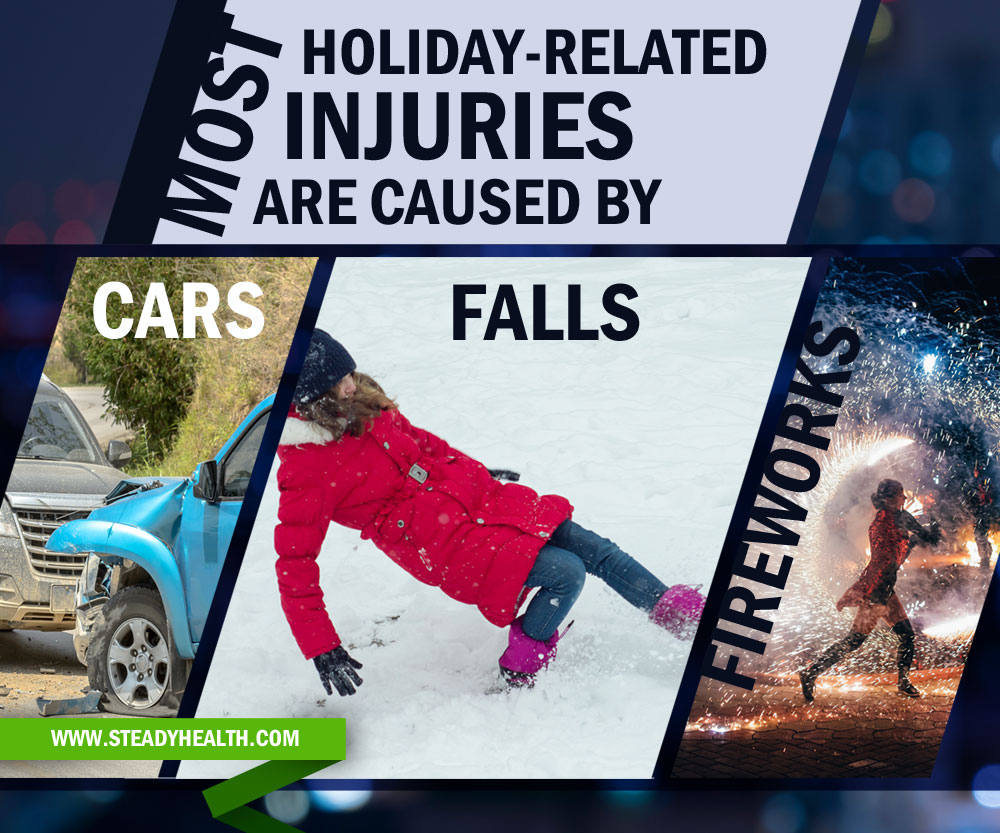 And that is perfectly fine – to some extent. If you ask doctors and nurses who have had some experience working in ERs during holidays, myself included, they would tell you this story from a slightly different angle. For healthcare workers, the holiday season is one of drunk drivers, car crash injuries, child falls, domestic violence, and other injuries gained in the weirdest possible ways you can imagine (and some you can't).
What are the most common injuries during holiday season? Let's take a look, so you you can welcome the New Year in one piece. 
1. Traffic accidents 
Traffic accidents are very common during the holiday season. Icy roads pose a particularly difficult threat for drivers in the Northern hemisphere, but that's no excuse in Australia, New Zealand and other countries that enjoy nice warm weather during the Christmas and New Year holidays. 
According to the National Highway Traffic Safety Administration's (NHTSA), from 2012 to 2016, 14472 people died in car crashes occurring in December, and nearly one third of them tragically perished in circumstances that featured one or more drunk people.
Furthermore, for these five years, during the period between Christmas and the New Year, 300 people lost their lives in traffic accidents involving drunk drivers. A study conducted in New Zealand reports that the "Christmas road toll" definitely exists in the southern hemisphere, and it hasn't decreased over the years.
2. Fall-related injuries 
Falls are more common than you can imagine. People fall while decorating the Christmas tree or the house, they get cuts while preparing decorations, and get electrocuted while installing Christmas lights. 
According to one CDC report, men sustained fall-related injuries much more often than women (58 percent vs 42 percent). People aged 20 to 49 are most likely to get hurt this way, and the overall rate of fall-related injuries has been estimated at 8.1 per 100,000 people. 
In these injuries, the arms and legs are most commonly affected (46 percent of cases). Pediatric injuries also go up during holiday season. Young children usually get injured in falls or incidents with holiday ornaments, such as ingestion or skin cuts.
3. Fireworks
Fireworks are very popular and one can hardly imagine Christmas and New Year's holidays without them. But are they safe? A study conducted with the help of National Electronic Injury Surveillance System (NEISS), developed by the Consumer Product Safety Commission (CPSC), estimated that there were nearly 100,000 firework-related injuries in the period from 2000 to 2010. The highest rate of injuries was among children 10 to 19 years old. 
Christmas Eve is quiet, but New Year's Eve is chaotic
Apparently, people are less likely to make a mess on Christmas Eve than on New Year's Eve. A recent study compared the visits to an ER department on the holidays (Christmas Eve and New Year's Eve) and on a normal Saturday. They reported 20 percent fewer ER visits on Christmas Eve, but 12 percent more ER trips on New Year's Eve. Of that, injuries also occurred 55 percent less frequently on Christmas Eve than on a normal Saturday. On the other hand, New Year's Eve looked horrific, with a truly shocking 143 percent increase in injuries compared to a normal Saturday!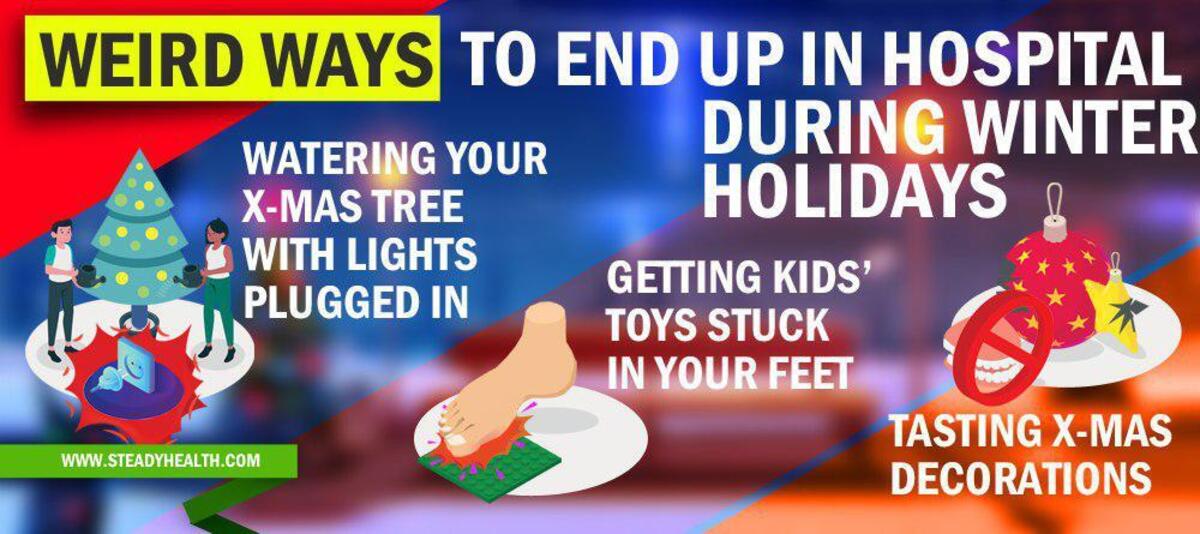 Weirdest injuries during holiday season
Watering the Christmas tree while the light bulbs are working is definitely not a good idea, but some people got electrocuted that way.
When children spread their toys all over the place, you never think that it could lead you to the ER. Actually, a lot of people show up at the ER during the Christmas holidays with plastic toys stuck in their feet.
Christmas decorations are shiny and colorful, and they even look delicious. Well, some people decide to actually taste them. You know what happens then, since the ornaments are usually made of plastic or glass, and rarely of chocolate.
As a Christmas gift, Santa will probably bring you some clothes. Be sure to remove the tags, and more importantly – the pins. You would be surprised how many people get injured during the holidays from these sharp pins hiding out in new clothes.
How to avoid the ER this holiday season
ERs are understaffed during the holiday season, while the number of patients flooding emergency rooms skyrockets. It doesn't take much mental power to work out that that's a really bad combo, so take  these simple tips on board to protect yourself and your children and stay out of the ER:
If you are about to drive – don't drink alcohol. Have in mind that you need increased awareness even if you're being a good boy or girl and stay sober, because, according to statistics, you'll probably share the road with someone who has been drinking, and you will need quick reflexes if you meet them. For the same reason, as a pedestrian, you should pay attention to potential drunk drivers.
While decorating your tree, please put all the decorations out first, then step away, and finally turn on the fairy lights. And obviously, don't water your Christmas tree while the lights are on.
Remember that injuries aren't the only path to the doctor's office or ER this holiday season. Be aware of leftover safety to avoid food poisoning, too.
To prevent falls, use secure ladders while decorating. Preferably have someone hold it firmly while you are placing your favorite tree topper.
Children love to participate in decorations. Let them help, but keep an eye on them, especially if they try to climb to reach stuff, because that is the most common cause of fall-related injuries in children.
Photos courtesy of SteadyHealth