Feeling warm and fuzzy? It may not just be the holiday spirit. Because a livable Earth should take a prime spot on your X-mas wish list, here's what last-minute sustainable steps you can take toward a smaller carbon footprint, even this late in the game.
The winter holidays come but once a year — and many people definitely make "the more, the merrier" their personal mantras during this season. 
In 2019, the average American is expected to spend $942 for Christmas and the New Year, up from the last festive season. Some people will have been saving up the whole year, all because celebrating together, getting stuffed, and sharing gifts shows the most important people in our lives that we care. 
But what happens to all those Christmas trees, decadent decorations, one-off holiday outfits, heaps of extravagant foods, fireworks, and that cornucopia of gifts once it's all over? How do those flights home and long-distance drives affect the environment?
In a world that's starting to feel the effects of climate change, a business-as-usual approach to celebration is quickly becoming less "winter wonderland" and more "intro to Mad Max". Did you know?
The holiday-food bonanza your average Christmas-celebrating person enjoys produces a "chubby" extra 26 kilograms of CO2. Food for thought, no?
Extra holiday-related car use easily fuels your carbon footprint to the tune of 96 kilos of CO2 — yes, per person. 
Want to brighten the world with fancy fairy lights? Perhaps that burning desire is misplaced. The extra electricity we use around Christmas time can send an additional 500 kilos of CO2 per household into the atmosphere. 
The holiday gifts you wanted to warm your loved ones' hearts with should go on the naughty list, too — their production and transport come at a heavy price of about 310 kilos of CO2 per gift-giving person. Shockingly, holiday gift-giving actually makes up a whopping 20 percent of many folks' total annual carbon footprints.
Thankfully, 'tis not just the season of abundance, but also prime time for reflection and new beginnings. That makes right now the perfect moment to wrap our wasteful lifestyle up and commit to a more environmentally-friendly lifestyle that will help keep the Earth — and therewith also you and everyone you care about — healthy. Even now, it's not too late to take last-minute steps to downsize your carbon footprint. Here's what you can put on your wish list right now.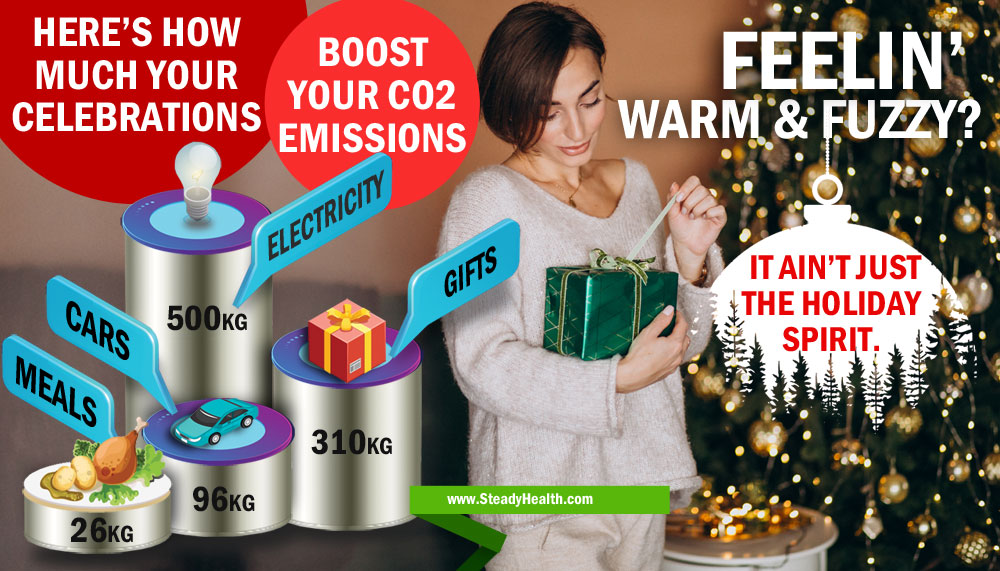 Holiday decorations? If you've got it, flaunt it — just don't get more
That treasure trove of holiday decorations might help you embrace the Christmas spirit, but environmentally, those Christmas trees, glittery plastic decorations, and Chinese-produced Santa hats that have to travel halfway across the world to reach you are snow joke. This year, don't get your tinsel in a tangle chasing after fresh new decorations. Reuse what you've already got, and keep doing that. 
That doesn't just apply to decorations for your home and yard, either! Those dazzling holiday outfits so often go join the world of WALL-E after we're done with them — so choose classic pieces you can reuse instead:
Research by @oxfamg found 1.7 million items of sequined clothing will end up in UK landfill after Christmas and most items are made from #plastic and won't biodegrade. #singleuse #plasticfree #GreenChristmashttps://t.co/XZVbQn6ZtS

— Plastic Free Central (@PlasticFreecent) December 17, 2019
Don't be full of it: Cut down on your food waste this holiday season
In the US, around a third of all food goes to waste — and consumers are most definitely big offenders, especially during the holiday period. This year, don't give Mother Earth indigestion. Try your hardest to avoid buying more than you need, and if you do end up with a bumper crop, take leftover safety seriously so you can eat it sans food poisoning. 
Because meat tends to have a much larger carbon footprint than vegetables, environmentally-conscious carnivores could also consider a vegetarian holiday. Going veg can save you and your family around three kilos worth of CO2 per person — and choosing organic is even better.
All I want for Christmas is you: While you're shopping for gifts, think of the Earth, too
Presents strengthen our bonds and reaffirm how much we care, so they really do matter. But for greener holidays, remember that life is the biggest gift of them all. You can make your friends and relatives feel loved while sending some good vibes the Earth's way, too. Try:
Skipping the Christmas cards and sending e-cards instead. 
Gifting experiences that don't leave much of a carbon footprint — online courses, games, or e-magazine subscriptions, for instance. (Watch it, though. So-called "experience gifts" don't do anything for the environment if they involve round-world trips or car-racing lessons.)
Gifting sustainable physical gifts, like home-made wool sweaters, a subscription to a local organic-vegetable delivery service, reusable straws, or a bicycle could actively help your loved ones cut their carbon footprint. 
Good things come in sustainable packages — or no packages at all. Why not consider wrapping smaller gifts in nice reusable shopping bags, presenting your offerings in gift bags that your recipient can later make someone else happy with, or actually not wrapping your gift at all? Be sure to recycle the packaging you end up with, too.
Fireworks have an explosive environmental impact: Skip them
Fireworks are bad news — for the environment, for human and pet health, and often for the mental health of people with PTSD during the holidays. This New Year, don't participate. Our holiday traditions impact our air quality in other ways, too, so keep firewood burning to a minimum and try to leave your car at home.
Don't abuse your power: How to save electricity
The power is in your hands — and simply saying no to opulent outdoor holiday lighting as well as being careful about your indoor electricity use is the greenest choice. If you really don't want to go that route, LED lights are much less harmful than conventional bulbs and can cut your carbon footprint. If you're making New Year's resolutions, this is also an excellent time to shop around for a cleaner electricity provider, so you can cut your emissions all year round. 
A final word
It's not just you, and it's not just the holidays — we, as a society, generate needless waste all year round. Often without giving it so much as a second thought. It's a problem even in medical and research settings, Dr Andrea Conroy points out:
I'm constantly appalled at the amount of waste generated in labs. The endless boxes and plastic from shipments, the carbon footprint of shipping goods around the world, and piles of contaminated plastic that is discarded. pic.twitter.com/Uz0bDozcfy

— Dr. Andrea Conroy
If you haven't been the most ecologically aware person around so far, you're very much not alone. There's no point in feeling guilty, but there's plenty of reason to improve our lifestyles going forward. A greener Earth starts with all of us, and as we usher in the New Year, we can all start thinking about the positive changes we are able to make. Increased environmental consciousness can become a New Year's resolution you commit to never skipping out on. 
Photo courtesy of SteadyHealth.
  https://www.sciencedirect.com/science/article/abs/pii/S1352231013006870