Patients diagnosed with fibromyalgia will usually have depression as well. Although many anti-depressants are on the market to treat these symptoms, they have a number of side effects that can be difficult to manage. Could St. John's wort be an option?
When diagnosed with fibromyalgia, patients will often experience some type of depression to go along with their search for fibromyalgia pain relief and their decreased pain tolerance [1]. In most cases, this is not a severe form of depression where patients are at risk for committing suicide, but instead, a medical condition referred to as a dysthymic disorder. Dysthymic disorder is mild to moderate type of depression associated
with sleep disturbances,
problems with concentration, 
and persists for more than two years [2].
Unfortunately, even with this milder form of depression, physicians will almost always prescribe some type of anti-depressant medication [3]. Although this is "gold-standard" of therapy for dysthymia, patients risk some dangerous side effects that could come from taking antidepressants for an extended period of time [4]. Many fibromyalgia patients turn to supplements for their fibromyalgia instead. When considering depression specifically, St. John's wort is a common name that comes up repeatedly. Is it a good idea to use St. John's wort for fibromyalgia depression, however?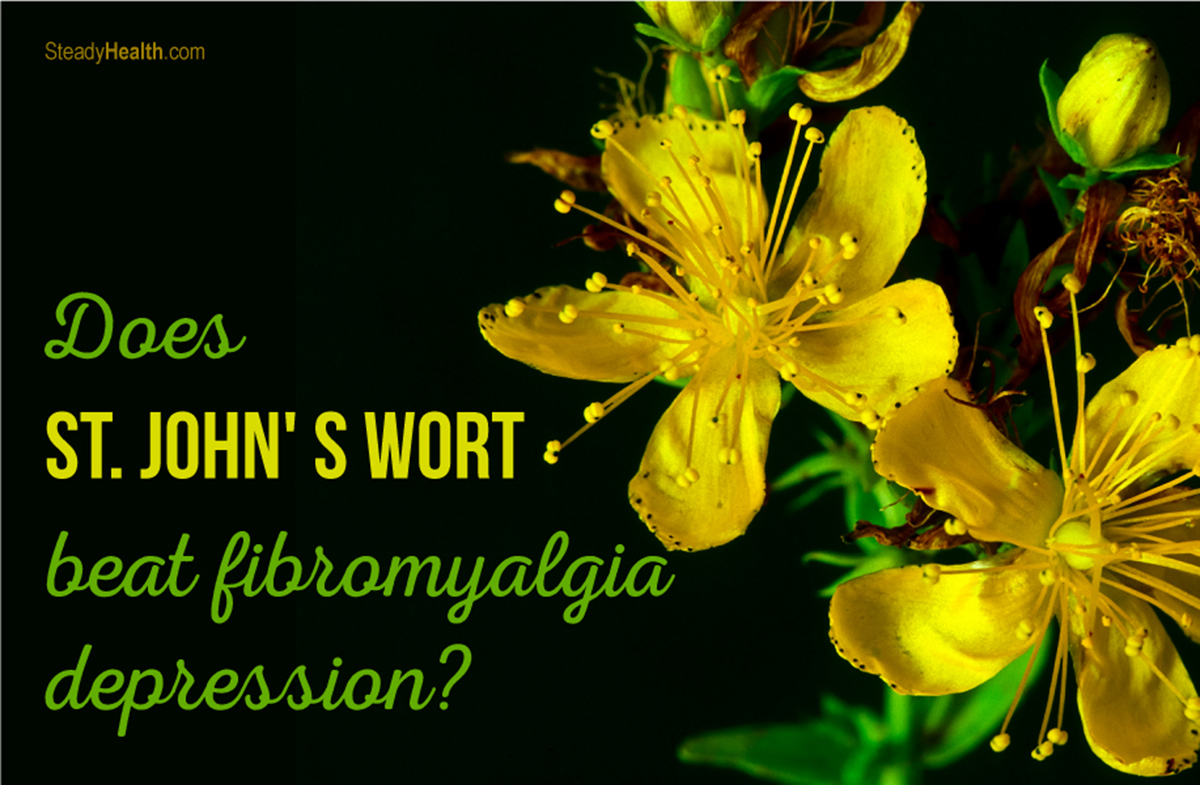 The Advantages of Using St. John's wort for Fibromyalgia Depression 
St. John's wort has received a lot of scrutiny over centuries. It was first used as a medicinal herb for a number of medical ailments dating as far back as ancient Greece. In modern medicine, it is favorable as an alternative therapy for depression, anxiety, and minor wounds. 
Its extract is a component of some medications that are currently available, so it is evident that St. John's wort is not some "witchcraft" medicine that probably doesn't work [
5
].  
St. John's wort was put to the ultimate test to determine if it would be a good supplement for fibromyalgia. In one particular investigation, over 2,000 patients suffering from mild to moderate depression were treated with either St. John's wort, a standard antidepressant medication or a placebo to determine which was more effective at treating the depression. Investigators hoped to determine if St. John's wort was as effective as the standard antidepressant and if the side effect panel was less severe for St. John's wort compared to the standard antidepressant therapy. 
At the conclusion, it was apparent that St. John's wort made a significant difference in patients compared to a placebo (up to 4 times more efficient at relieving symptoms). It was also found to have a similar response in patients compared to those taking standard therapy — antidepressant medications. 
When considering potential side effects, patients on standard antidepressant therapy reported side effects in 45 percent of cases compared to just 26 percent of those treated with St. John's wort. 
Based on this study, it seems that St. John's wort for fibromyalgia depression should be the "gold-standard" of therapy because it works better and has fewer side effects than antidepressants. So, why isn't it? [6]
The Disadvantages of Using St. John's wort for Fibromyalgia Depression 
One of the few red flags that pop up every time a physician is considering St. John's wort for fibromyalgia depression is the potential interactions that St. John's wort has with other medications. Doctors are wary of recommending this St. John wort on a more grand scale because this supplement for fibromyalgia reacts with many other medications and can leave patients at risk for dangerous complications [7]. Unfortunately, when patients are already taking some medications to treat the plethora of symptoms associated with fibromyalgia, it becomes risky for patients also to consider St. John's wort. 
It is believed that St. John's wort influences the CYP 4A3 receptor in the liver, one of the three primary receptor sites that lead to medications either being digested quicker or not at all. St. John's wort is an inducer, meaning that it causes medications to metabolize faster and this can be dangerous when you consider other drugs that are metabolized by this receptor. Some of the more common drugs include oral contraceptives, Cyclosporine, and indinavir. 
If a woman still on her periods develops fibromyalgia, taking St. John's wort would alter the protective effects of oral contraceptive therapy and could potentially lead to pregnancy. [8] 
When considering other side effects for St. John's wort, research studies indicate that this is a very promising medication. In a systemic review study, over 33,000 patients taking St. John's wort were analyzed compared to controls and other standard therapies for depression looking for adverse side effects. During the investigation, it was found that St. John's wort was tolerated as well as the placebos in the patient groups. Considering placebos have no active medical components and are primarily just "sugar pills," this is a promising sign. Studies also show that dropout rates in the investigation were much lower in patients taking St. John's wort compared to antidepressant medication and selective serotonin reuptake inhibitors (SSRIs; the current treatment option for major depression.) 
If more research is done to determine the exact interactions between St. John's wort and other medications, it will become clearer in what situations we can not only prescribe St. John's wort as an antidepressant supplement for fibromyalgia, but also some of the other ailments that plague modern society. 
Photo courtesy of SteadyHealth.com