Have you ever wondered why most smokers do not get lung cancer, and some non-smokers do? Or why some people get a cancer diagnosis and live for years and years, and others get a diagnosis of the same kind of cancer and die right away?
Five Simple Ways to Fight Cancer with Diet
Cancer is a complicated condition that defies sweeping generalizations and easy answers. But for many, people, the best way to fight cancer may be with the body's own genes. Here are simple five dietary interventions that help fight cancer with the explanations of how they activate cancer-fighting genes.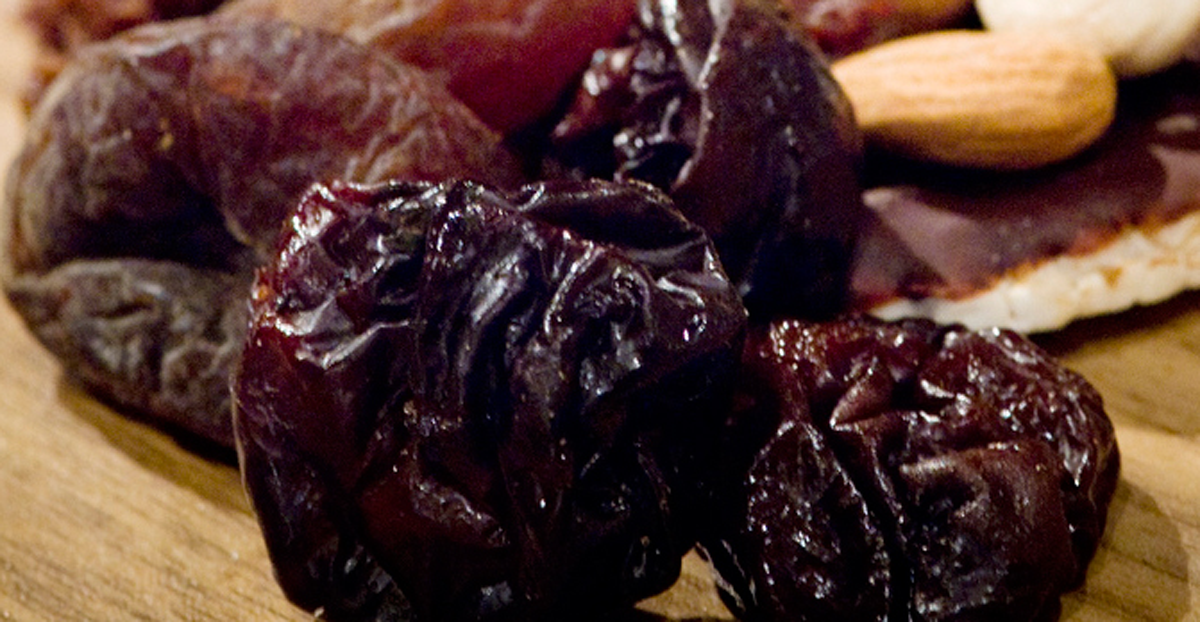 1. Fight the effects of diet on colon cancer with dried fruit
We have all heard how eating more fruits and vegetables lowers the risk of colon cancer. But what can you do if for the last 20 or 30 or 40 or more years of your life you have been eating mostly burgers and fries?
One answer is to eat more dried fruit, especially
dried, pitted prunes
. Prunes (dried plums) are rich in salicylic acid, a chemical compound related to Aspirin. Salicylic acid stimulates the gene GpX2, which codes the proteins for making the enzymes that are needed for the body's production of glutathione, an important cancer-fighting antioxidant in the colon.
2. If there is breast cancer in your family, consider becoming a curry fan
For many years, epidemiologists were puzzled by low rates of breast cancer in India, Pakistan, certain parts of Africa, and the island of Trinidad. They were unable to find a common connection. Then a researcher realized that
curries, made with turmeric,
the spice that is 2-3% curcumin, were popular in all these countries.
Curcumin
activates the p53 gene, which codes dozens of proteins that tell breast cancer cells to "switch off." Curries have to be consumed on a regular basis, since the products of the p53 gene are constantly being used in various cell regulatory processes.
3. White bread, at least in the United States, may not be as bad for you as the nutritionists say
Some of the genes that stop the initiation of leukemia, neuroblastoma, and cancers of the colon, rectum, breast, prostate, cervix, esophagus, and stomach are activated by folate, the in-the-body form of the B vitamin folic acid. Almost all white flour in the USA is fortified with folic acid. Ironically,
white bread and breakfast cereal consumption can reduce the risk of cancer
.
However, once cancers have formed, the same folic acid sometimes stimulates tumor growth—since it is just as essential to cancer cells as it to normal cells.
4. An antioxidant in green tea may activate a cancer-fighting gene known as p16
Certain kinds of cancer have an "off switch" controlled by the cancer-fighting gene p16. A compound called (−)-epigallocatechin-3-gallate or EGCG activates this gene to fight cancers of the breast and prostate as well as lymphoma and leukemia. You can't really get enough of this compound to fight active cancer by drinking green tea. However, the Mayo Clinic has found that some lymphoma patients go into remission after taking 2,000 to 4,000 mg of EGCG supplements daily. Use green tea supplements to fight cancer only with your doctor's supervision.
5. Avoid charcoal broiled red meat to reduce your risk of colon cancer
Scientists have long known that people who eat broiled or grilled meats with a
dark brown exterior
have a greater risk of colon cancer. Scientists at the Norris Comprehensive Cancer Center at the University of Southern California only recently learned that the reason for this is that the charred proteins in the meat activate a series of genes in the liver that in turn change harmless chemicals into cancer-causing chemicals. Charcoal grilled beef increases risk of colon cancer, but charcoal grilled chicken increases risk of rectal cancer.
And the food that seems to prevent some cases of lung cancer?
Cabbage-family vegetables, especially watercress
. These vegetables contain indole-3-carbinol, which turns off the human telomerase (hTERT) gene that keeps lung cancer cells perpetually young. Not everyone's digestive tract processes these vegetables the same way, however, so in about 10% of smokers they are completely protective against cancer and in about 10% of smokers they do no good at all.
Wang J, Joshi AD, Corral R, Siegmund KD, Marchand LL, Martinez ME, Haile RW, Ahnen DJ, Sandler RS, Lance P, Stern MC. Carcinogen metabolism genes, red meat and poultry intake, and colorectal cancer risk. Int J Cancer. 2011 May 26. doi: 10.1002/ijc.26199. [Epub ahead of print]
Photo courtesy of guillaumebrialon on Flickr: www.flickr.com/photos/guillaumebrialon/3290749817/