Pain is the main symptom of endometriosis, but it doesn't just confine itself to your period — sex, too, can be painful. What steps can you take toward enjoying the sex you deserve?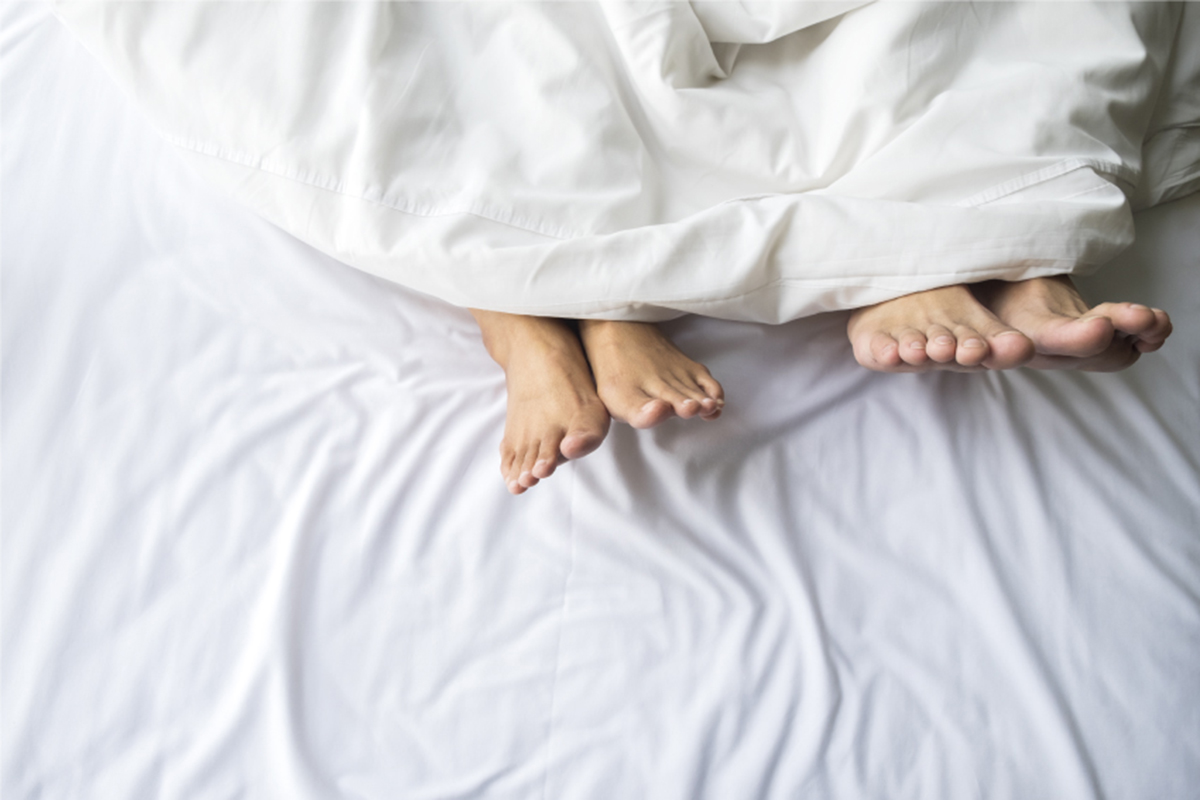 The endometrium, or uterine lining, plays an important role in the menstrual cycle and fertility. In women with endometriosis, this tissue doesn't stick to its "designated area" and proliferates in all sorts of other places — the ovaries, bladder, fallopian tubes, and abdominal wall can all be affected. 
Endometriosis can lead to painful, hellish, heavy, and long periods — but its symptoms certainly don't neatly confine themselves to "that time of the month". Pain during sex, also called dyspareunia, is another common symptom. This is because intercourse can "disturb" the endometrial lesions scattered throughout your reproductive system. 
Just avoiding intercourse is one way to deal with this particular symptom. What can you do if you're just not ready to say goodbye to sex, though?
Take a strategic look at your menstrual cycle
The extrauterine endometrial lesions that cause your dyspareunia change throughout the menstrual cycle. Endometriosis patients often report that sex is most painful during menstruation and around the time of ovulation, which makes sense if you look at the hormonal picture. Try tracking your cycle and seeing if this holds true for you, too. If you find you can have painless sex right after your period is done and in the days following ovulation, keeping a "cycle journal" will be able to help you identify the best days. 
Experiment with positions
Sexual positions that allow for deep penetration while the uterus is tilted at a certain angle — like the missionary position, especially if your legs are also in the air — tend to cause most pain. The most comfortable positions will vary from woman to woman, but those that allow you some control over the depth of penetration will generally be best for you. Get that Kama Sutra out and experiment with your partner until you find positions that work well for you. 
Go easy
This is as much a note to partners of women with endometriosis as to patients themselves — getting carried away with passion can inadventently lead to hitting all the wrong spots. To reduce and hopefully eliminate pain, communicate with your partner during sex (as well as before and after) and make sure the depth of penetration and rhythm cause pleasure, not pain. 
Enlist the help of your friendly neighborhood lube
Vaginal dryness only serves to exacerbate pain during sex, so lube up. A water or silicone based lubricant can help you reduce unwanted friction without harming any condoms you may be using. Feel free to use quite a bit, and to add more as needed. 
Use a painkiller
It's really unfair that anyone should have to use a painkiller to have the sex they want, but there you go — it may help. If you do decide to use an over the counter analgesic, taking it an hour or more before sex will ensure it works when you need it to. Some women with endometriosis experience discomfort after sex, too, and painkillers can help them out with that as well. Stay away from Aspirin, which makes you more prone to bleeding, though, something that is especially important to women with endometriosis, who are already likely to have a heavy mensrual flow and to experience bleeding between periods.
Broaden your horizons
Think "sex", and classic vaginal penetration probably immediately comes to mind. Sex can, however, be so much more than that. If you find that erotic massage, cunnilingus, vibrator play, and of course kissing, fellatio, et al, take pain out of the equation and leave only satisfaction — go for it! Sex should be fun, and pain usually doesn't play a role in that. 
What to do if you experience vaginal bleeding after sex
Postcoital bleeding — bleeding after sex — unfortunately isn't uncommon in endometriosis sufferers. It occurs because intercourse can mess with your uterine lining. If you know it's going to happen, you can get pads ready beforehand and even make strategic use of towels. Do inform your doctor that this is happening, however.
What? There's surgery to fix that?
The laparoscopic excision of endometrial lesions can help women with endometriosis find some symptom relief, as well as increasing the odds of getting pregnant. If this surgery specifically targets  anterior and posterior recto-uterine pouch, it can also alleviate your dyspareunia — and potentially give you your sex life back. This treatment option highlights why it's important to discuss even the most intimate aspects of your life with your doctor; if they don't know painful sex is a problem for you, they can't help you fix i
Don't suffer in silence
Yes, we've mentioned this already, but it warrants saying again — don't suffer in silence. Sex is such an important part of most people's lives, and though media bombard us with it in both wanted and unwanted ways, it's also still somewhat of a taboo on a personal level. Don't let it be for you. There are two people who need to know exactly what sex is like for you: your partner and your doctor. They can't read your mind. You chose them to fulfill two of the most important roles in your life, but for them to be able to help you, you need to communicate with them.
Your partner:
Won't know you're in pain unless you tell him or her.
May even interpret any vocalizations that accompany your pain as those of pleasure.
May think you're rejecting them if you just avoid sex without telling them you're in pain.
Will — if they're the great man or woman you think they are — do their very best to make sure sex is enjoyable for you both.
Your doctor:
Most likely has sex themselves, and also wants it to be fun and painless.
Sees lots of patients discussing problems of a sexual nature, including those far more bizarre than the one you're facing.
Won't know you're suffering from painful sex unless you tell them.
Is well aware that endometriosis often causes painful intercourse. 
May be able to help you find a path to the painless sex you deserve, through surgery or medications!
So, don't suffer in silence.
Photo courtesy of SteadyHealth.com