Driven by various kinds of pressure and unable to cope with the hormonal changes going inside the body, more and more teenaged girls are resorting to self harm. The condition may continue into adulthood and give rise to suicidal tendencies, experts fear.
Tendency to Inflict Self Harm is More Commonly Seen in Girls
The latest statistics provided by the World Health Organization show that suicide rates have seen a quantum jump over the years and have increased by almost 60% in the past 45 years.
One person is giving up his life every 40 seconds.
The transition phase from adolescence to young adulthood is characterized by a sudden peak in suicides.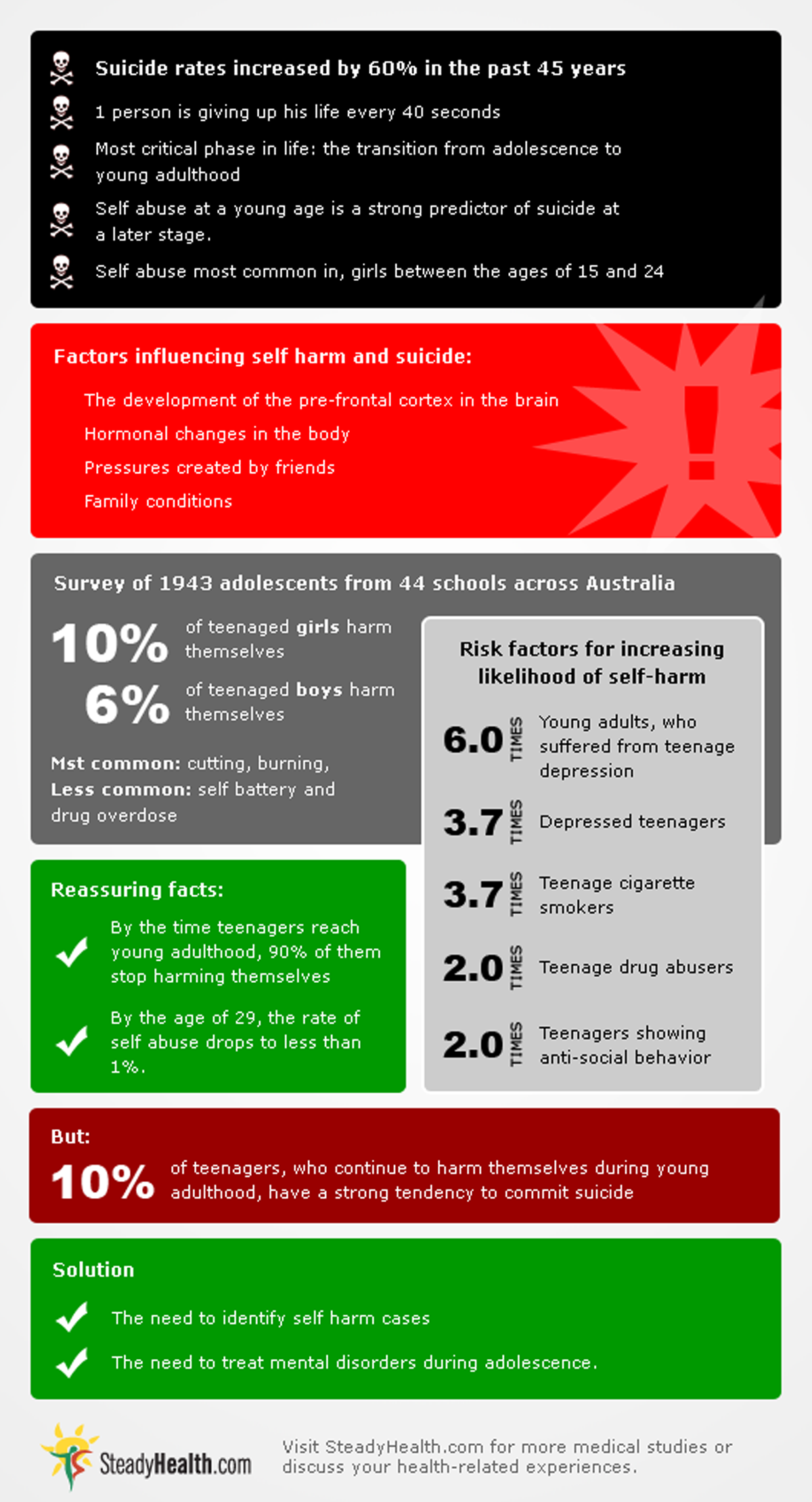 Experts, led by Dr. Paul Moran, conducted a survey of 1943 adolescents from 44 schools across Australia to understand the reason behind this
sharp increase in self inflicted deaths
. Questionnaires and telephonic interviews were employed to collect data pertaining to self harm. Data pertaining to symptoms of depression, anti-social behavior, drinking habits, cigarette smoking and drug abuse was also collected.
The researchers found that the tendency to inflict self harm is
more commonly seen in girls
. Almost 10% of teenaged girls harm themselves deliberately compared to 6% boys. They generally harmed themselves by
cutting
or
burning
, though in certain cases, self battery and drug overdose was also reported.
Teenagers with symptoms of depression were 3.7 times more likely to self harm. Cigarette smokers were 2.4 times more likely to indulge in self injuring whereas teenagers into drug abuse or showing anti-social behavior were twice more likely to self harm.
Self Abuse at a Young Age is a Strong Predictor of Suicide at a Later Stage
Researchers also noted that young adults, who suffered from depression when they were teenagers, were six times more likely to harm themselves. This is particularly worrying, as it is an established fact that
self abuse at a young age is a strong predictor of suicide at a later stage
.
A reassuring fact is that by the time teenagers reach young adulthood, 90% of those who indulged in self harm no longer continue to do so. By the age of 29, the rate of self abuse drops to less than 1%. But the 10% teenagers, who continue to harm themselves even when they are young adults, have a strong tendency to commit suicide.
Therefore, the experts urge the need to identify more and more cases of self harm, so that they can be treated. The teenagers who abuse themselves are likely to be suffering from mental problems which would not resolve spontaneously. To prevent young adults from committing suicide, it is imperative to treat mental disorders during adolescence.
Self harming has been defined by Favazza, in 1996, as a behavior wherein an individual harms himself deliberately for purposes not socially recognized. It is more common in girls between the ages of 15 and 24. A variety of factors influence this behavior. The development of the pre-frontal cortex in the brain coupled with hormonal changes in the body, and pressures created by friends or family conditions, may come together to give rise to the tendency of self harming.
Recognizing this problem and providing adequate treatment for the accompanying mental problems can go a long way in
preventing suicide in young adults
.
"The natural history of self-harm from adolescence to young adulthood: a population-based cohort study", by Dr. Paul Norman, et al, The Lancet, published on November 16, 2011, accessed on November 25, 2011. Retrieved from http://www.thelancet.com/journals/lancet/article/PIIS0140-6736(11)61141-0/abstract
"One in 12 Teens Engages in Self-Harm: Report", by Robert Preidt, HealthDay News, published on November 17, 2011, accessed on November 25, 2011. Retrieved from http://www.nlm.nih.gov/medlineplus/news/fullstory_118794.html
"One in 12 teenagers self harm, study finds", by Kate Kelland, Reuters, published on November 17, 2011, accessed on November 25, 2011. Retrieved from http://in.reuters.com/article/2011/11/17/idINIndia-60572920111117