Pocket Prep is a company that develops mobile exam prep apps for many fields. We already reviewed their NBSTSA CST Exam Prep app, and now we had a chance to talk with Peter Murphy, the co-founder and CEO of the 'Pocket Prep' company.
There are numerous mobile apps that allow students to quickly and conveniently prepare for almost every exam using their smartphones and tablets.
These apps provide many features, from the simpler options such as flashcards and quizzes to more advanced, such as the ability to create your own exam questions or track your progress.
Many medical and nursing students benefit from this type of apps that help them prepare for their exams in a shorter timeframe.
Pocket Prep is a company that develops mobile exam prep apps, not only for medical and nursing exams but other fields as well.
We already reviewed their
NBSTSA CST Exam Prep app
 designed for surgical technologists and assistants helping them prepare for the NBSTSA CST exam. The app received a favorable score and our recommendation.
Now, we also had the opportunity to talk with Peter Murphy, the co-founder and CEO of Pocket Prep. We asked him a couple of questions about the app development and the company's future plans.

Can you tell us the story behind your mobile app? Where did the idea for your app come from? What served as your inspiration for the app?
Pocket Prep was created out of necessity; there weren't a lot of affordable exam prep choices for niche exams. I was studying for the CPIM certification, which is series of supply chain and inventory management exams, in order to further my career in aerospace manufacturing. Textbooks and software would have cost thousands of dollars out of pocket and I knew there had to be a better way; self-improvement shouldn't cost a small fortune. I started writing my own prep content and partnered with a colleague to lay the groundwork for what would eventually become the Pocket Prep app platform. The rest is history, as they say.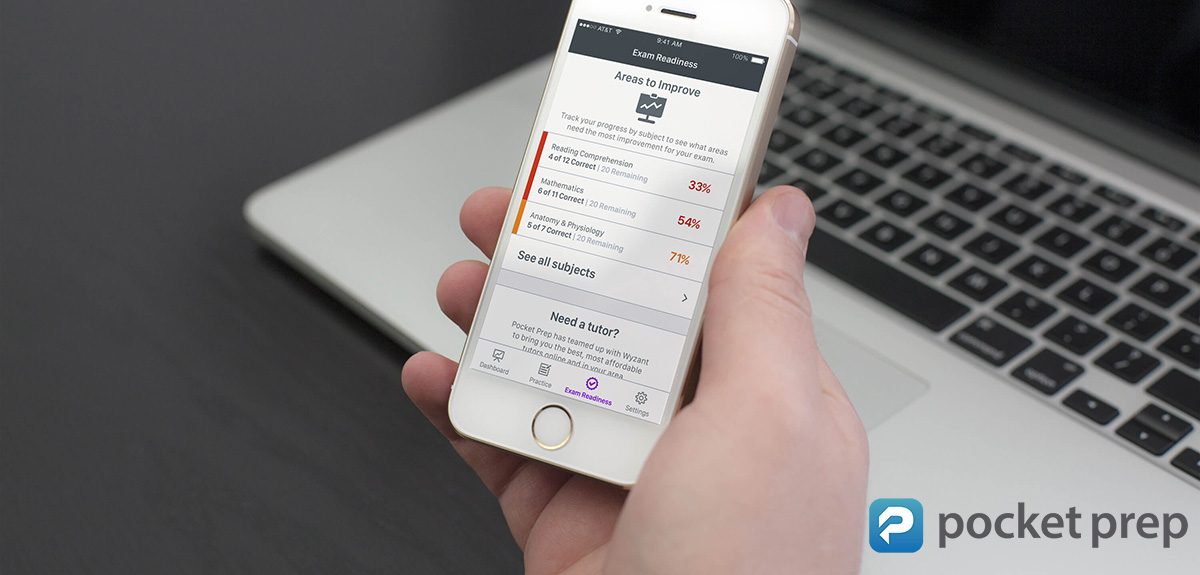 How did you build the content that's contained in the app? Does the information in your app come from evidence-based resources, such as scientific literature, peer-reviewed articles and case studies?
We hire subject matter experts to create the majority of our prep content. The rest is acquired through strategic partnerships, such as our CST app, which is the result of a partnership with the National Board of Surgical Technologists and Surgical Assistants or NBSTSA. Roughly 95% of the apps we offered were created with the help of these SMEs and rely heavily on their expertise to keep our study content fresh and ready to go.    
What impact has your app had on clinical practice so far? We'd appreciate if you could share some stats on how frequently your app is used worldwide.
Pocket Prep has been downloaded by over 5 million students and professionals across a variety of fields. A little more than a third of our apps are medical, so those downloads would scale appropriately in this case. Our most popular app is for emergency medical technicians and currently holds the #10 top-grossing Medical spot in the US App Store.
What are the tools and technologies used to build your mobile app (both cloud- and client-side)? Was it native or cross-platform development? Did you consider other technologies?
Pocket Prep runs on cloud technology and is available on iOS, Android, and web. As with all businesses, we balance the cost of development with how much customers are willing to pay. For example, it didn't make sense to incorporate asynchronous cloud logic, which is where data is streamed live to all devices simultaneously, because it would have spiked our development costs and forced us to charge more for our apps. Instead, the app syncs your results once an exam has been completed, reducing our server costs and keeping our price point app-friendly.
What were the main challenges you had to overcome when developing your app? Could you please single out the biggest technical challenges, product challenges, marketing challenges, and support challenges?
The biggest challenge with Pocket Prep is getting customers used to spending money on an app. We're also slowly seeing a shift in how much people are willing to spend in the App Store but Google Play still sees a ton of free apps monetized by ads. If you've ever tried to study from an app that throws ads in your face every few minutes, you'll quickly realize that "free" isn't worth those kinds of interruptions, at least not for serious studies.
If you look at Pocket Prep outside of the app ecosystem, you'll quickly realize how much value we offer compared to textbooks and even some online offerings. For example, our NCLEX app, which is the board exam required for nursing licensure, offers 1,000 professionally developed practice questions for only $15. Most of our apps cost between $10 and $30, depending on how much content is offered and how difficult that content was to create and is to maintain. We still get a lot of emails from customers saying 'this is the most expensive app I've ever purchased,' which can be frustrating because they're often comparing us to $1.99 gaming apps. Sure, the app seems expensive but it's still providing much more overall value and convenience than your heavy textbook.
Could you single out the 3 biggest mistakes you made when developing your app?
The Pocket Prep app platform has evolved quite a bit over the years. Our biggest mistakes when first starting up aren't the same mistakes we're addressing today. In the beginning, I'd say our top three mistakes were:
1, Don't hire overseas. It's really tempting but it ends up costing a lot more in the long run. If you're serious about building a quality app, budget accordingly and stay here in the States.
2, Don't assume a subject matter expert will always be correct. Try to get consensus from others and do your own research before accepting something as truth. I buy a lot of books across a multitude of subjects for this very reason alone.
3, Don't assume you need to raise money to build an app. We didn't necessarily make this mistake as we were fortunate enough to turn our small bootstrapped investment into a thriving business but many people (particularly other entrepreneurs) may not take you seriously if you're not backed by a firm. Don't listen to them. There's more than one way to get from A to B.
When it comes to medical apps, sooner or later the issue of data protection and security always comes up. How do you make sure that user data is secure?
Our biggest security issue has been copycats stealing our hard work and republishing it in their own apps. They would literally download our app, hack it, and steal the content file to use in their own quizzer app. It blew our minds that people would be so blatantly nefarious, but we quickly put an end to it by encrypting the content file that comes in any given Pocket Prep app. The only way to view and interact with Pocket Prep's study content is within the app itself.
In terms of user data, we rely on various third-party cloud and hosting services that leverage modern cybersecurity best practices to ensure customer data is not compromised. It's worth noting that we're really only storing first names, emails, and usage data such as how often you practice, what you're scoring in your practice sessions, things like that. We don't store any sensitive or payment-related information on our end. Unless someone's worried about a hacker knowing when they sit for the SAT exam, there's really not much at stake.
What's next for your app? Are there any new features, functionalities, or upgrades planned for future updates?
We're looking to use "big data" to predict whether or not a student is on track to pass the exam. It's our understanding that this would set us apart from the competition and give customers exactly what they want; a guarantee that they'll pass if they work hard and stick to a plan.
We are excited about the technologies and what they might hold for the healthcare and the future of medicine. What do you think this technology-driven, human-centered future holds for mobile health and how do your app plan to contribute?
We'll continue to offer quality exam preparation for a variety of medical subjects. We plan to adapt and evolve as the exams themselves do.
Could you share some word of advice with other mobile app developers? What steps they should follow in order to make a successful app?
Build a team that rounds out your weaknesses. For example, I'm a product guy. I love designing and building products that people love to use but I'm not the best at getting people to find the said product. Keep smart people around you and heed their advice. Don't borrow money if you can help it; do as much of everything yourself as you possibly can. Start small and grow at a pace that works for you, don't let other people pressure you. Walk the line of stepping outside of your comfort zone without compromising your app's long-term vision/mission.
Photo courtesy of Pocket Prep