We interviewed the founders of the Medisafe app, a pill reminder app that helps people stay adherent to their medication regimen and avoid accidental overdoses.
About 50% of patients in the U.S. are not taking medications as prescribed, meaning they either miss a dose or take double doses, which may put them at risk, resulting in 700,000 emergencies and 125,000 deaths a year.
Staying adherent to a medication regimen, i.e. taking drugs exactly as prescribed is essential to our health. However, remembering to take the medications can be a tedious process without some kind of reminder, particularly the one that can be carried in the pocket all the time.
Omri and Rotem Shor first realized the need for the medication reminder when they witnessed their father accidentally overdose on his insulin medication. The Shor brothers were lucky to act quickly enough to save their father, but this incident conceived an idea of a mobile app on a smart device that could prevent accidental overdoses and help people stay adherent to their medication regimen.
That's why the Shor brothers developed Medisafe, a pill reminder app.
We already
reviewed the Medisafe app
 and awarded it with a favorable score and our recommendation. The Medisafe app also found its place on our list of
the most popular medication reminder apps
.
Now, we had the opportunity and pleasure to talk with Medisafe founders and ask them several questions about the app, as well as the company's future plans.

Can you tell us the story behind your mobile app? Where did the idea for your app come from? What served as your inspiration for the app?
Medisafe was born out of a family medical emergency in 2012 when founders' Omri and Rotem Shor's father accidentally double dosed on insulin. After searching fruitlessly for an intuitive solution for their father's medication management, the two decided to build their own. Since then, the company has grown to serve over 4.5M patients in their medication management journey.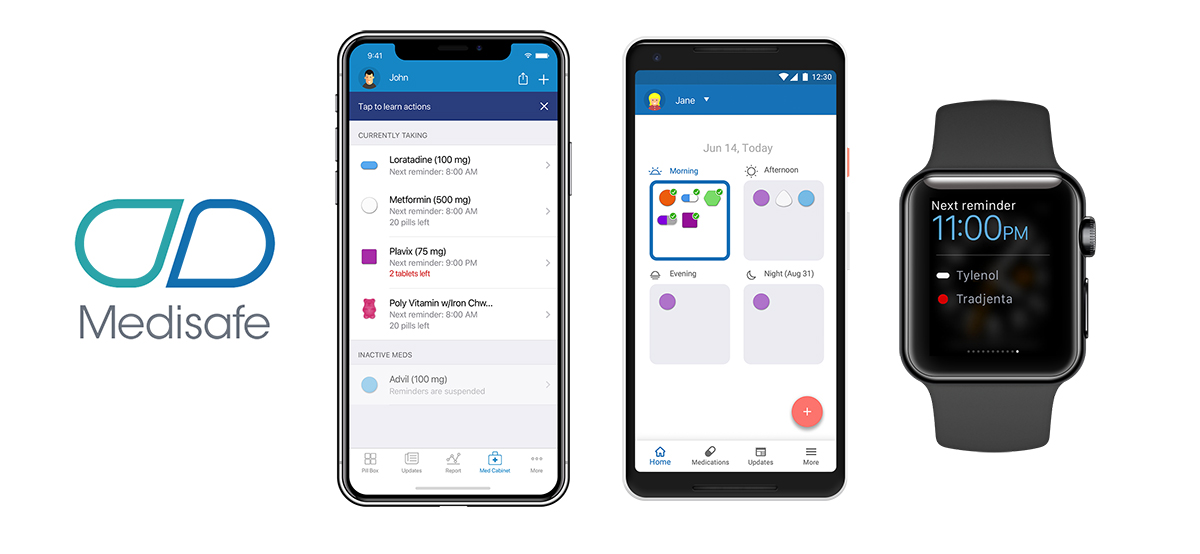 How did you build the content that's contained in the app? Does the information in your app come from evidence-based resources, such as scientific literature, peer-reviewed articles and case studies?
All of Medisafe's content is sourced from evidence-based resources which are written in language approachable for patients. Content sources include VUCA and HealthDay, multimedia healthcare publishers.    
What impact has your app had on clinical practice so far? We'd appreciate if you could share some stats on how frequently your app is used worldwide.
Medisafe is in the process of releasing several studies in partnership with IQVIA, showing the impact of a digital solution on medication adherence for various therapeutic areas. These studies are available on our website and show that Medisafe demonstrates double-digit improvement in adherence. Medisafe is used in 160 countries and available in 20 languages.
What are the tools and technologies used to build your mobile app (both cloud- and client-side)? Was it native or cross-platform development? Did you consider other technologies?
Medisafe uses numerous tools for app development, and UI/UX design.
What were the main challenges you had to overcome when developing your app? Could you please single out the biggest technical challenges, product challenges, marketing challenges, and support challenges?
Developing an app in such a challenging and fluid market as healthcare isn't easy. It was difficult to understand the needs of patients on an individual level from the onset and build for personalization. We needed to learn how to speak not only the 'patient' language, but also how to communicate the challenge of medication management, and its importance, to providers.
Could you single out the 3 biggest mistakes you made when developing the 'Medisafe' app?
When the company first started we didn't understand the diversity of patient needs and didn't build for personalization from the onset. We also didn't realize that outsourcing wasn't the way to go. Thankfully, we understood that quickly and corrected course. While developing the company it took us a little while to understand the business model and key stakeholders in healthcare. Six years on, we've learned a lot and continue to make an award-winning patient support system.
When it comes to medical apps, sooner or later the issue of data protection and security always comes up. How do you make sure that user data is secure?
Medisafe is HIPAA and GDPR compliant. We encrypt our data with 256-bit encryption and are ISO27001 secure.
What's next for your app? Are there any new features, functionalities, or upgrades planned for future updates?
Medisafe pushes a new version of the app to the store every two weeks, ensuring quick bug patches and seamless deployments of updates. We're currently rolling out our 'timeline' view across both platforms to give patients more display options to play with!
We are excited about the technologies and what they might hold for the healthcare and the future of medicine. What do you think this technology-driven, human-centered future holds for mobile health and how do your app plan to contribute?
We're excited to continue integrating AI into the Medisafe platform to better support patients throughout their healthcare journey.
Could you share some word of advice with other mobile app developers? What steps they should follow in order to make a successful app?
Fail fast and regroup faster. Mistakes are inevitable as no one has full visibility of a problem from the outset. It's important to learn from your mistakes, iterate quickly, and understand your users' personal needs.
Photo courtesy of Medisafe