Portland-based company NurseGrid developed the mobile app of the same name to allow nurses to stay on top of their schedules and shifts. We interviewed Zach Smith, a founding member of the company and the VP of Nursing for NurseGrid.
Scheduling and swapping shifts are still some of the biggest inconveniences for many nurses, especially when trying to organize their personal lives amidst their chaotic shifts.
Most nurses still manage their schedules through the old-fashioned pen-and-paper method or generic phone calendars, but the unique schedule environment for healthcare workers require different, more efficient methodology.
Portland-based company NurseGrid tried to solve the problem and make things a bit easier for all nurses. They developed and published the mobile app that shares the company's name - NurseGrid Mobile - and allows nurses to stay on top of their schedules and communicate with fellow nurses if they need to swap shifts.
You can check our review of the
NurseGrid Mobile app
. 
Meanwhile, we had the opportunity to talk about the app, its features, impact, and future with Zach Smith, a founding member of the company and the VP of Nursing for NurseGrid.

Can you tell us the story behind your mobile app? Where did the idea for your app come from? What served as your inspiration for the app?
As nurses ourselves, we were fed up with the outdated and clunky technology that hospitals were passing down for us to use, seemingly without any bedside nurse input, and expecting us to use it. In particular, we felt that the technology being provided to us for our schedules never met our specific nursing needs, so we set out to build more modern tools, relying on the feedback of thousands of other nurses. We felt that to complete our end goal of revamping the front end tools for healthcare scheduling, we needed to overcome the primary reason why most healthcare tech fails: user adoption. So we made the mobile app free and added features that made it more useful when your colleagues used it too. That helped organic sharing, and the widespread adoption we gained across the country proved to healthcare organizations that we knew how to build tools for the market. More importantly, the bedside staff felt like we were on their side, and so they encouraged their departments to adopt our technology.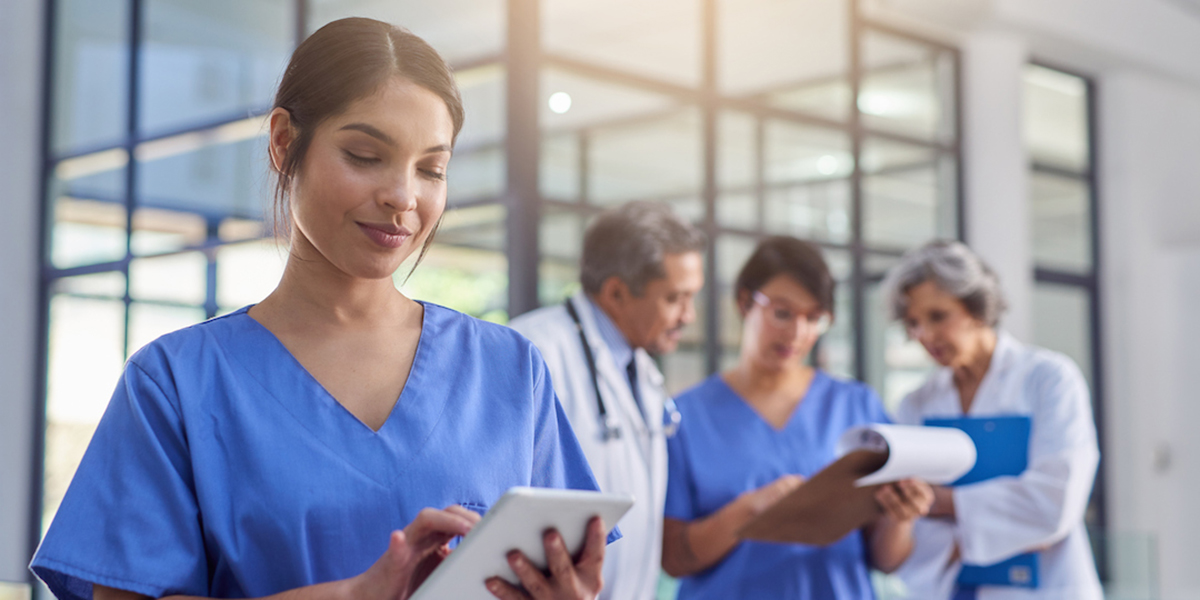 How did you build the content that's contained in the app? Does the information in your app come from evidence-based resources, such as scientific literature, peer-reviewed articles and case studies?
Since our technology focuses on helping bedside staff manage their schedule, there is no content contained in the app.  However, we conducted many user surveys and panels before we built the app, and surface every piece of feedback we receive in a company-wide channel so we can iterate and continue to refine the app to be just how the market wants it.    
What impact has your app had on clinical practice so far? We'd appreciate if you could share some stats on how frequently your app is used worldwide.
Our free mobile app has been downloaded by over half a million people. For the departments that use our manager technology (which connects to the mobile app), over 70% of bedside staff indicate that they are more satisfied overall working on a department that used NurseGrid's technology officially. While we are still collecting data on NurseGrid's impact, more satisfied nurses, better control and transparency around staffing and scheduling, and a more cohesive staff will certainly lead to better overall care for the patients.
What are the tools and technologies used to build your mobile app (both cloud- and client-side)? Was it native or cross-platform development? Did you consider other technologies?
iOS: Swift, Android: Java
What were the main challenges you had to overcome when developing your app? Could you please single out the biggest technical challenges, product challenges, marketing challenges, and support challenges?
Initially, we outsourced the design and dev of our app to a group in the Bay area. We were not satisfied with the results and they were not meeting our deadlines so we switched to our own in-house designer and a local dev agency. Having a really close working relationship with that agency was critical, and being able to visit them in person was a big value add. Secondly, getting adoption was a big question mark, but we found a lot of success in using Facebook's app install ads to get some momentum going, which helped us prove our concept to investors, which led to more money and the ability to close (oversubscribe) our seed round.
Could you single out the 3 biggest mistakes you made when developing the Nurse Grid Mobile app?
1. Outsourcing our dev work to an agency out of state with minimal design skills, when the design was a key component to our success.
2. Not going with our gut, even when it flew in the face of conventional design practice. We knew the market and we knew what would work, even though it was counter to best case practices for design. We quickly corrected that and saw immediate results.
3. We vastly underestimated the number of facilities that were out there and thought that a list we acquired would take care of the majority. While this may seem specific to us, it's important to note just how many healthcare facilities are out there and how many different types of healthcare professionals will find your technology useful.
When it comes to medical apps, sooner or later the issue of data protection and security always comes up. How do you make sure that user data is secure?
We get asked about PHI often and go to great lengths to prevent users some inputting any of that data, but we have a few experts on our team who have direct experience in making technology HIPAA compliant in case that time comes. Experience is critical in this area.
What's next for your app? Are there any new features, functionalities, or upgrades planned for future updates?
We've added a job board to help monetize on our free audience (we will never do ads), and we're looking at rounding out the app so all corners of it feel cohesive and up to the same level as our primary feature.
We are excited about the technologies and what they might hold for the healthcare and the future of medicine. What do you think this technology-driven, human-centered future holds for mobile health and how do your app plan to contribute?
Healthcare is slow to adopt the new tech, and they are very afraid of mobile devices, but I believe we've crossed a threshold. The future is actually in less technology, I believe, where technology helps us achieve our goals but is less intrusive and all-encompassing. It feels counter to an app builder, but we try to build features that help people get in and out of our app so they can go about their lives, while still getting all the info they need. Traditional app strategies have been to keep users in the app for longer periods of time. Most technology, especially in healthcare, should merely assist staff in doing their jobs, but not do their job for them, with some obvious exceptions. Over time, technology will get better at doing this without having to spend too much time "in" the technology.
Could you share some word of advice with other mobile app developers? What steps they should follow in order to make a successful app?
Know your audience, stay focused, and don't chase the shiny object.