We interviewed FDNA, a Boston-based company that developed a technology and a mobile app called 'Face2Gene' that use facial photos to detect any features and patterns that could be associated with genetic syndromes.
Many genetic syndromes can be identified visually because of their recognizable facial patterns and features. While the general public may easily recognize the faces of people having certain genetic conditions, such as Trisomy 21, better known as Down syndrome, there are over 700 other genetic conditions that display characteristic facial features.
Early detection of these genetic conditions by identifying facial dysmorphic features and recognizable patterns may be a key for providing a better care and better quality of life to children with various genetic syndromes. These facial differences, however, are often hard to detect, especially for less experienced doctors.
FDNA, which stands for Facial Dysmorphology Novel Analysis, is a Boston-based company with a mission to detect rare or difficult-to-diagnose genetic syndromes. FDNA technology uses facial photos to detect any features and patterns that could be associated with genetic syndromes.
FDNA released a free app for mobile devices called 'Face2Gene' that allows medical providers to take and upload the photos of their patients and have them analyzed and evaluated for specific facial features outside normal standard deviations and cross-referenced to a database of genetic conditions which these features may be associated to.
We reviewed
Face2Gene app
and gave it a favorable score and our recommendation.
Now, we also had the opportunity to talk more about the app, the app development, and future plans with the company that developed the Face2Gene app.

Can you tell us the story behind your mobile app? Where did the idea for your app come from? What served as your inspiration for the app?
Our founder had sold his facial identification technology to Facebook and began to ask, "what's next?" With a revolutionary technology and a desire to have a profound impact on people's lives, FDNA was born. We worked with experts and advocates in the healthcare community to identify the "next big thing" and all signs were pointing to genetics.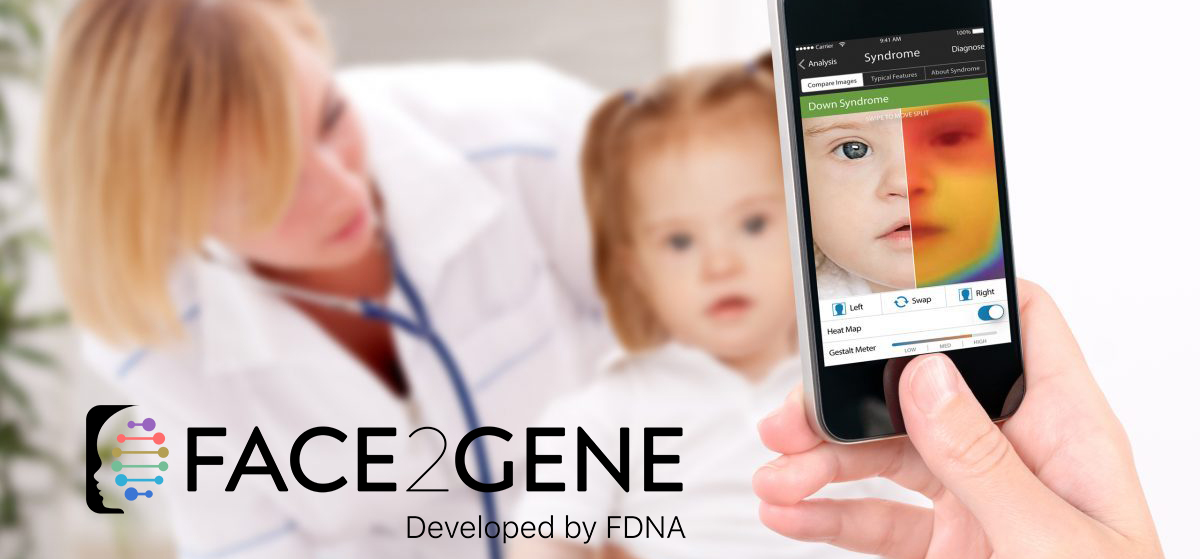 How did you build the content that's contained in the app? Does the information in your app come from evidence-based resources, such as scientific literature, peer-reviewed articles and case studies?
We pulled from evidence-based resources, as well as worked with clinicians, geneticists, and researchers to build out our database of over 10,000 diseases.    
What impact has your app had on clinical practice so far? We'd appreciate if you could share some stats on how frequently your app is used worldwide.
Our technology is used by 70% of the world's geneticists at 2,000 clinical sites in 130 countries. In the clinical practice, our technology has the ability to significantly shorten the diagnostic process, reduce costs, and improve workflow.
What are the tools and technologies used to build your mobile app (both cloud- and client-side)? Was it native or cross-platform development? Did you consider other technologies?
We chose to build native mobile apps to leverage device-specific capabilities, such as camera access.  We considered both the responsive mobile app approach and using cross-platform tools.  Neither of these two approaches improved efficiencies and capabilities to change from our native app approach for both IOS and Android.  Having direct access to device capabilities allows us to offer more value to our customers.  In either case, we've developed a SaaS (software as a service) platform that separates client and service operations to better scale, security, and performance.  We choose to deploy on AWS (amazon web services) for its capabilities and performance.
What were the main challenges you had to overcome when developing your app? Could you please single out the biggest technical challenges, product challenges, marketing challenges, and support challenges?
The main challenges were designing and developing an intuitive user experience for use cases that leverage portable device use while doing so in a much smaller user interface format (smaller screens).  Measuring and separating mobile usage analytics from web analytics had to be built from the ground up.  Regarding support, we chose support tools that were device platform agnostic, such as Intercom.io for live chat and product engagement.
When it comes to medical apps, sooner or later the issue of data protection and security always comes up. How do you make sure that user data is secure?
FDNA itself does not handle or have access to any patient information. Our technology is used by certified healthcare providers, is HIPAA compliant, and meets all safety and security regulations.
What's next for your app? Are there any new features, functionalities, or upgrades planned for future updates?
We're constantly making changes and updates to our technology, but looking ahead, we're working on expanding beyond just facial analysis to look at other biometrics such as voice, MRI scans, and movement, that could also present the physical manifestation of certain diseases. We feel that genomics will continue to play a major role in precision medicine.
We are excited about the technologies and what they might hold for the healthcare and the future of medicine. What do you think this technology-driven, human-centered future holds for mobile health and how do your app plan to contribute?
Artificial intelligence is the future of healthcare and precision medicine, which is why it's the cornerstone of our technology. Access to and sharing of data is a major component of providing and facilitating meaningful care. In the future of genomics, we believe that everyone will be sequenced and will have ownership over their own personal information, and technologies such as AI will play a major role in that.