We interviewed the team at The Children's Hospital of Philadelphia who developed the Vaccines on the Go app, aimed to provide parents with accurate and trusted information about the science, safety, and importance of vaccines and immunization.
Getting health information is easier than ever thanks to modern technologies. However, there's a lot of bad, unscientific information out there, particularly regarding vaccines and immunizations that cause many controversies nowadays. 
It's too hard for parents to weed out the bad information from good, which is based on science and trustworthy resources.
For that reason, the Vaccine Education Center (VEC) at The Children's Hospital of Philadelphia developed the Vaccines on the Go app, which is intended for parents, helping them find accurate information about the science, safety, and importance of vaccines.

Can you tell us the story behind your mobile app? Where did the idea for your app come from? What served as your inspiration for the app?
The Vaccine Education Center at Children's Hospital of Philadelphia (VEC) has been educating about the science of vaccines for almost two decades. As part of that mission, we try to create materials and resources that people can find in places convenient for them as they need the information. We felt the app would allow parents and healthcare providers to get vaccine information on mobile devices which people tend to have whether they are at a hospital or doctor's appointment, playgroup, etc.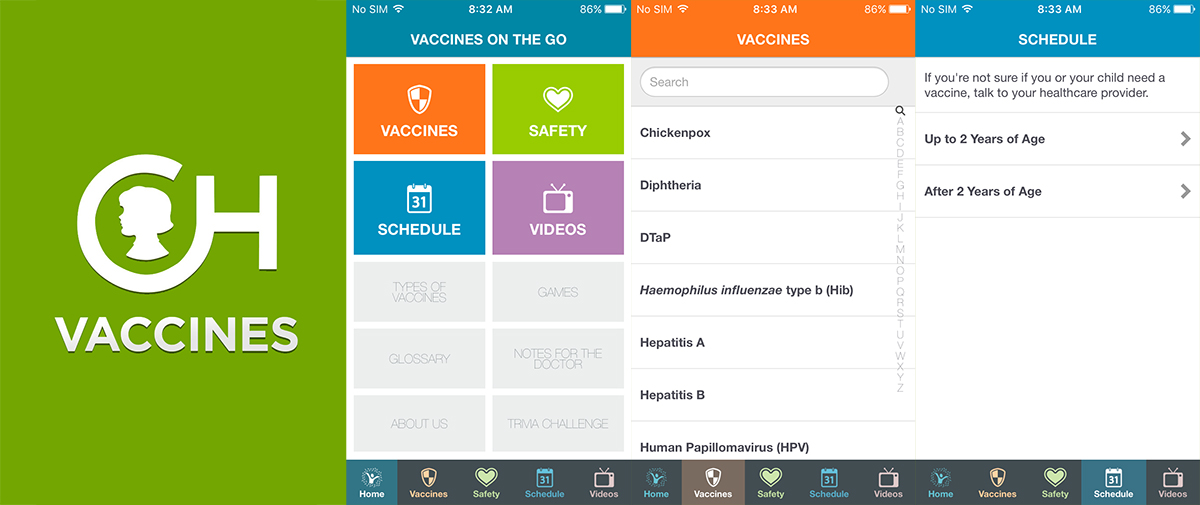 How did you build the content that's contained in the app? Does the information in your app come from evidence-based resources, such as scientific literature, peer-reviewed articles and case studies?
As with other resources developed by the VEC, information is based on the latest scientific literature and is updated if new, relevant and scientifically-founded information becomes available.    
What impact has your app had on clinical practice so far? We'd appreciate if you could share some stats on how frequently your app is used worldwide.
Healthcare providers have shared anecdotally that they appreciate being able to quickly access information in the app and use the links to videos when talking with parents during appointments. 
Regarding statistics related to use, we track downloads on a weekly basis. Since its release in 2013, the app has been downloaded more than 51,000 times with an average download rate of about 100 per week over the last year. About 88 percent of downloads occur in the U.S., and about 80 percent of downloads use the Apple platform although the app became available in the Android version about three months after its release for Apple. Users in more than 125 countries have downloaded the app.
What are the tools and technologies used to build your mobile app (both cloud- and client-side)? Was it native or cross-platform development? Did you consider other technologies?
The app was built using the Apache Cordova framework for cross-platform functionality, with separate code bases for iOS and Android. Other frameworks were considered but Cordova was selected by the implementation vendor based on cost, functionality, and staff skill levels. 
At the time of development, we had a website and responsive design sites were not widely used; however, we decided that the app would be the most appropriate choice because the information included in the app content would be available even without an internet connection. We did add a significant number of outside links compared to what other apps at the time tended to do, but we felt this would allow users to access video-based resources and the most up-to-date, more detailed print information.
What were the main challenges you had to overcome when developing your app? Could you please single out the biggest technical challenges, product challenges, marketing challenges, and support challenges?
One of the biggest technical challenges related to working with an outside vendor and needing to get the technology transferred to an internal team so that it could be submitted to the app store by our institution. 
Related to product development, probably one of the biggest "challenges," which I hesitate to call it, was more the decision-making process related to whether we would include a place where users could record or keep track of their own vaccinations. Ultimately, we decided not to include the information for a variety of reasons, such as because it is private health information and if the information was not recorded correctly (e.g., which version of a particular vaccine was given, such as DTaP versus DTap, or which brand of a particular vaccine which could change dosing requirements), the information may ultimately lead to confusion, or worse, medical errors.
As far as marketing, as with most projects, the biggest challenge is getting the word out that you have this resource that might be helpful to people.
Could you single out the 3 biggest mistakes you made when developing the 'Vaccines On The Go' app?
Every time you develop a new type of product, you learn about the process and think about things that you could have done differently. In our case, we realized that we should have launched both Apple and Android versions at the same time as we almost immediately had requests for an Android version. Probably the other big thing we hadn't considered was how to make the app more interactive so that people could continue to benefit from our communications, such as our monthly e-newsletter after they downloaded the app.
When it comes to medical apps, sooner or later the issue of data protection and security always comes up. How do you make sure that user data is secure?
Because we do not collect any data from users and because we only track downloads through an app management vendor, we do not have information about users on our servers.
What's next for your app? Are there any new features, functionalities, or upgrades planned for future updates?
We are planning to add information about travel vaccines and some newer resources that we have developed as well as refresh the look of the app to better align with our current brand standards. We would also like to incorporate a way for users to get alerts when new information is available.
We are excited about the technologies and what they might hold for the healthcare and the future of medicine. What do you think this technology-driven, human-centered future holds for mobile health and how do your app plan to contribute?
Healthcare seems to be moving in the direction of incorporating telehealth as an option for patients to see the doctor. Our institution, Children's Hospital of Philadelphia (CHOP), is exploring these opportunities as well as considering how to ensure that information in different institutional apps can be accessed by users. The Vaccines on the Go app won't have direct applications related to telehealth but is being considered as it relates to any umbrella app for the institution. However, because the app is also widely used by providers and organizations in other parts of the country and the world and is not directly associated with an individual's health, it will continue to be relevant as a free-standing source of information.
Could you share some word of advice with other mobile app developers? What steps they should follow in order to make a successful app?
Anyone thinking about developing an app should clearly identify their goals for the app and use that as the guiding principle for decision-making throughout its development. Further, when writing content, it is easier to write more and cut it down during the development process.
User Experience design is paramount to adoption. The app needs to be intuitive and easy-to-use, so spending time upfront on that design is critical. Performance is also a major issue, ensuring the app can respond to user requests quickly and perform at a level that is acceptable to the user.
That said, you should also look at next-generation interfaces as a replacement for apps. Things like Facebook messenger and Amazon Alexa, where users can just make a request directly through those tools without opening a special-purpose app.