The Pillow app is one of the best apps to track your sleeping habits and patterns. We had an opportunity to talk with Panos and Spyros from Neybox, the team behind the Pillow app, and discuss their app and their future plans.
Getting enough quality sleep is essential for a person's mental health, physical health, quality of life, and safety. Yet millions of people all around the world do not get enough of it. A lack of sleep, also known as sleep deprivation or deficiency, can lead to chronic health problems and cognitive impairment. Sleep duration is not the only problem — sleep quality matters as well.
Many people use various sleep trackers to measure and evaluate their sleeping habits, and a variety are available as mobile apps for smartphones and tablets.
The 
Pillow app we already reviewed
is one of the best apps to track your sleeping habits. Created by Neybox, a small team of devoted developers, the Pillow app turns your for iPhone, iPad or Apple Watch into a sleep tracker that monitors your sleeping patterns, including sleep duration and sleep quality. We got an opportunity to talk with Panos and Spyros from Neybox, and learn more about their app and their future plans.  
Can you tell us the story behind your mobile app? Where did the idea for your app come from? What served as your inspiration?
Good sleep quality has a vastly underestimated potential to improve everyone's well being. We felt that technology and software had a lot to offer towards communicating that message and helping people discover the life-changing benefits of good sleep. Considering the ubiquity and the hardware capabilities of the iPhone combined with our extensive background in data science and user experience, Pillow was a unique opportunity for us to make a contribution towards that direction.
How did you create the content that's contained in the app? Does the information in your app come from evidence-based resources, such as scientific literature, peer-reviewed articles and case studies?
Pillow's sleep analysis algorithm and content are based on publicly available scientific facts and research.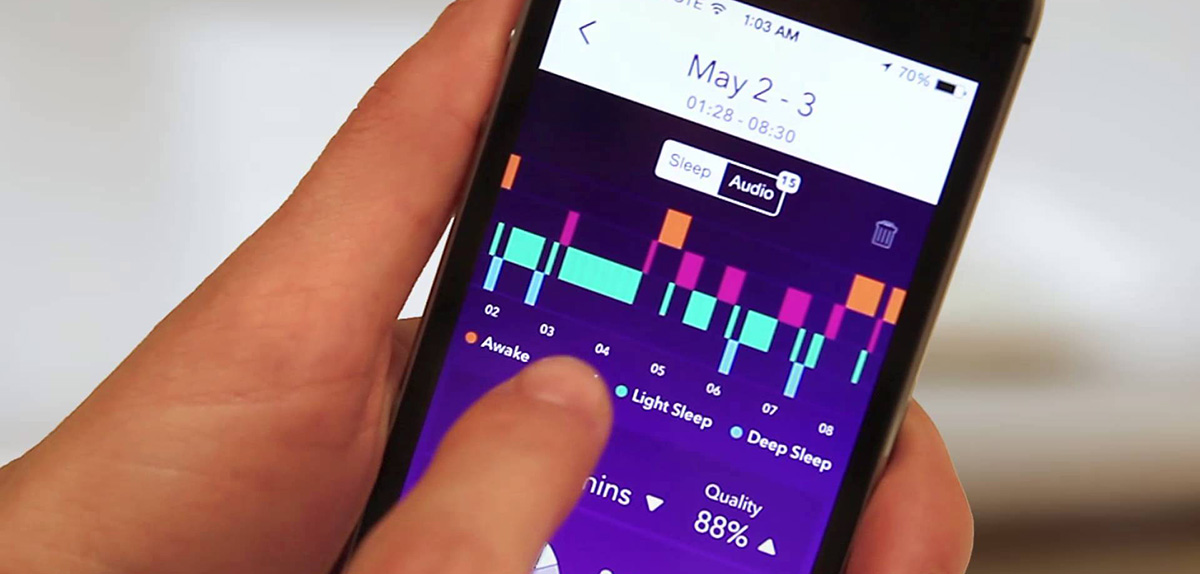 What impact has your app had on clinical practice so far? We'd appreciate if you could share some stats on how frequently your app is used worldwide.
Pillow is not a medical app so we don't have any data regarding its impact on clinical practice, but we do know that Pillow has been downloaded over 5 million times worldwide and we also know that it has been used numerous times as a tool in sleep studies. Also, from our users' feedback, we are aware that the app has proved to be valuable in providing indications of potential sleep disorders via its sleep analysis and sound recording features, making numerous people seek more specialised medical attention in order to further examine and evaluate the findings.
What are the tools and technologies used to build your mobile app (both cloud- and client-side)? Was it native or cross-platform development? Did you consider other technologies?
Pillow is a native iOS app available for the iPhone, iPad and Apple Watch. It's written in Objective-C and uses Apple's cloud infrastructure, iCloud & Cloudkit for backup and synching sleep and audio data between devices. We don't have any plans for an Android version due to the technical challenges in trying to perform good sleep analysis using the motion sensor, audio and health data from an excessively wide variety of hardware.
What were the main challenges you had to overcome when developing your app? Could you please single out the biggest technical challenges, product challenges, marketing challenges, and support challenges?
1. The creation and evolution of our sleep analysis algorithm.
2. Designing an app that offers a lot of functionality but at the same time feels simple and pleasant to use.
3. Producing meaningful and actionable information that everyone can understand without being an expert to help them improve their sleep quality and be more aware of their sleep habits.
Could you single out the three biggest mistakes you made when developing the Pillow app?
1. Choosing to initially offer Pillow as a paid app. We've switched to a freemium model that offers a free-cover version of Pillow and a set of optional Premium Features that can be unlocked via a one-time in-app purchase. 
2. Not localising Pillow earlier. We've since localised Pillow in multiple languages and we have plans to localise Pillow in more languages soon.
3. Use of third-party technologies and libraries that introduced temporary instability in the way Pillow. We are now much more experienced in the way we implement the app and rely more on in-house solutions.
When it comes to medical apps, sooner or later the issue of data protection and security always comes up. How do you make sure that user data is secure?
Pillow does not require any form of registration or the creation of a personal user account so Pillow can be used anonymously without having to provide a name, username or e-mail address. We do not collect or transmit data from the user's Apple Health categories anywhere and we don't have servers that collect any user data. All of the user's data is stored on their device only and, if they choose to enable backup and syncing, their sleep and audio data are transmitted to their personal iCloud storage that uses Apple's server infrastructure and supports secure end-to-end encryption.
What's next for your app? Are there any new features, functionalities, or upgrades planned for future updates?
Pillow's roadmap is full of new features and improvements. The next version of Pillow will introduce automatic sleep tracking and we're working on a major redesign that will make Pillow much easier to use. much more insightful, personalised and interconnected.
We are excited about technologies and what they might hold for healthcare and the future of medicine. What do you think this technology-driven, human-centered future holds for mobile health and how does your app plan to contribute?
Advancements in mobile health have the potential to make healthcare more efficient, accessible and proactive in addition to providing a rich set of data that can accelerate research. However, we must also take measures to protect and respect the privacy of everyone involved and ensure everyone has an equal opportunity to benefit from those advancements.
Could you share some word of advice with other mobile app developers? What steps they should follow in order to make a successful app?
1. Put the user at the center of everything you do. Respect their time, attention, uniqueness, privacy and well being.
2. Making an app is a marathon. Be persistent. Don't be afraid to make mistakes and start over. 
3. Create an app that you would love to use yourself and treat it as a live evolving organism that you are responsible for.
4. Listen closely to your customers.
 
Photos courtesy of Neybox/Pillow app