Erectile dysfunction is a common complaint that of older males while premature ejaculation may be seen in younger males. What if there was a natural herbal remedy that both groups of patients could take in order to improve their sexual function?
Erectile dysfunction is a common clinical phenomenon that affects predominately males older than 40. It can be attributed to chronic conditions like diabetes, hypertension, or anxiety issues [1]. Having an unsatisfactory erection may be frustrating, but on the other end of the spectrum, there is a number of patients that suffer from another common type of medical problem. Premature ejaculation occurs when males have ejaculations within 60 seconds of vaginal penetration [2]. Both of these problems can be frustrating and lead to decreased sexual health and satisfaction. Treatments and therapies exist for both conditions, but they may be linked to a number of side effects. Behavior modification is often the best form of therapy for premature ejaculations but those sessions can be quite expensive without adequate insurance coverage [3]. Natural treatments for erectile dysfunction are possible. In previous articles, I have gone over how we can use vitamins and dietary supplements for ED like DHEA can be used to treat erectile dysfunction or L-arginine can be used to help improve erections. Studies show that Panax ginseng boosts sexual function. In this article, we will explore if Panax ginseng treats erectile dysfunction and premature ejaculation to improve your sexual health.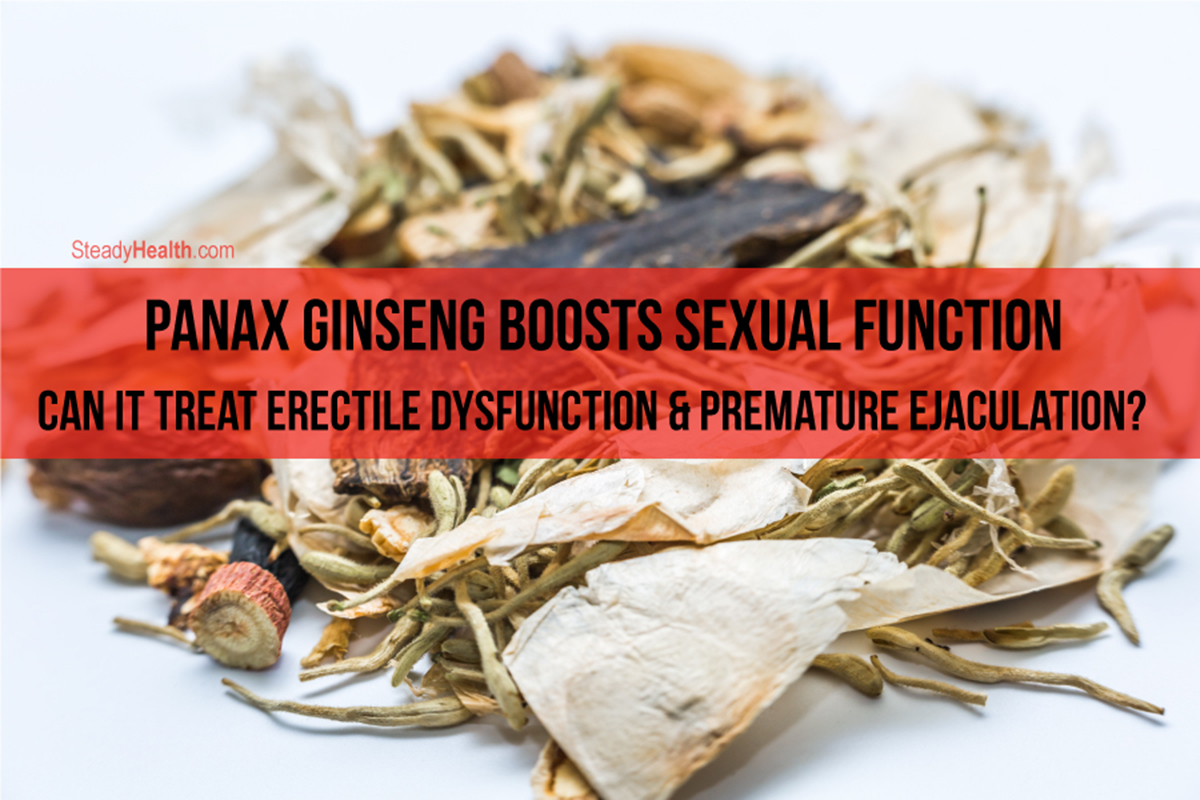 Panax Ginseng Treatment for Erectile Dysfunction 
Panax ginseng (or Red Korean ginseng) is a potential natural treatment for erectile dysfunction and in one of the top herbal remedies currently on the market for psychogenic ED. It has already been marketed as an alternative therapy for Viagra and the manufacturers claim that this is as effective at a fraction of the cost [4]. It has been a herbal supplement that has been used even by ancient Chinese emperors as a way to improve erectile function [5]. Although history and pharmaceutical advertising may suggest that this supplement can be beneficial for patient consumption, we need some definite science in order to determine "can Panax ginseng treat erectile dysfunction and premature ejaculation?" 
Only a few studies have tried to investigate if this compound is a good alternative therapy for ED. In one article, 7 separate investigations were pooled together to strengthen the data. In this meta-analysis of 349 patients suffering from ED, it was determined that supplementation with Panax ginseng significantly improved erections compared to those in a control group. It was also determined that psychogenic ED was alleviated significantly in a smaller subgroup of this original study. [6]
Although the data may be impressive, I am skeptical of this claim due to the small sample size obtained. Although 350 people are enough to make some type of scientific trend evident in most cases, because they complied from 7 different studies, that means each had only about 50 patients. It is hard to draw meaningful conclusions from such a small group of people so further testing would be needed, in my opinion, to make this a go-to natural remedy already. 
Panax Ginseng Treatment for Premature Ejaculation 
Although "the jury may still be out" on the effectiveness of Panax ginseng to already consider it one of our vitamins and dietary supplements for ED monotherapy, let us now explore if there are some benefits in terms of premature ejaculation. In one study, patients suffering from both ED and premature ejaculation were given 4 tablets of 350 milligrams of Panax ginseng daily for a period of 8 weeks. Improvements in erectile function, as well as the incidence of premature ejaculation, were evaluated during this process. At the conclusion of the study, it was evident that Panax ginseng boosts sexual function. Slight but significant improvements were realized in patients suffering from erectile dysfunction by the end of the 8th week. When it came to patients suffering from premature ejaculation, however, the results were much more encouraging. Patients taking this herbal remedy noticed improvements as early as the first 4 weeks and had improved even more apparently by the 8th week of the study. [7]
"Numbers don't lie" but in this circumstance, they may not tell the full picture of what is happening either. Panax ginseng is a herbal supplement that has been marketed as being a beneficial supplement to consume because of how it is able to improve the quality of life in users. In another study testing to see if Panax ginseng can truly work, 9 patients were given varying dosages of Panax ginseng (80-400mg) daily for a period of 2 to 9 months to determine if there was a noticeable difference. At the conclusion of this investigation, ginseng did have some effect but sample size and quality of the investigation made it impossible to attribute ginseng to being the underlying cause of this improvement. [8]
When it comes to premature ejaculation, this is usually caused by the anxiety of stress in younger males but it is not exclusively seen in this population. What I suspect is more the reason that Panax ginseng seemed to improve ejaculation rates is that of its "placebo effects." Patients taking this medication may feel that they are truly treating their condition and can relax more. In turn, this results in improved sexual function. Perhaps Panax ginseng boosts sexual function but more investigations need to be done to answer "can Panax ginseng treat erectile dysfunction and premature ejaculation?" 
Photo courtesy of SteadyHealth.com