Marijuana is a common drug of choice for many in modern society to make a stressful day more manageable. Does frequent abuse of weed impact your sexual health and even predispose you to having more frequent bouts of erectile dysfunction?
Erectile dysfunction is a disease that can come from a number of different origins. Hypertension, diabetes and prostate complications are some of the few of many possible causes of erectile dysfunction [1]. Another batch of disorders that can lead to erectile dysfunction stem from stress disorders like depression, anxiety and fatigue [2]. In modern society, marijuana is becoming a popular treatment for patients to use when suffering from too much stress to help them relax. Due to social stigmas associated with marijuana, smoking weed to relax is not a viable option for all and natural treatments for erectile dysfunction can be of some benefit. Vitamins and dietary supplements for ED like Vitamin B3 or Horny Goat Weed, can help cope with anxiety issues. For those who are more open-minded, marijuana may be useful. Here, we will explore the interactions of Viagra and marijuana and also determine is smoking weed good or bad for erectile dysfunction?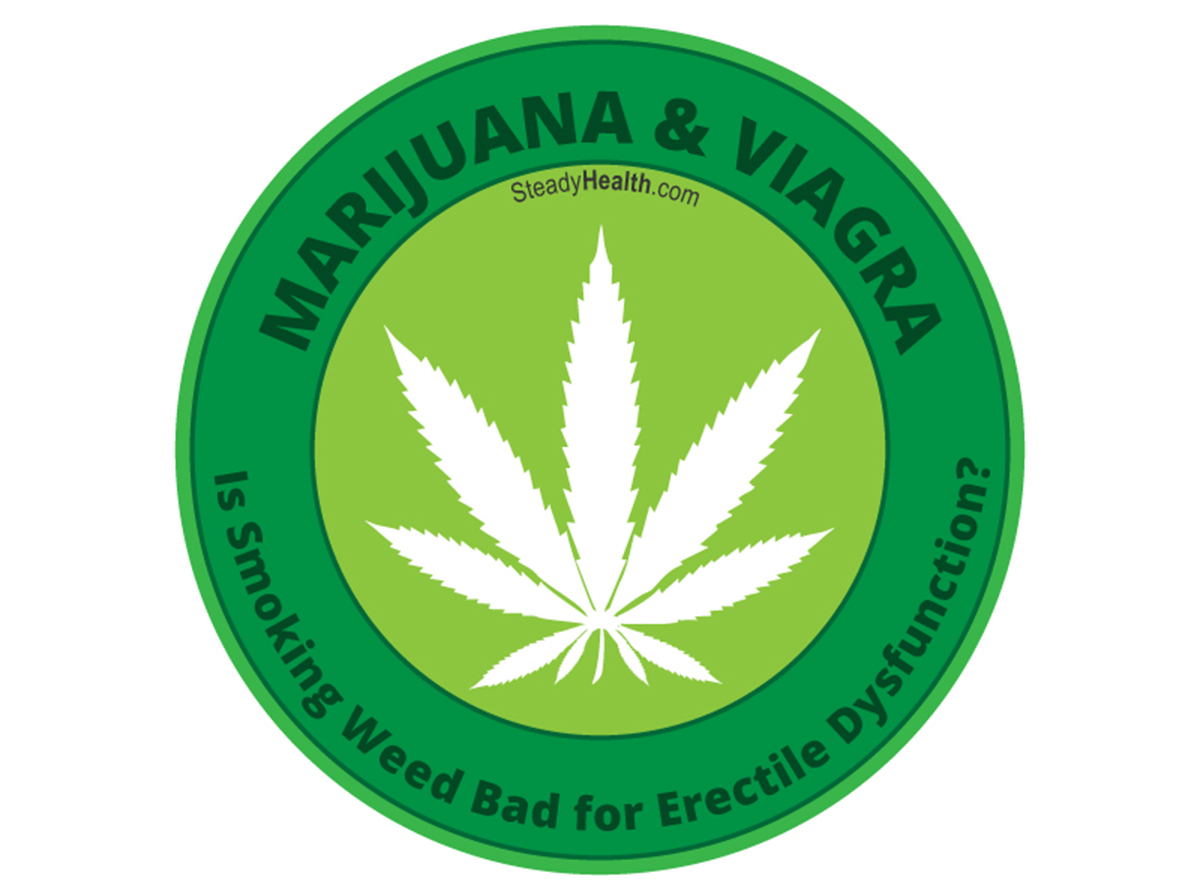 The Link Between Viagra and Marijuana 
An unfortunate trend in modern society is the practice of teenagers and adults using and abusing substances like Viagra in order to get "high." As I demonstrated in articles like Alcohol and Viagra and Cocaine and Viagra, these substances are not safe to use together and all indications depict that marijuana can also be dangerous to use. In a cross-sectional study of nearly 2,000 male patients aged 19-29, 46 percent admitted to combining illicit drugs, alcohol and erectile dysfunction medication like Viagra. Of these cases, the most common illicit drug that was used was marijuana in 61 percent of cases. [3]
The danger of this combination of medication can be seen on the cellular level. Cannabis (marijuana) is a substance that is known to be an inhibitor of an enzyme in your liver called cytochrome P450. This is the same enzyme that is responsible for the digestion of Viagra when it is taken into the body. When the enzyme is blocked, it is not able to digest the active ingredients that make Viagra potent and effective in small doses and the effect can be prolonged for a longer period of time. In one such case, a 29-year-old healthy male patient experienced a heart attack following the combination of Viagra and marijuana. [4]
Looking at this case further, it was learned that this particular individual was able to purchase marijuana that had a much more potent concentration of THC (the active ingredient in marijuana) than most commercial strands. When observing the electrical activity of the heart, it showed that this strain of marijuana was able to prolong segments of the heart conduction pathway and forced the heart to work much harder than it normally did. Analyzing his circulation showed that he had no signs of having any atherosclerosis and that this was likely due to the combination of drugs that he had ingested. [5] True, this was a rare and severe reaction but considering the source of marijuana is unknown in most cases when you are purchasing it, is the risk worth the reward? 
Marijuana and Erectile Dysfunction 
The mechanism of sexual dysfunction and marijuana is not fully understood and reports conflict about the true effect that these two can have, whether good or bad. Most investigations depict that marijuana is a substance that depresses the hypothalamic pathway and decreases the synthesis of testosterone. This may not impact your ability to get an erection necessarily but low testosterone levels can lead to diminished sperm counts and quality. [6]
In one study observing the effects of cannabis use and sexual function, young men in Switzerland were asked about drug use to determine "is smoking weed good or bad for erectile dysfunction."  At the conclusion of the study, it was determined that 33 percent of Swiss men report sexual dysfunction secondary to drug use, most notably marijuana. [7]
To prove this is not a problem just relegated to the Swiss Alps, another study conducted in Australia was done to determine how Australians responded to cannabis use. In this investigation, 8,656 Australians aged 16 to 64 were asked about their cannabis use and sexual history. During this investigation, it was determined that approximately 9 percent of Australians had used marijuana in the last year and 4 percent admit to using the drug at least weekly. It was also found that women who smoked weed more frequently also contracted sexually transmitted diseases at rates far greater than males from this same demographic. Women experienced no alterations in their sex drive but when looking at males who smoked more, the more frequent the use of marijuana, the more likely males would experience erectile dysfunction, inability to reach an orgasm, premature ejaculation and inability to ejaculate. [8] 
As you can see from this investigation, marijuana is something you should avoid if you are a male not wishing to have erectile dysfunction and if you are a female, statistically to avoid dangerous diseases. Frequent use of the substance can greatly diminish the quality of your sex life and even if you may think it can help relax you and help you manage the stress in your life, the reality of the matter is that you are making your erectile dysfunction worse with the use of marijuana. Natural treatment for erectile dysfunction would also probably prove ineffective with the frequent smoking of marijuana because when testosterone is too low, you will not be motivated to have sex in the first place. When buying vitamins and dietary supplements for ED, save some money first by not buying more marijuana and you should find a more satisfying sex life. 
Photo courtesy of SteadyHealth.com