Both erectile dysfunction and prostate cancer are common occurrences in society but is there a link between these two diseases? Are certain treatment options for prostate cancer also more likely to ruin your sex life even if they may treat your prostate?
When it comes to erectile dysfunction, a number of prior conditions can give rise to the eventual inability to attain and sustain an erection. It is estimated that erectile dysfunction will become an issue for 332 million men worldwide by 2025 [1]. Like erectile dysfunction, prostate cancer is on the rise. Currently, it is the most common non-skin cancer in the United States and is the third leading cause of death from cancer. It is more likely to be seen in the Western world due to diet and higher life expectancy rates but is emerging at a rapid pace even in developing countries as healthcare and life expectancy rates improve. [2] In previous articles, we have covered how natural treatments for erectile dysfunction provide some relief from patients suffering from organic causes of ED. Various vitamins and dietary supplements for ED exist that can help patients achieve but when it comes to erectile dysfunction and prostate cancer, treatment options are much more ill-defined. In this article, we will explore if there is a connection between erectile dysfunction and prostate cancer.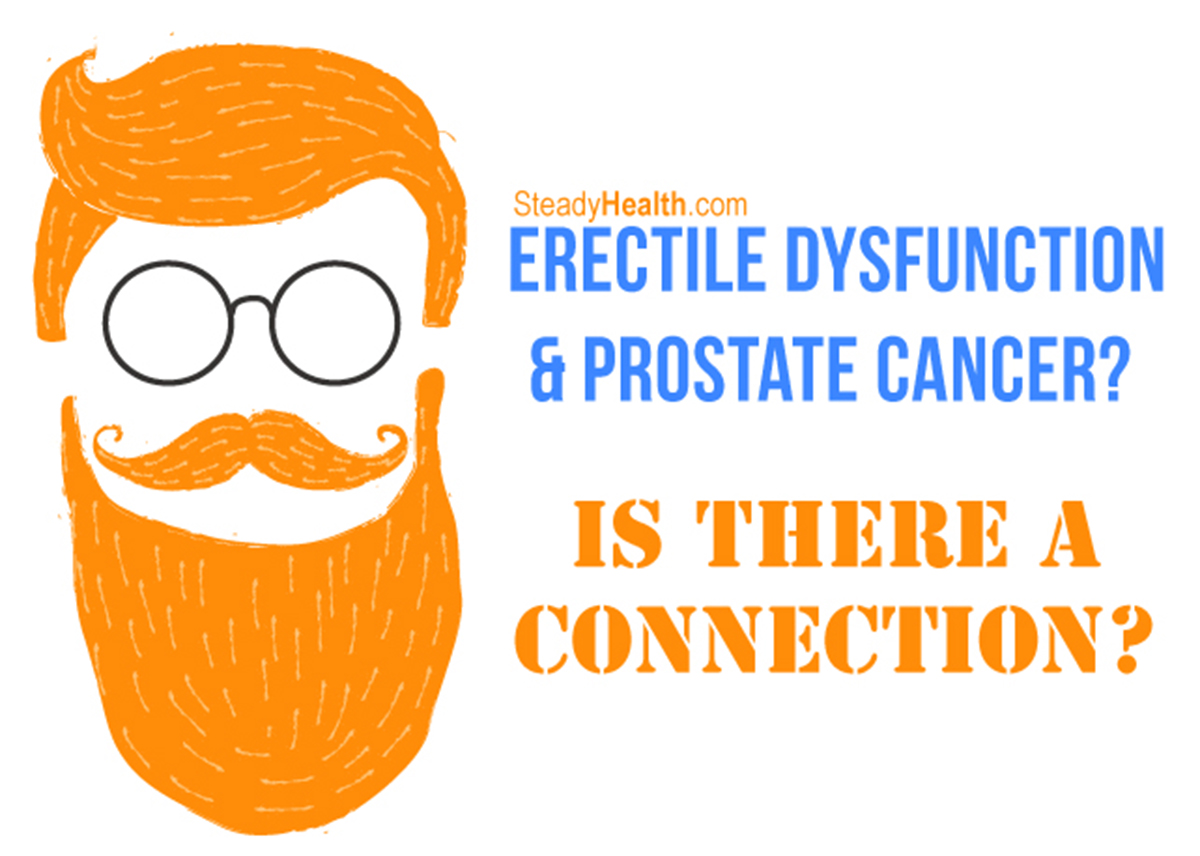 Erectile Dysfunction after a Radical Prostatectomy 
Considering the fact that these two separate conditions are localized to the same area on the body, it is no surprise that someone would logically make the assumption that prostate cancer can manifest as erectile dysfunction. If you made this assumption yourself, you would be correct. An unfortunate fact is that erectile dysfunction is a common side effect of patients suffering from prostate cancer. When faced with this pathology, physicians often present the patient with two options for treatment of prostate cancer. A patient can either have a radical prostatectomy or radiation therapy to try to manage their prostate cancer [3]. A radical prostatectomy is considered the "gold-standard" when patients have prostate cancer and will have better long-term survival rates compared those who elect to keep their prostates and treat them with just radiation and hormone therapy. Studies indicate that patients electing to remove their prostates will survive 92 percent of the time 10 years after surgery compared to 88 percent in those having radiation therapy [4]. 
With these two interventions, there is a subsequent risk to the physiology surrounding the penis and complications due to interventions can lead to erectile dysfunction. When dealing with radical prostatectomies, patients may have the nerve supply responsible to obtain an erection severed making it virtually impossible for patients to have erections afterward. Even in patients having very precise surgeries that preserved both nerves supplying the penis, only 57 percent of patients were able to achieve an erection afterward. In the event one nerve was accidentally cut during the surgery, this number drops to around 37 percent. [5] 
As you can see from the data, although your survival afterward is more likely after electing to have your entire prostate removed, patients are likely done having a quality sex life afterwards. From a medical perspective, we are happy because we did our job, the cancer will likely not kill the patient and he will live longer. When a patient is in his 70s or 80s, perhaps this is a good option for patients because their sex life is much different than a male in their 40s, 50s or 60s but when you are younger, is there a better option for you to consider when you still wish to avoid erectile dysfunction? 
Erectile Dysfunction after Radiation Therapy
We know now that having a prostatectomy will usually result in erectile dysfunction but what about if you just leave the prostate in and try to treat it with external radiation therapy? In this same study to determine the frequency of erectile dysfunction after prostate cancer interventions, it was determined that patients who elected to just have external radiation therapy have preserved sexual function 73 percent of the time [5]. This is a far-cry from the statistics seen after a radical prostatectomy and the reason lies in the underlying physiology of what is happening. Because patients are not subjected to the blade of a surgeon's knife, the nerve bundles and vascular supply are almost entirely preserved and patients will be able to enjoy a quality sex life even after managing their sex life. 
Even if sexual function is preserved more likely after a few rounds of radiation, patients will likely suffer from erectile dysfunction due to potential vascular damage due to the radiation beam damaging small vessels around the penis. Thankfully, this is something more curable from a medical perspective and natural treatments for erectile dysfunction like DHEA or pharmacological options like Viagra that can help with ED. 
When vascular problems are even unlikely, physicians need to consider some of the other underlying reasons a patient may have erectile dysfunction and prostate cancer. Even if survival rates are higher for prostate cancer compared to lung cancer, the fact that patients have cancer can be quite taxing on the psyche of a patient [6]. Stress and anxiety can lead to depression and erectile dysfunction can manifest as erectile dysfunction. With luck, patients will be able to digest this stress and eventually regain erectile function but the quality of sex life will usually be decreased after the ordeal. As seen in previous articles, some vitamins and dietary supplements for ED like Korean ginseng that can help manage this anxiety and depression naturally. 
To conclude, it should be apparent now that there is a connection between erectile dysfunction and prostate cancer. Erectile dysfunction and prostate cancer are two conditions that go hand-in-hand and patients should be aware of the options they have in order to manage both conditions. Side effects from radical prostatectomies may be impossible to overcome but if patients elect to pick radiation therapy instead, they may have lower prognostic levels of survival but they also are likely to have a higher sex life afterward. 
Photo courtesy of SteadyHealth.com