When it comes to erectile dysfunction, chronic conditions can make it hard for patients to recover their erectile potential fully. Could a folic acid vitamin help patients recover their erectile potential and improve their quality of life?
Erectile dysfunction is a common disease that is expected to become even more common in the coming decades [1]. This disease can occur on its own, but in most cases, it will often be secondary to any number of chronic conditions. Some of the most common diseases that can lead to erectile dysfunction include diabetes mellitus, hypertension or stress disorders like anxiety and depression [2]. Some of the more potent medical options to bring about quick relief include substances that can promote the secretion of nitric oxide (NO). This compound helps dilate blood vessels and is paramount for having and sustaining an erection [3]. The most well-known compound that can achieve this would be Viagra [4]. Unfortunately, some side effects can complicate treatment options with Viagra and patients will need to turn to natural treatments for erectile dysfunction potentially [5]. We have already covered a myriad of various vitamins and dietary supplements for ED that you can consider to incorporate as part of your treatment. Some of the more successful supplements we covered included horny goat weed and how it can treat erectile dysfunction or how vitamin D can treat erectile dysfunction. Nevertheless, along with this journey for an alternative cure, we have also found that some compounds are untested and potentially dangerous, so it is important to avoid them at all costs. Herbal Viagra can be one of these potentially dangerous remedies for erectile dysfunction.In this article, we will focus on another one of the vitamins for erectile dysfunction that has been linked to being a potential treatment for erectile dysfunction: folic acid. The question is can we use folic acid for erectile dysfunction?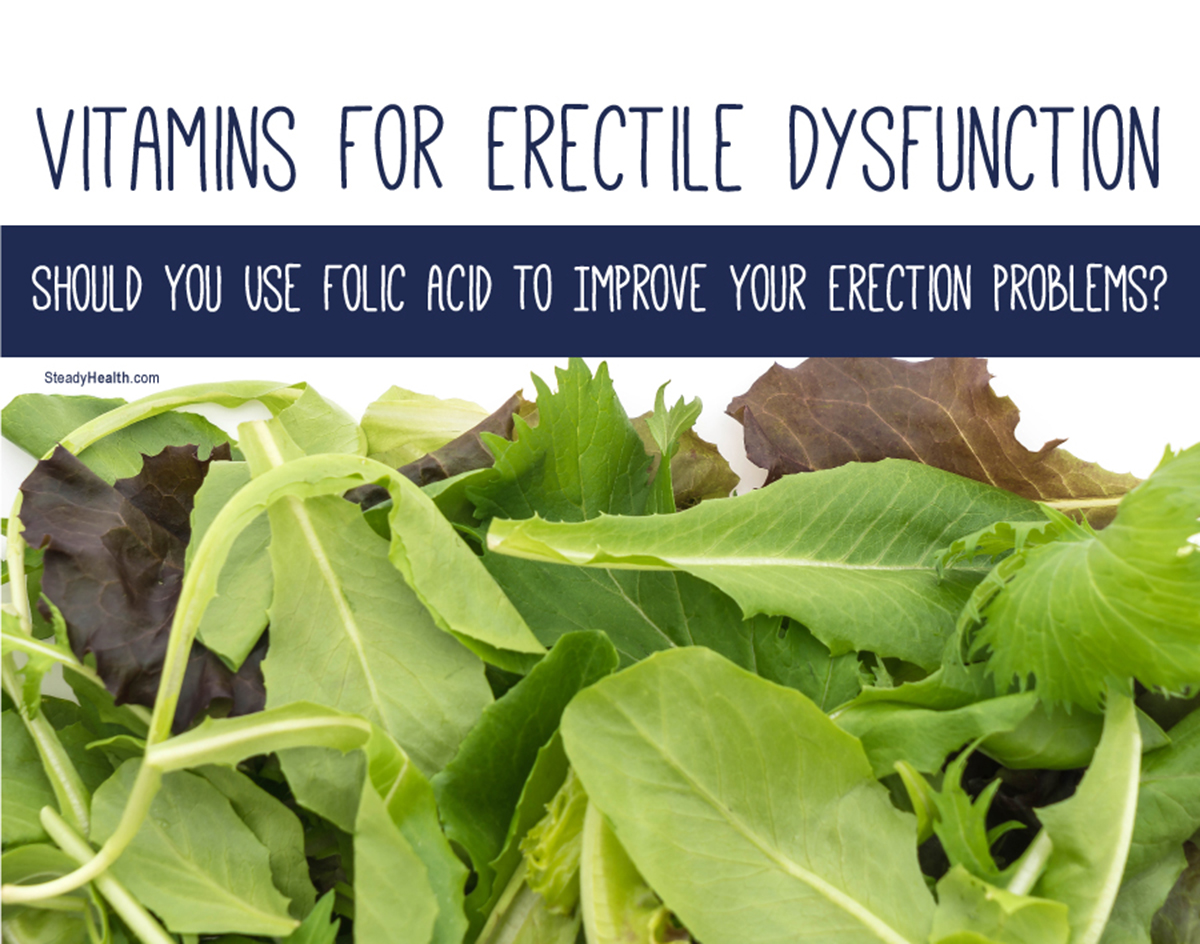 What is Folic Acid? 
In general, folic acid is something that is commonly used for various medical applications. It is an essential co-factor in many energy producing reactions in the body and is a member of the famous vitamin B family. There is not much free folic acid floating around the body due to the fact that it is tightly bound to enzymes so folic acid deficiencies can be common. Some of these symptoms of deficiency can manifest as megaloblastic anemia and mood disorders. To reduce the likelihood of folic acid deficiency, numerous countries from around the world have attempted to fortify grains and cereals to make sure that populations are not at risk for deficiencies. It is also a vitamin that is immensely valuable during pregnancies and women are encouraged to take daily doses of folic acid to prevent birth defects in the fetus. [6]
Some studies also indicate that folic acid with vitamin B12 also can be a therapeutic option for patients suffering from depression. In one study, patients taking 800 milligrams daily of folic acid and vitamin B12 were able to reduce depressive symptoms and live a higher quality of life [7]. As we saw with a compound like Rhidolia rosea, depression is very likely to cause erectile dysfunction and by simply treating depression, patients may be able to find relief from their erectile dysfunction already. 
Will it Help Your Erectile Dysfunction? 
Now that we know what folic acid is, it is time to determine if this could be the natural treatment for erectile dysfunction. In one investigation, researchers assessed folic acid levels in 42 patients with erectile dysfunction, 36 patients with premature ejaculation, 25 patients with ED and premature ejaculation and 30 healthy men. At the conclusion of the study, it researchers determined that patients suffering from erectile dysfunction or premature ejaculation were likely to have lower serum folic acid levels compared to those in the healthy group. [8]
In another study, scientists administered folic acid to diabetic rabbits, and they assessed the quality of erections afterward. At the conclusion of the study, supplemental injections of folic acid improved the erection potential in this animal population.
Studies predict that patients also suffering from diabetes mellitus would have the same benefits from these folic acid injections and clinical trials are currently underway to test that theory. [
9
]
In the first small clinical trails attempting to depict this trend in humans, 83 patients with diabetes mellitus and erectile dysfunction were given a combination of 5 milligrams of folic acid daily as well as 10 milligrams of tadalafil every other day. At the conclusion of this preliminary investigation, this combination of folic acid and tadalafil produced a significantly better result than just tadalafil or the placebo alone. [10]
Even if it may be early in the studies, folic acid does look like a very promising vitamin for erectile dysfunction. Folic acid for erectile dysfunction is something you should seriously consider when you are choosing your vitamins and dietary supplements for ED. 
Photo courtesy of SteadyHealth.com