Erectile dysfunction and premature ejaculations are two common occurrences that can really alter your quality of life and sexual health. Although treatment options exist for both separately, could taking Propionyl-L-carnitine alleviate both conditions?
Erectile dysfunction is a common clinical problem that affects predominately males older than 40. This occurs when there is insufficient engorgement in the penis preventing blood from pooling. Erectile dysfunction can be attributed to chronic conditions like diabetes, hypertension, or anxiety issues [1]. Another common problem is premature ejaculation and this is a more common problem in younger males. Premature ejaculation occurs when males have ejaculations within 60 seconds of vaginal penetration [2]. Both of these problems can be frustrating and lead to decreased sexual health and satisfaction. Treatments and therapies exist for both conditions but they may be linked to some side effects. Behavior modification is often the best form of therapy for premature ejaculations but those sessions can be quite expensive without adequate insurance coverage [3]. Natural treatments for erectile dysfunction are possible. In previous articles, I have gone over how we can use vitamins and dietary supplements for ED like DHEA or L-arginine can be used to help improve erections. We have even covered supplements like Panax ginseng that can help treat both sexual problems. Another compound that claims you can supplement your sex life with Propionyl-L-carnitine. The question is, however, does propionyl-L-carnitine treat premature ejaculation as well as improving your ED?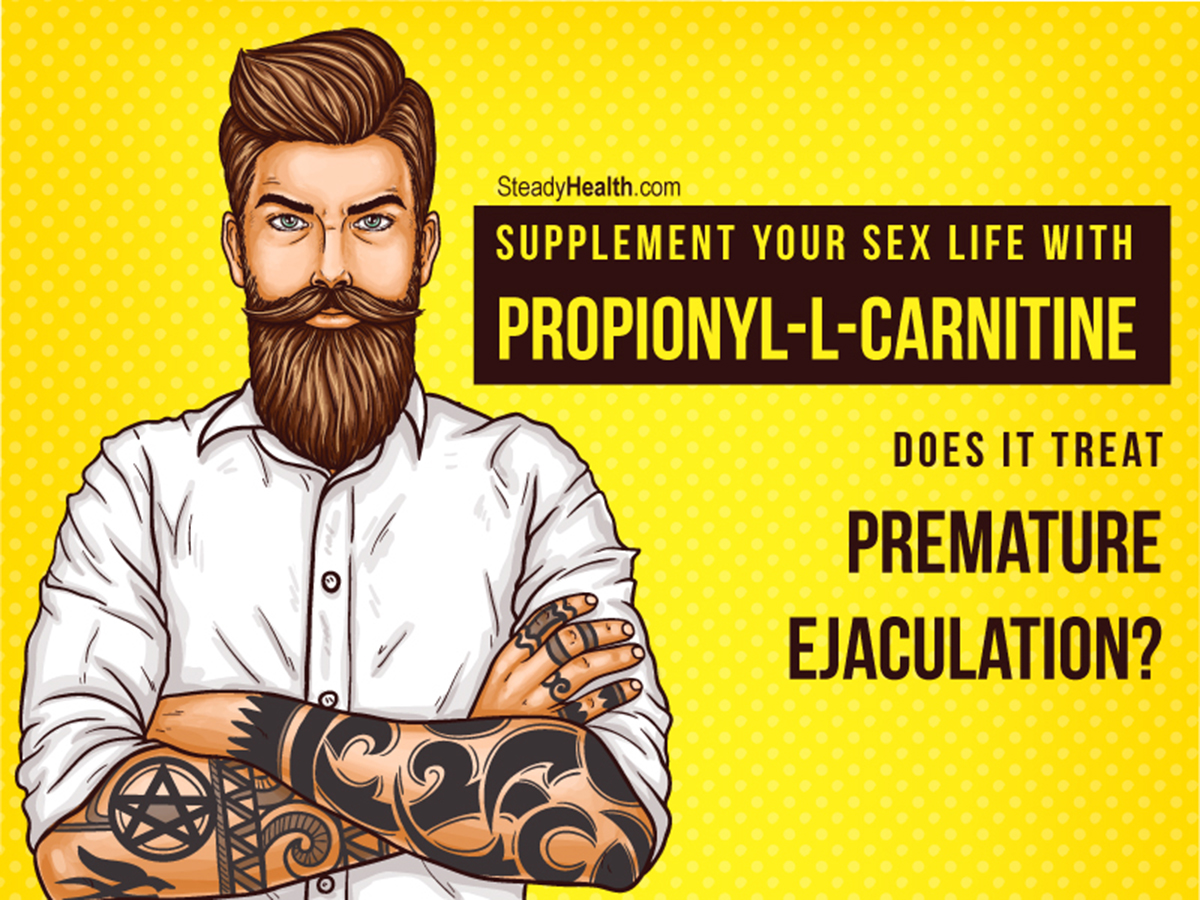 Propionyl-L-carnitine and Erectile Dysfunction 
Propionyl-L-carnitine is a compound that can be useful in a number of conditions. Its two main uses include increasing energy production in ischemic muscles as well as improving blood flow as blood viscosity is altered [4]. In theory, this should be great for patients that are suffering from erectile dysfunction. The more blood that saturates the penile tissue, the more likely ED will be resolved. 
Unfortunately, there are no current studies determining if propionyl-L-carnitine can be a successful monotherapy, so we will explore if it will be effective with a combination of other medications. When erectile dysfunction occurs, one of the first drugs that patients will turn to is sildenafil (more commonly termed Viagra). On its own, this is a very well-tolerated medication that 95 percent of patients will experience satisfactory erections after using this medication [5]. This seems like an "open and closed case" regarding medication therapy for erectile dysfunction, but patients typically develop a dependence of this pill and need to premeditate their sex life to take the medication a few hours before engaging in any behavior. A wrong guess could lead to an embarrassing situation. 
One study attempted to try to regulate these erections so they are more natural. In this study, 40 patients were split into two groups and given either 2 grams of propionyl-L-carnitine daily plus 50 mg of Viagra twice a week compared to a group just receiving Viagra. This trial lasted for 24 weeks and at the conclusion of the study, it was determined that patients taking this drug combination were successful in having intercourse 76 percent of the time compared to just 34 percent from the Viagra group alone. A significant improvement was seen in 70 percent of patients receiving a drug combination compared to just 20 percent of those taking Viagra alone.[6]  It appears that you can supplement your sex life with Propionyl-L-carnitine quite remarkably. 
Propionyl-L-carnitine and Premature Ejaculation 
Now that we know we can include propionyl-L-carnitine as a natural treatment for erectile dysfunction, we need to now explore the question does propionyl-L-carnitine treat premature ejaculations? In terms of actual scientific studies, there are no current investigations to determine if propionyl-L-carnitine can effective at improving premature ejaculation. There is one supplement currently available for online purchasing which contains this ingredient among 11 other ingredients. It goes by the name of "Magnumer Stamina" but this compound has never been tested in any investigation [7]. 
There may be anecdotal evidence claiming that propionyl-L-carnitine may be beneficial for patients suffering from premature ejaculation but because of the lack of medical evidence, it could be easily explained away by the "placebo effect" theory. Premature ejaculation is typically a psychogenic disorder that is dealing with stress and anxiety during sexual intercourse. If patients believe supplements they are taking can help them with their premature ejaculations, they will naturally feel more relaxed and have more satisfactory sexual intercourse. Behavioral and psychological counseling are the first line therapies for any type of premature ejaculation disorder, and I would strongly recommend following this safer and proven method to improve your sex life compared to untested and potentially dangerous compounds that are only released on the market to make pharmacy companies extra money [8].
To provide an answer to the question, "does propionyl-L-carnitine treat premature ejaculation?" as it stands now, we still don't know. In my opinion, substances marketed with this compound advertised as being effective in improving your premature ejaculations are scams. There are no published scientific articles, and if you choose to consume these products, you are putting yourself at risk for unknown complications. 
Photo courtesy of SteadyHealth.com