Morogo, a type of leafy Amaranth, is one of the world's oldest food crops. Commonly considered a weed, it has been planted and grown by low-income groups in South America, Asia and Africa for centuries, and is now regarded as a superfood.
Morogo, a traditional African food plant of the Amaranth family, is a spinach-type leafy plant that is packed with nutrients. Also known as pigweed (and sometimes spelled Marogo), it is rich in protein and contains minerals (including iron and calcium), vitamins A and C, and trace elements. 
While not a common vegetable on supermarkets shelves, according to Phakamani Xaba from Kirstenbosch National Botanical Garden's South African National Biodiversity Institute (SANBI), there is some large-scale commercial cultivation of several types of Amaranth which is mostly exported to first world countries as "a high-demand health food."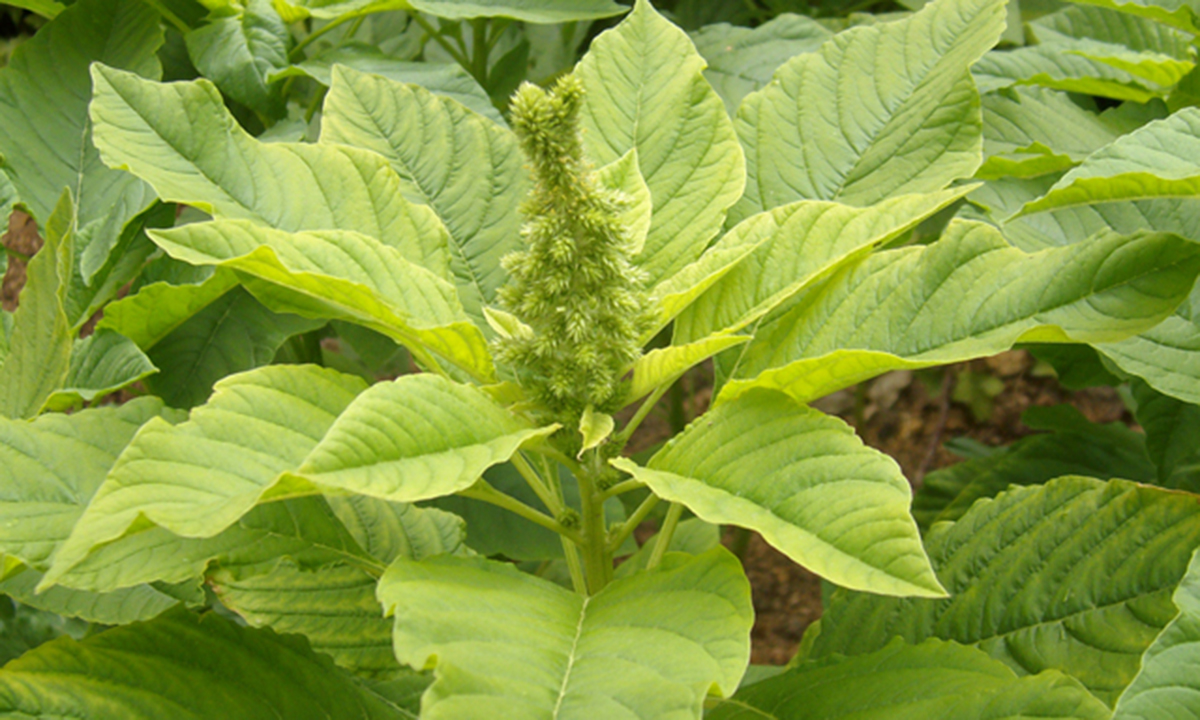 Seeds are available from Kirstenbosch and various seed producers, and it is very easy to grow. 
The Amaranthus Family
Described as long ago as 1753 by Swedish botanist, Carl Linnaeus (considered the father of modern taxonomy) in the second volume of his groundbreaking work, Species Plantarum, Amaranthus hybridus is said to mean never-fading (in terms of the flower) mongrel, from the Greek word amarantos and Latin hybrid. But today there are around 70 different Amaranthus species that contain 160 different genera, and as many as 2,400 species, most of which are herbs and shrubs.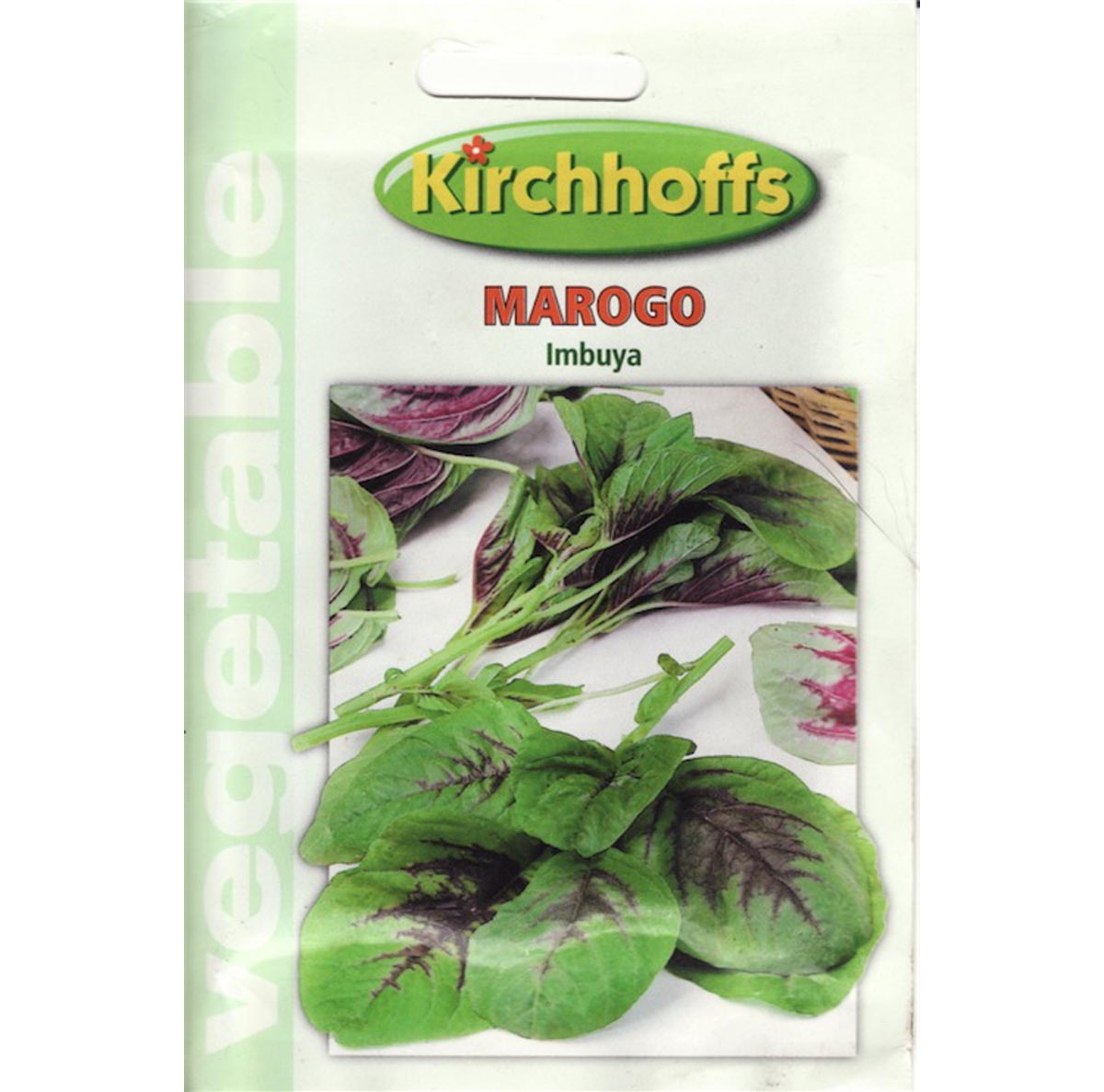 Xaba talks generally about Amaranths, and lists the plant's common names according to different southern African languages:
Common pigweed (English)
Misbredie (Afrikaans)
Maroga and tepe (Sotho)
Thepe (Tswana)
Serepelele and theepe (Pedi)
Umfino, mbuya and utyutu (Xhosa and Zulu)
He also mentions several species including the nematode-resistant A. cruentus, grown for its nutritious leaves, and two ornamental species, A. hypochondriacus and A. caudatus, both of which are featured photographically in The Royal Horticulutral Society Gardeners' Encyclopedia of Plants and Flowers. A. caudatus is particularly attractive, with its pendulous panicles of long, deep wine-red tassel-type flowers reaching to the ground.  
According to other sources, A. cruentus has been grown for its grain (seeds) for centuries, is a traditional pseudo-cereal crop in Latin America, India and Nepal. Grain amaranth is also cultivated commercially in some hot, dry part of the US, Argentina and China.
Writing in K. V. Peter's book Underutilized & Underexploited Horticultural Crops, E. ven den Heever and S. L. Venter of the South African Agricultural Research Council maintain that Amaranths could not only be used to address malnutrition problems in Africa, but could also reduce poverty in communities, decrease environmental damage, increase food supply, and provide farmers with an income.
They discuss how amaranth grain and maize were the staple foods of both the Peruvian Incas and Mexican Aztecs, and point out that while A. cruentus has been grown as a dual crop (for its leaves and grain) in Europe, it is not indigenous to South Africa so not cultivated for its grain. They state that there are six species of Amaranthus weeds in SA, including A. cruentus, A caudatus, and A. hybridus, and like Xaba, they state that marogo is a common Sotho name for Amaranth – as is marog (Afrikaans). However they don't specify which specific species marogo (or morogo) is.
Morogo And Traditional Leafy Vegetables
The anomaly of morogo is that it is identified as a specific plant by some, and lumped together with other traditional leafy vegetables by others. This is probably in part due to a lack of botanical knowledge by local African tribes. For example the Setswana people refer to a variety of traditional leafy vegetables as "morogo." The Tswana word for vegetables is also morogo. This idea is perpetuated by the Morogo Research Programme at North-West University in Potchefstroom where "morogo" research studies focus on any traditional leafy vegetables. Taking this a step further, researcher Willem Sternberg Jansen van Rensburg states categorically that morogo (also called imifino) is a term that is used "for all green, leafy vegetables," including the greens of conventional crops like beetroot or pumpkin.
However, in one of his papers he describe how rural women in the northern South African Mpumalanga and Limpopo Provinces harvest the seeds of certain amaranths, and sow the seeds annually. He also concedes that these particular green leafy vegetables are "treated as crops." Surely this is marogo? Certainly it looks like the crop produced from seed produced and distributed by several South African seed companies.
READ Kimchi Health Benefits: Why This Korean Dish Is More Than A Condiment
Adding to the confusion, some people consider morogo to be the term for any of the edible amaranth species. There are also tribes that identify what is widely known as African spinach, and known to be one (or more) of the Amaranthus weeds, also referred to as morogo.
Continue reading after recommendations
Underutilized & Underexploited Horticultural Crops (Vol. 4) edited by Peter, K V, New India Publishing Agency 2008
The Royal Horticultural Society Gardeners' Encyclopedia of Plants and Flowers edited by Christopher Brickell, Dorling Kindersley, London 1991
http://www.nda.agric.za/docs/Infopaks/Amaranth.pdf http://www.botanicalsociety.org.za/ProjectsAndActivities/Shared%20Documents/3.%20Gardening%20with%20traditional%20plants.pdf http://www.seedsforafrica.co.za/products/green-marog-marogo-african-vegetable-amaranth-200-seeds
African leafy vegetables in South Africa by Jansen van Rensburg, Willem S
Van Averbeke, W
Slabbert, R
Faber, M
Van Jaarsveld, P
Van Heerden, I
Wenhold, F
Oelofse, A, Water SA, Volume 33, 2007. Published online: www.ajol.info/index.php/wsa/article/viewFile/49110/35456
Have You Considered Eating Your Weeds? by Jansen van Rensburg, Willem Sternberg, Cloete
Michele, Gerrano, Abe Shegro
Adebola, Patrick Olusanmi, American Journal of Plant Sciences, 2014. Published online: http://www.scirp.org/journal/PaperInformation.aspx?PaperID=44206 (Creative Commons)
Photos courtesy of Penny Swift & Janek Szymanowski © reserved
Photo courtesy of
Photo courtesy of
Important notification about information and brand names http://www.steadyhealth.com/polices/terms-of-use#copyright