Erectile dysfunction is a disease of society, much like alcohol abuse. Unfortunately, patients often suffer from both together but could a potential cure be as simple as giving Viagra in order to improve erectile function in these patients?
A typical patient suffering from erectile dysfunction will be an elderly male patient with a number of additional complications to make treatment options less than ideal [1]. Some of these can range from hypertension, diabetes, stress disorders and even alcohol dependence [2]. All these factors can combine to make traditional treatment options for erectile dysfunction, like Viagra, not as effective. In this case, natural treatments for erectile dysfunction are useful alternatives that can bring patients relief. In previous articles, I have gone over some of the vitamins and dietary supplements for ED that can be beneficial if you suffer from just some of these complications. One factor I have yet to cover is the interactions between Viagra and Alcohol. Here, we will cover what can happen when using Viagra and alcohol together.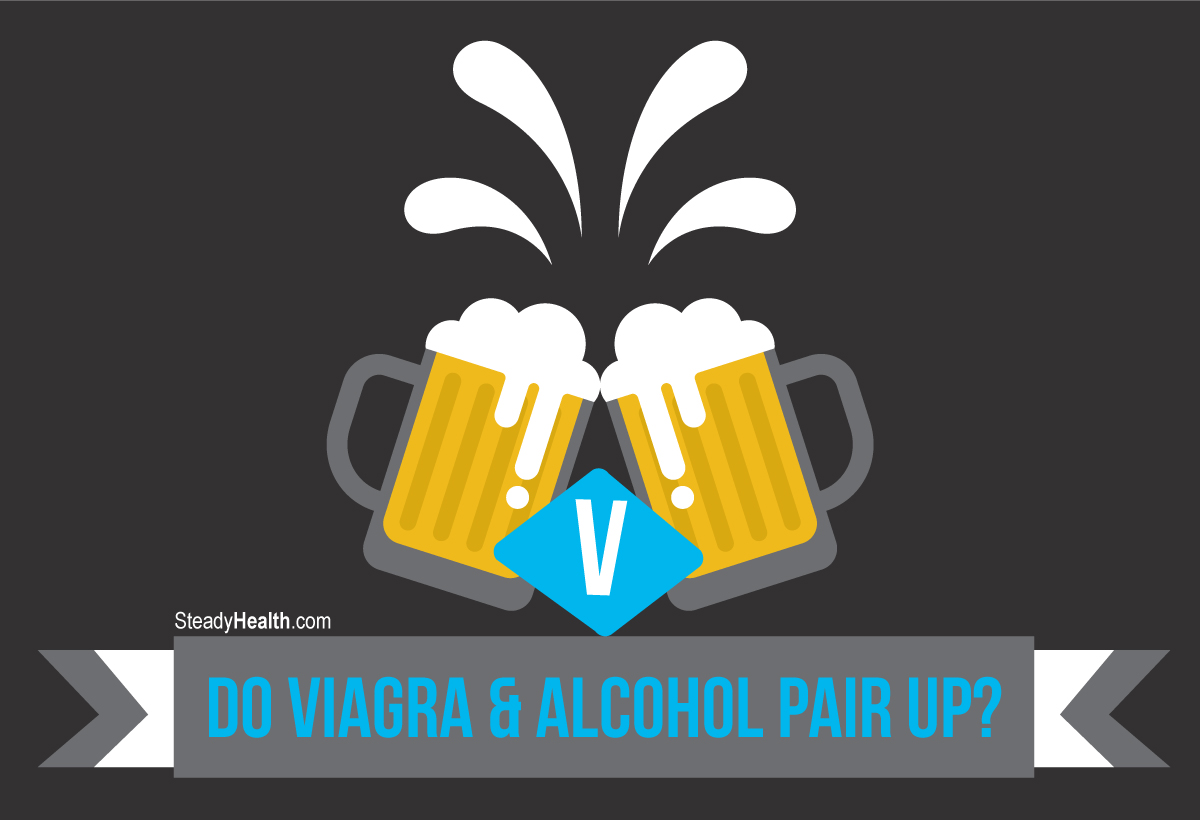 The Link Between Alcohol and Erectile Dysfunction 
The underlying mechanism of erectile dysfunction is the inability to sustain enough blood flow into the penis in order to have an erection [3]. Ironically enough, drinking alcohol may help you relax a little before engaging in sexual intercourse but drink too much and you could be giving yourself some type of alcohol-induced erectile dysfunction. You may even remember a few occasions yourself where after a few drinks at the local watering-hole, you came back to the apartment with your date and had a tough time performing afterward. Don't worry, it does happen to everyone, really! This is due to the fact that alcohol predisposes users to dysfunction in their nerve system because alcohol acts as a depressant.
This can predispose patients to have premature ejaculation, low sex drives and even erectile dysfunction [
4
]. Studies indicate that after consuming a moderate amount of alcohol, 
72 percent 
of males surveyed confirmed that they had some type of sexual dysfunction afterward [
5
]. 
An easy answer would tell patients to not drink when they are planning any sexual activities in the near future but that is much easier said than done. Studies indicate that the lifetime risk of alcohol dependence in the United States can be as high as 34 percent. These percentages are even higher when the population has risks of depression, anxiety disorders and mood disorders, all of which can make significant contributions to also having erectile dysfunction. [6]
Interactions Between Alcohol and Viagra 
A quick self-treatment that most people will jump to when suffering from any form of erectile dysfunction would be a quick fix in the form of Viagra. As we have seen in previous articles, this is a very effective medication in ideal conditions but when patients have other diseases like hypertension and diabetes, this treatment route is not nearly as effective. We know already that alcohol can influence your sex drive but can it also impact the therapeutic potential of a medication like Viagra. In one study, 8 healthy men were given 100 mg of Viagra and then instructed to drink a whole bottle of red wine (750mL). Cardiac parameters like blood pressure, heart rate and cardiac index (how hard your heart is working) were measured afterward every 15 minutes for a period of 3 hours. At the conclusion of this study, it was determined that alcohol did increase heart rates and cardiac index significantly after patients took Viagra compared to the control groups and also caused blood pressure to drop by a significant margin. Although it was significant in the test, medically speaking, the magnitude of how much these parameters changed would not be noticed physically in patients and the study concludes with the belief that using Viagra and Alcohol together, in the form of red wine, did not make a clinical difference in the status of the patient. [7]
Although healthy men seem to be okay when taking Viagra and Alcohol together, in the real-world, men will not always be healthy adults when they decide to consider to use Viagra medication. We have seen that Viagra and Diabetes do not go together. In one study, 54 men diagnosed with alcohol dependence and concomitant sexual dysfunction were asked to take Viagra to see the effects of the medication. Participants took 50mg of Viagra for a period of 12 weeks and it was determined that at the end of the trial, participants noticed a 42 percent improvement in their erectile potentials after taking Viagra. Patients also reported a significant improvement in their quality of life scores as well as emotional stress disorders. [8]
All in all, it seems that there are no substantial risks with erectile dysfunction and Viagra together. I would advise against habitually using them together because Viagra does not work as effectively in healthy adults when alcohol is at play. Statistics indicate that Viagra is effective in around 92 percent of healthy individuals normally so a response of 42 percent in patients using alcohol is a stark contrast [9]. Mixing Viagra, hypertensive medications and alcohol is a very dangerous combination, however, so if you are also suffering from hypertension and taking nitrates, avoid alcohol or else your blood pressure can drop very dramatically and can even cause heart attacks. Viagra seems to work better with alcohol than other natural treatments for erectile dysfunction that we have covered so make sure you are careful when using some of the vitamins and dietary supplements for ED that have higher cross-reactivity of Viagra. 
Photo courtesy of SteadyHealth.com