When you suffer from erectile dysfunction, a common knee-jerk reaction even untrained medical personnel can recite is the need for Viagra. It is a great medication that can help patients suffering from ED but when a patient also has diabetes, can it help?
Erectile dysfunction is defined as any time a male is unable to obtain and maintain an erection. It is a common disease in society and numbers are expected to grow in the coming years [1]. Another unfortunate disease that is plaguing modern society is the explosion in cases of diabetes [2]. With obesity levels increasing around the globe, it is no wonder that numerous side effects like problems with vision, heart attacks or even erectile dysfunction can ensue [3]. In previous articles, we have covered some natural treatments for erectile dysfunction that exist on the market and can provide relief for those suffering from erectile dysfunction. Numerous vitamins and dietary supplements for ED can help improve blood circulation to the penis like Yohimbine or how medications like Viagra can stimulate blood flow to give better erections. Unfortunately, when it comes to erectile dysfunction and diabetes, Viagra doesn't work most of the time. Read more to find out why.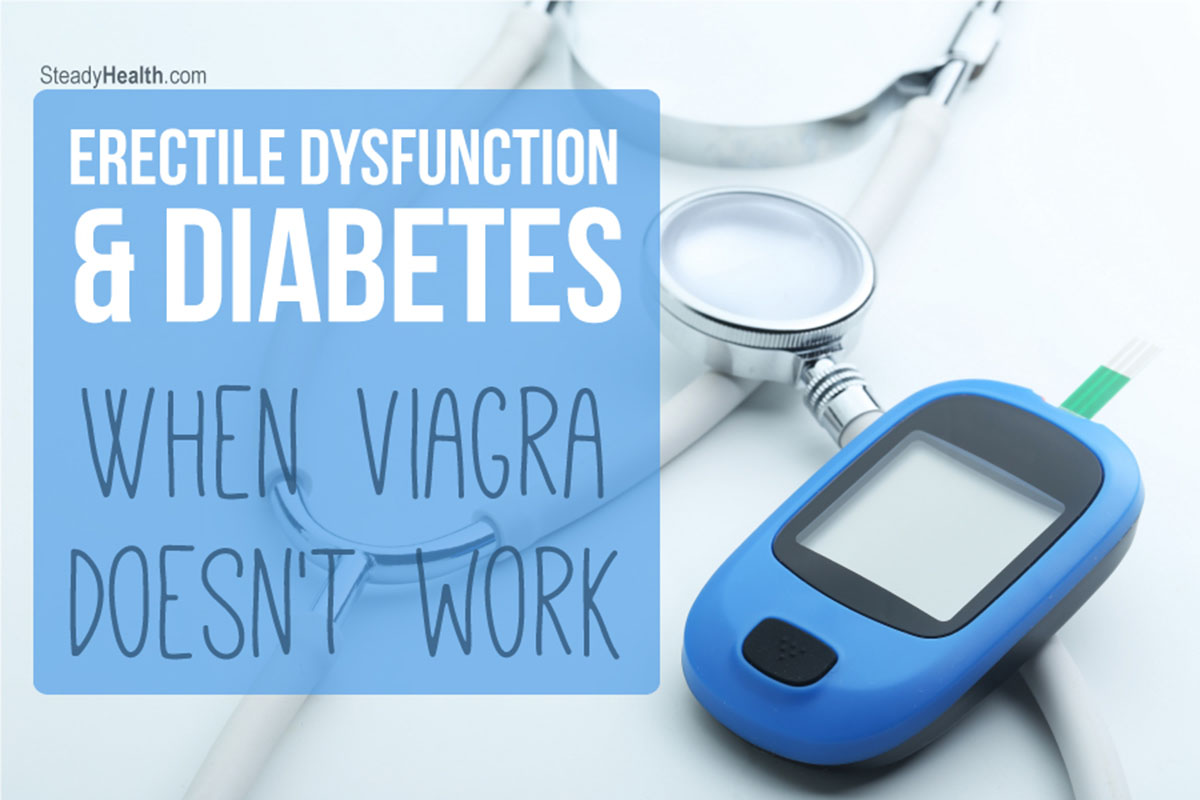 The Link Between Diabetes and Erectile Dysfunction 
When it comes to erectile dysfunction and diabetes, there is a clear and understandable link between these two diseases. Because of the complex systemic involvement of diabetes, macro- and microvascular changes occur that damage circulation around the body. Both women and men suffering from diabetes mellitus (type 2 diabetes) should expect to experience sexual dysfunction as part of the disease cascade and the statistics don't lie.
Patients suffering from diabetes are 
4 times more likely 
to have sexual dysfunction compared to normal individuals [
4
]. 
The true mechanism behind why this is the case is still poorly understood and physicians are unable to determine if the sexual dysfunction arises due to the deterioration in blood flow specifically or if the combination of hypertension, obesity, hyperglycemia and hypertension commonly seen in patients suffering from diabetes that has a synergistic effect to make sexual dysfunction more likely. [5] 
Although most physicians generally mean type 2 diabetes when using the blanket term "diabetes," another version of diabetes that is possible to suffer from would be type 1 diabetes and is more likely to be seen in younger patients who are not overweight. Studies suggest that patients suffering from both forms of diabetes are probable to have erectile dysfunction in the future and epidemiology studies indicate that more than 70 percent of patients suffering from diabetes have some type of erectile dysfunction regardless of the type of diabetes. [6] Patients suffering from diabetes are also more likely to experience erectile dysfunction 10-15 years sooner than when patients normally manifest with erectile dysfunction alone so regardless of what studies you reference, the link between erectile dysfunction and diabetes is undeniable [7].  
Why Viagra Will Not Help 
Viagra is a "wonder-drug" that is the "gold-standard" treatment when it comes to erectile dysfunction management [8]. It works by increasing the production of nitric oxide (NO) that is necessary to dilate blood vessels and as a result, more blood pools into the penile shaft and helps patients obtain and sustain an erection [9]. Depending on the study you read, efficacy levels of Viagra vary but most cite that Viagra will be effective at treating organic erectile dysfunction in over 92 percent of cases [10]. 
Unfortunately, when you mix erectile dysfunction and diabetes, Viagra doesn't work for some reason. In one study designed to assess the effectiveness of Viagra in patients suffering from erectile dysfunction and diabetes, 268 men who suffered from moderate to severe erectile dysfunction partook in this 12-week study. At the conclusion of the study, it was determined that even with the use of Viagra in this population, only 56 percent of male patients reported erections compared to just 10 percent in the control group [11]. True, this did make a difference and can help patients achieve an erection after suffering from long-standing diabetes but considering the normal effectiveness of Viagra was over 90 percent in patients suffering from erectile dysfunction alone, the medication failed to live up to its hype. 
In another study aimed only at patients suffering from type 1 diabetes, 188 patients were given Viagra and the effects were also documented in the study. It was determined that Viagra did also make a difference in patients with the same underwhelming observations. In this study, erections were more frequent in only 66 percent of cases compared to 29 percent of cases in the control group and ability to have intercourse was also 66 percent compared 33 percent from the control group.[12] Just another example of how Viagra doesn't work at the same level that it normally should. 
A theory for this ineffectiveness is the fact that the receptors that Viagra work on are prone to damage during microvascular trauma and the longer the patient suffers from diabetes, the more likely these receptors will be damaged. If patients subsequently take Viagra, the response will be muted just because the receptors no longer exist to make the impact that you can observe in non-diabetic patients. Unfortunately, natural treatments for erectile dysfunction may also miss the mark. Various vitamins and dietary supplements for ED work on similar mechanisms as Viagra so if microvascular trauma has already occurred, there is not much that can be done. The best option if you are a patient suffering from diabetes is to make sure that you have a tight control of your sugar levels to prevent more damage to your vessels. Make sure you exercise to lose weight and manage your hypertension in order to have a higher quality of life and a lower chance of erectile dysfunction. 
Photo courtesy of SteadyHealth.com