One of the first words that people think of when focusing on erectile dysfunction would be Viagra. This little blue pill does a great job at treating ED but it can be very dangerous in some circumstances, especially if you have hypertension.
When it comes to erectile dysfunction, this can be an embarrassing time for a male patient not only during the time of intercourse, but also a realization that he may not be as "manly" as he used to be. This is not a problem exclusively seen in the elderly population and it is estimated that about 20 percent of males suffer from mild to severe erectile dysfunction. Even if it is a common disease, this does not necessarily mean that patients will willingly seek treatment with current estimates believing that up to 70 percent of patients over the age of 60 are not seeking treatment options for their erectile dysfunction. [1] For those who give up on being sexually active, it is a condition that you can live with without the need for intervention but for those seeking treatment, there are a number of natural supplements for erectile dysfunction to consider. Many vitamins and dietary supplements for ED can be come close to being as effective as a compound like Viagra (sildenafil) but are not the "gold-standard" treatment option for one reason or another. In this article, we will examine Viagra a little more closely and see if this "little blue pill" is a "wonder-drug" or if there are risks that patients taking it need to be aware of, especially when the patient has Viagra and hypertension.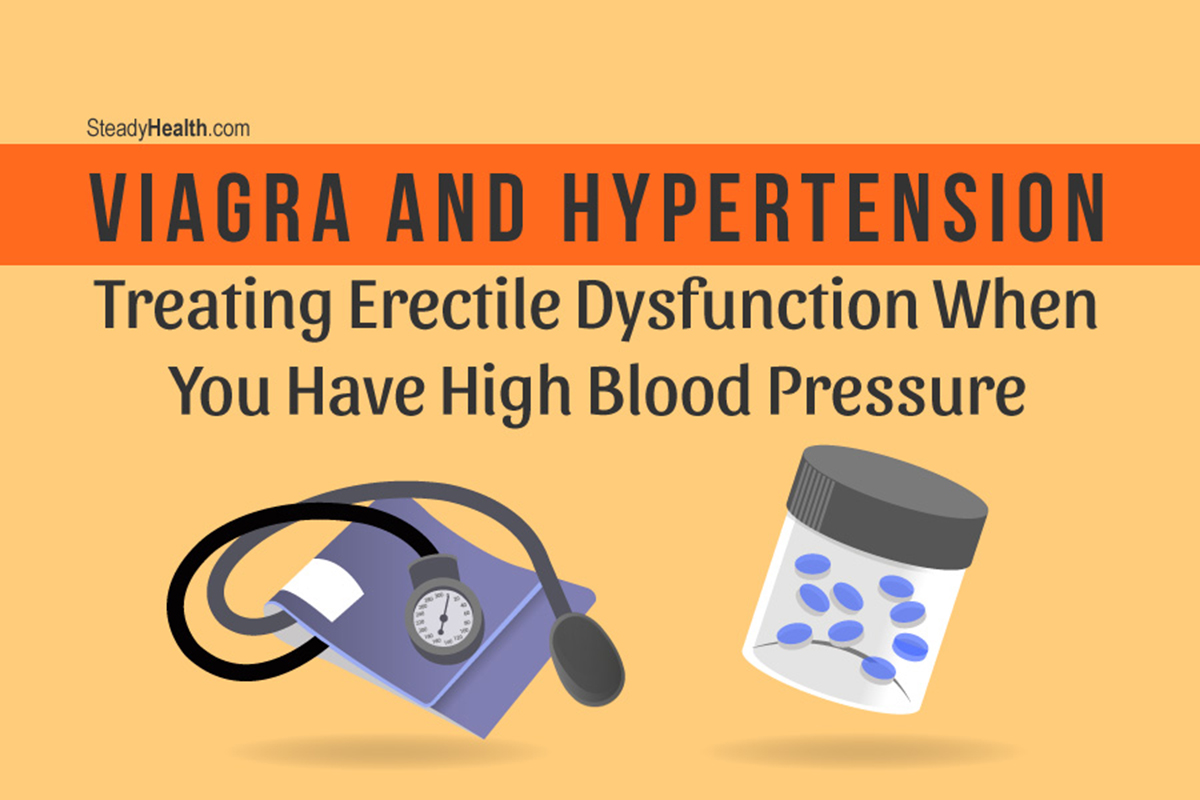 What Exactly is Viagra? 
Viagra is a medication that has received a lot of advertising in recent decades because of its potential for quick and substantial relief. It is often referenced on television sitcoms and almost everyone has a knee-jerk reaction when they hear talk of the "little blue pill" and know instantly that this is Viagra. Although we all know what it is for, many may be unaware of what actually makes Viagra so effective as a medication. The secret lies in the unique mechanism of action that this medication has. It is a phophodiester-5 (PDE-5) inhibitor which essentially means that it blocks the destruction of compounds called cyclic-GMP (cGMP). Without getting too carried away into the biochemistry of the process, this cGMP is responsible for relaxing smooth muscle tissue located in the penis. As a person ages, it is natural for this pathway to work more inefficiently and cGMP may be destroyed too quickly to help achieve an erection. With the help of Viagra, this pathway can return to its normal cycle and users of the medication will be able to enjoy much more naturally. [2]
Now that the mechanism behind why Viagra works is clear, let's look at some statistics to see if it really makes a difference in those who use it. In one long-term study to determine the efficacy of Viagra, 1008 participants who suffer from erectile dysfunction were followed-up  52 weeks after starting Viagra treatment. At the conclusion of the study, participants were asked to rate their satisfaction with the medication at 36 weeks of use and at 52 weeks of use and responses were 92 percent and 89 percent, respectfully. Not only were rates extremely high, but side effects from this medication were extremely limited and respondents only cited issues with headaches, flushing, stomach pain and runny noses in less than 2 percent of cases. [3] 
What are Some of the Dangerous Side Effects You Need to be Aware Of? 
On the surface, Viagra does appear to be a "wonder-drug" with a very impressive efficacy rate and very limited side effects. On its own, this medication will be able to make a significant difference in the life of a patient by improving his sex life but unfortunately, in this population of patients over 60, a number of other co-morbidities like hypertension, high cholesterol and obesity can make require them to take a number of additional medications in order to find relief. The most worrisome situation is when you need to consider Viagra and hypertension together because doctors need to be quite creative when treating erectile dysfunction when you have high blood pressure. 
In an ideal patient, blood pressure values will be around 120/80 mmHg and they will not drink, smoke or be overweight.
In reality, this type of patient is a rarity in the medical sector and patients often have all three of these parameters. In one study to determine what Viagra is capable of in healthy individuals, 49 men were enrolled to determine if Viagra can alter blood pressure during use. It was determined that after taking Viagra, blood pressure values can drop on average of 6 for systolic pressure (the higher number) and 5 for diastolic pressure (the lower number) even in healthy individuals. When looking at patients that suffer from hypertension, this value was closer to  20 units of pressure in both systolic and diastolic pressure. [4] Although no symptoms of hypotension (low blood pressure) were noted in these patients, none of them were also taking an anti-hypertensive medication. 
If a patient also suffers from angina or hypertension, there is a good chance that they will be taking some from of nitrate medication in the form of nitroglycerin or other nitrogen-containing compound. On its own, this is also a very effective medication and it can quickly lower blood pressures to reduce the burden on the heart to work harder [5]. When nitrate medication is combined with Viagra, however, this is often a severe cross-reaction that causes blood pressure to drop more substantially and patients taking these medications together can have pressure drops of over 40 to 50 mmHg in systolic pressures and 20 to 30 mmHg in diastolic values [6]. This can lead to sudden fainting, heart attacks or even death in some cases [7].  
With such obvious potential for disaster, it should be obvious for doctors to ask about concomitant use of Viagra yet that is not the case in most Emergency departments. In another study, 3 departments were monitored for a period of 1 month and the likelihood of doctors asking about Viagra use in patients before prescribing nitrates was assessed. Only 50 percent of physicians reported that they routinely screen for Viagra use prior to this administration of medication. [8]
Viagra can also be potentially dangerous when patients take a combination of other natural supplements for erectile dysfunction that also have a possibility to lower your blood pressure. Some of the vitamins and dietary supplements for ED that are most worrisome would be Herbal Viagra which could cause a similar drop in blood pressure. As you can see, Viagra and hypertension can be a tricky combination and you need to be quite careful when treating erectile dysfunction when you have high blood pressure. 
Photo courtesy of SteadyHealth.com