"Party and play" is the idea of mixing cocaine and Viagra together to enhance the quality of sexual intercourse. Read more to find out about some of the short-term and long-term risks worth knowing before even considering this bizarre behavior
Viagra is a medication that can be used as a quick fix for patients suffering from erectile dysfunction [1]. In ideal conditions, Viagra will be a medication with fewer few side effects and a very high effectiveness [2]. As we have seen in our past explorations of Viagra, when mixed with patients suffering from diabetes or long-standing hypertension, it may not be as effective. At this point, many patients may consider natural treatments for erectile dysfunction that patients can try in order to find a better alternative. When considering some of the vitamins and dietary supplements for ED, however, they will not work as well as Viagra so it remains at the forefront of treatment options. Cocaine is an illegal drug that is abuse in society but are there serious risks that patients who take Viagra should be aware of to potentially save their life?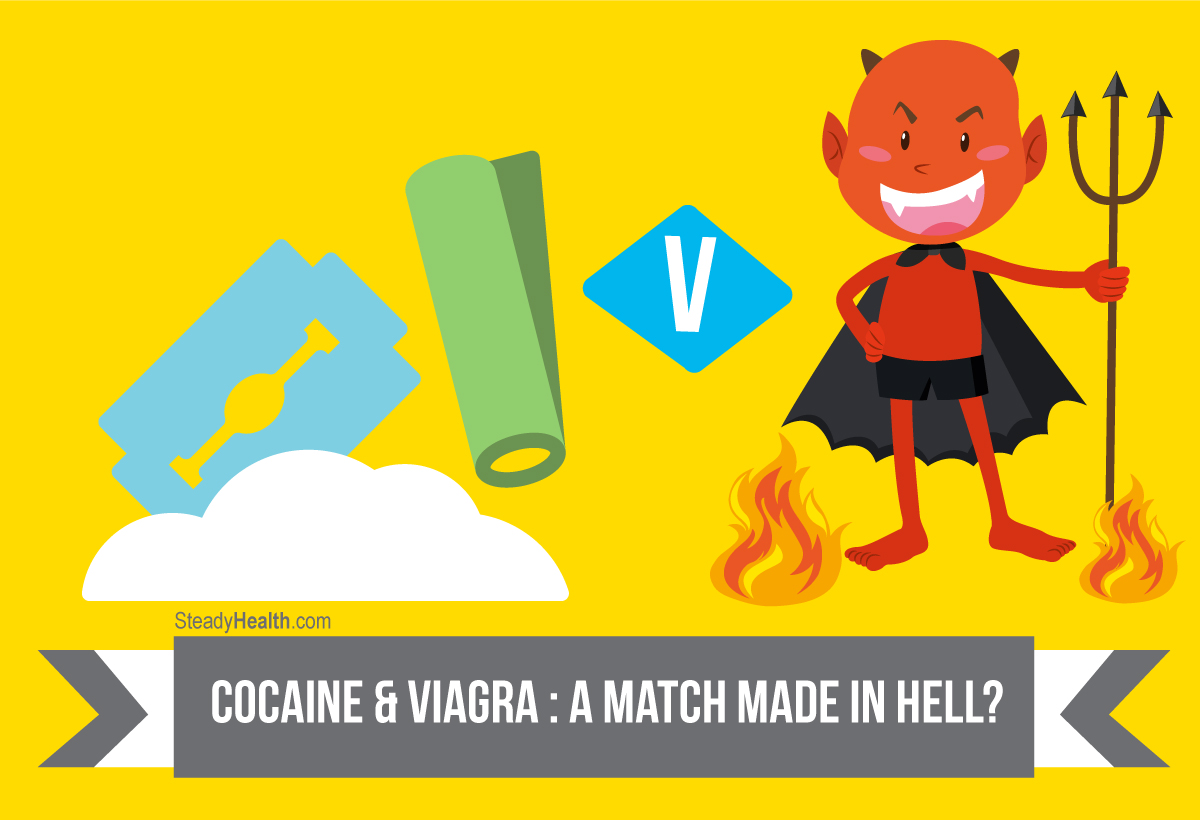 What Cocaine Can do to The Body
Substance abuse is a problem that is a real threat to modern society. Some of the most commonly abused substances are cocaine, methamphetamine and alcohol. In a previous article, we have learned that Viagra and Alcohol is something that those suffering from erectile dysfunction can utilize with decent effectiveness and with only a limited panel of side effects. It is believed that illicit drug use is common in 2 to 3 percent of the general population but estimates may under-report true prevalence of abuse problems. In the United States, it is believed that this risk will be as high as 15 percent during a lifetime. [3]
Cocaine is a substance that blocks dopamine and is the main reason why it is such an addictive substance. Dopamine is a substance that makes people feel happy and when dopamine concentrations are elevated, users will experience a euphoric "high" [4]. Not only will dopamine levels be higher, by patients will also have physiological parameters like elevated heart rates if they take high doses of cocaine. It was determined that 4mg/kg seemed to have these physiological changes in animal studies compared to lower doses of cocaine but procaine seemed to have a more dramatic effect based on the dosage. [5]  Procaine is an alternative form of cocaine that cannot be as pure as cocaine so these effects are more dramatic normally. [6]
Cocaine and Viagra 
Cocaine and Viagra are substances that are both used in society frequently but does the combination of the two of them together pose a serious risk to your health? In one study, cocaine was given to mice to determine the neurological effects of this medication. Cocaine is a convulsant and causes both animals and humans to have seizures. Viagra can also act as a medication that is a proconvulsant . This means that it can make it easier to have seizures after use. In this particular investigation, mice were given Viagra and then cocaine to see if the seizures were worse or more damaging when used together. At the conclusion of the study, it was determined that cocaine and Viagra did not work in synergy in order to cause more seizures. [7]
Unfortunately, seizures may be the least of your worries when considering the usage of these medications together. In certain populations, it is becoming common practice to mix together cocaine and Viagra medication in order to have better sexual erections and improve the quality of sex in users. Around 5 percent of club goers in one survey of youth populations in the UK reported using Viagra in the last week after also reporting cocaine use [8]. When asked about the motivation behind this bizarre combination, most reported that they have increased sexual arousal after cocaine use and the Viagra can help have prolonged sexual intercourse without a latency period. 
What these club goers are failing to realize is the effects they enjoy from cocaine is clinically referred to as priapism. This is a phenomenon where the penis is engorged with blood and is unable to relax afterward. It is a rare but serious complication from cocaine use and the higher the dose, the more likely a cocaine user will experience this. Viagra is similar in nature to cocaine in terms of inducing priapism. Risks of frequent priapism include severe nerve damage in the penis and 59 percent of cases of priapism will have complications of erectile dysfunction in the future. In some severe cases, penile prosthesis will be the only solution for patients to use. This means that you will need to have a surgical implant to help you achieve a partial erection and there is no guarantee of ejaculations afterward. [9]
There are few investigations showing a link between Cocaine abuse and heart attacks when used in conjunction with Viagra so this will be something I will not focus on. When considering this young population, however, the practice of "party and play" (taking Cocaine then Viagra) can predispose users to take increased risks in sexual activity and lead to higher levels of HIV and STD rates. This is something that has the potential to really impact your quality of life and may you unable to have future families, if desired and may even kill you in the future. For sure, you will be depressed and as we have seen in previous articles, depression and Viagra can lead to a vicious cycle of further erectile dysfunction and I would highly recommend stopping the use of Cocaine, especially with Viagra to "party," as quickly as possible if you do this practice. Even natural treatments for erectile dysfunction will be ineffective and you will just find yourself wasting money on vitamins and dietary supplements for ED that will not work when using cocaine and Viagra together. 
Photo courtesy of SteadyHeallth.com