Viagra works great to help patients with ED but when you also have some underlying problem like hypertension, all bets are off. Anti-hypertensive medication and Viagra can be a very dangerous combination so make sure you watch what you take!
A quick treatment that even non-medical personnel can recite is that when patients are suffering from erectile dysfunction, take the "little blue pill" and all your problems will go away. This pill is even more commonly known as Viagra or Sildenafil and it is the gold-standard when it comes to treating erectile dysfunction because it works. Studies indicate that this medication is effective 92 percent of the time but this is only the case when there are no other disorders in a patient [1]. If a patient has hypertension and erectile dysfunction, there is a good chance that some of the medication that he is taking is potentially very dangerous and will cross-react with Viagra with life-threatening consequences. This is when natural treatments for erectile dysfunction can be of some benefit. Numerous vitamins and dietary supplements for ED can help patients manage these symptoms. The focus of this article will be on your heart and Viagra and why nitrates don't mix with Sildenafil.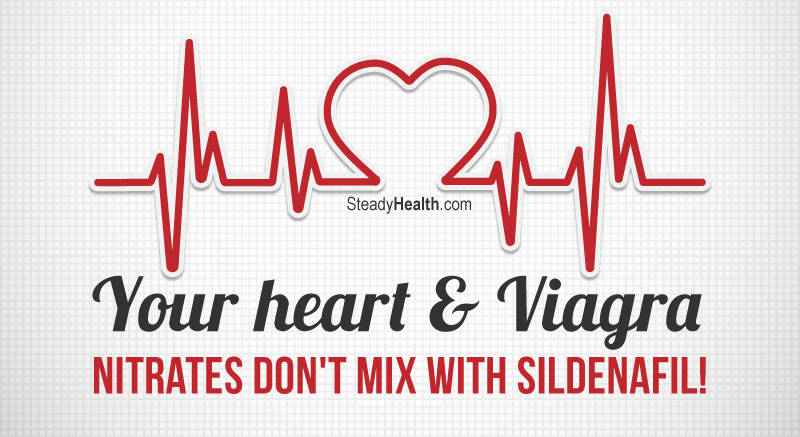 Effects of Viagra on the Heart
Viagra is an interesting medication because it alters the flow of blood to the penis in order to promote erections. Viagra works because it promotes smooth muscle relaxation to allow more blood flow. It inhibits a compound called PDE5 which naturally acts to make muscles contract once again. When you have this blockage, blood is able to stay in smooth muscles longer (like the penis) and the user will notice longer erections. [2]
Even if the effects are seen only in the penis, this does not mean that this is the only organ that is impacted by this type of medication. The heart is the main organ of interest because it is the organ that regulates the flow of blood through the body. Studies were conducted to show the effects of Viagra on heart contractility in over 28,000 male patients who frequently use Viagra. Under normal physiological conditions, when a patient takes Viagra, there will be a subsequent drop in blood pressure but the magnitude of the blood pressure drop does not cause a rebound increase in heart rate in order to compensate for the change. Simply put, when blood pressure is lower, the heart needs to work harder normally to keep the tissues alive. This is not seen after the use of Viagra. There is also no changes that were observed in the electrical activity of the heart or have any impact on the oxygen consumption of the heart. [3]
Based on these findings, when Viagra is used in as directed based on medication recommendations, the medication should do the job well without any of the life-threatening cardiac changes that some patients worry about.
Why Nitrates Don't Mix with Sildenafil
When it comes to patients suffering from erectile dysfunction, unfortunately, most cases are not straight-forward decisions. In most cases, hypertension will be another disease that patients will be suffering from. In one epidemiology study, it was determined that in a total of 642 patients with ED, 58.3 percent of patients had underlying hypertension. To further elaborate, 21.2 percent of patients with hypertension had severe ED, 20.7 percent of patients had moderate ED and 16.4 percent of patients had mild ED. [4]
As you can easily see, there is a very apparent relationship between erectile dysfunction and underlying hypertension. Physicians have an arsenal of anti-hypertensive medications at their disposal to choose from to correct this hypertension but one of the more common medications comes from the nitrate family. Nitroglycerin is one of these such medications and is very helpful in medical application because it helps reduce work on the heart when patients are suffering from ischemia. Nitrates help dilate the smooth muscles in cardiac tissue in order to bring more blood to areas and deliver much-needed oxygen. [5]
Nitrates have a very similar mechanism of action as Viagra and as you could expect, when they are added together, the results can be catastrophic. In one particular investigation, it was determined that when patients took a combination of both Viagra and a nitrate medication, there was a substantial increase in blood flow in the left anterior descending artery of the heart compared to patients just taking Viagra alone. Physiologically speaking, these means that there will be a big decrease in the blood pressure. [6] If a patient is suffering from any type of artery blockage, such as arteriosclerosis, this sudden decrease in blood pressure could cause blood flow to stop completely to certain areas in the heart and create an ischemic heart attack [7].
Because of these substantial risks, medical recommendations currently dictate that patients who use Sildenafil (Viagra) should not use any form of nitrate medication any sooner than 24 hours after ingesting Viagra. Metabolic rates of the heart are believed to be 3 to 5 times greater if a patient has cardiovascular disease compared to metabolic rates in healthy individuals. This sudden increase in cardiac demand can lead to users of Viagra more than doubling their chances of having a heart attack when mixing it with Viagra. [8]
All in all, it should be apparent that the heart and Viagra can co-exist as long as there are no underlying vascular complications. Due to the increased risk of cardiac activity, nitrates don't mix with Sildenafil and it is something that patients should avoid when they are trying to enjoy a better sex life. Numerous natural treatments for erectile dysfunction are available and patients can find safer vitamins and dietary supplements for ED to help promote erections without increasing your risk for a heart attack.
Photo courtesy of SteadyHealth.com