Funeral homes play an integral part in most funeral arrangements, and they can take a lot of stress off your hands — but how do you choose the right undertaker for you or your loved one?
Funeral homes play an integral part in most funeral arrangements, and they can take a lot of stress off your hands — but how do you choose the right undertaker for you or your loved one?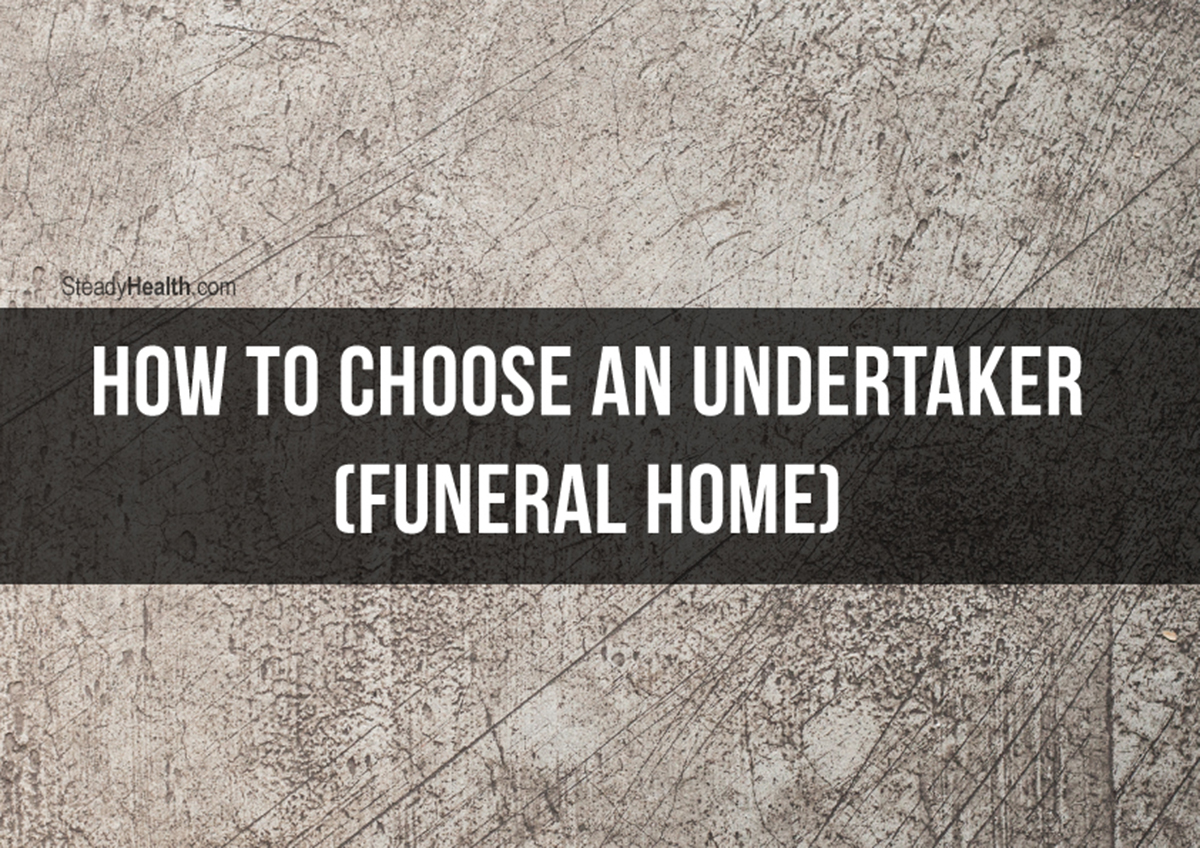 If You're Preplanning Your Own Funeral
If you've ever wondered "How can I prepare for my death and funeral?", whether you're currently in good health or not, you're already asking questions that may allow the loved ones you'll leave behind a whole lot of stress, financial angst, and even potential arguments, while giving them the chance to focus on their grief. The US-based National Association of Funeral Directors notes that people are increasingly choosing to advance plan and fund their own funerals [1], so the funeral homes you are considering will not be surprised if you too take this step. 
People planning their own funerals face the same kinds of questions those planning someone else's funeral do, but with some differences. Financially, you'll want to find out how prefunded funerals are usually paid for in your jurisdiction — it may take a trust, or funeral insurance (also preneed insurance), or a bank account designed for the purpose. Emotionally, while those planning the funeral of a recently deceased loved one will sometimes struggle to honor their wishes if no clear instructions were left, the feelings of those you will leave behind are a factor you will want to consider. Funerals are, after all, an important part of the grieving process. So, incidentally, is visiting a grave, which 78 percent of people find emotionally beneficial. [2] So, although planning your own funeral means your wishes will come true, you may also wish to discuss them with your loved ones — who will still be need to be involved, even if you have already planned everything. 
Deciding What Kind Of Funeral You Want
Funeral homes all provide similar services, like:
Caring for the body immediately after death and then preparing it for a wake or viewing
Preparing the death certificate and taking care of other administrative tasks
Helping you decide on things like caskets, headstones, urns, flowers, and so on
Making arrangements with the cemetery or crematorium
Assisting you in creating the funeral service you want, and they will also know how to plan a memorial service
Beyond that, however, undertakers may have their own "culture". Not only may funeral homes be religiously oriented (Jewish, Islamic, or Christian, for instance), they may have more experience in dealing with certain kinds of funerals — traditional ones with embalming, viewing, and a large formal service with flowers, for instance [3], or natural or green burial wherein an emphasis is laid on being one with nature and protecting the environment [4]. (Note that funeral homes will also help you prepare for a so-called "direct cremation" or "direct burial", both of which essentially amount to "just does what it says on the tin", without a service.) You want an undertaker who takes the time to explain not only all the available options, but also their advantages and disadvantages. 
Whatever you and your relatives decide are the most important things you want from the funeral you are planning, discuss them with a variety of funeral directors and note not only their formal responses, but also the atmosphere you are picking up. (For this reason, it is often best to visit the funeral home in person. Even better, do so before anyone is actually dead, if possible, so you have plenty of time to plan.)
If it is important for you, as a family, to be as involved in all aspects of planning the funeral as you can be, make this clear. When my dad died (peacefully and expectedly at his home in a retirement community), our undertakers immediately asked us whether we would like to be involved in washing his body, cutting his nails, and dressing him. We appreciated this and were able to brush my dad's hair and cut his nails while leaving the more viscerally unpleasant tasks to the professionals. The funeral home seamlessly communicated with my dad's pastor, who was to lead the service, and offered to take care of things like flowers and food at the service without pushing themselves on us. Throughout the experience of planning my dad's funeral, together with my sisters, I was struck by how human, humane, and really, how unobtrusive the undertakers were. Everyone deserves a funeral home that does the same. 
What Will Your Undertaker Charge?
From real estate to weddings, and from private elementary schools to plastic surgery, hidden costs are an integral part of life — one that, apparently, does not end even with death. A 2016 survey conducted by two US consumer advocacy organizations showed that 23 percent of US funeral homes violated Federal Trade Commission rules by failing to inform people planning funerals about all the available options. In the most egregious example, more than a fifth of funeral homes failed to include the actual cremation in their fees for a "direct cremation", which should basically be a cremation and nothing much else. [5]  One of the organizations who provided this data, the Funeral Consumers' Alliance, also remarked that "of the thousands of price lists we have reviewed, more than half showed at least one error". Among the more common illegal acts committed by funeral homes are charging the same or more if the family provides their own casket, and charging "handling fees" for third-party services (which you are already paying for separately). [6]. 
Watch out for this — and if your family has a lawyer on retention already (handling your deceased person's estate, for instance), strongly consider running the funeral home's costs by them. One tip I gained from the — incidentally fascinating and pretty cool — YouTube channel "Ask a mortician" is to insist on confirming that the costs of your burial or cremation are "all inclusive". A direct cremation isn't all-inclusive if it doesn't include the actual cremation, right?
To gain more confidence that the funeral home you are considering meets professional and ethical standards, you can also check whether they are part of organizations like the National Funeral Directors' Association (US) [
7
] or National Association of Funeral Directors (UK) [
8
]. 
In Conclusion
Funeral homes play an invaluable role in guiding you through death and a funeral, and unless you are donating your body to science after death or your loved one is, you'll appreciate their services. One size does not fit all, however, and if you have time to preplan, do. People who are faced with a sudden death will still benefit from talking to different undertakers at this difficult time. 
Photo courtesy of SteadyHealth.com