Most people realize they have a choice between cremation and burial after they die — but some have a third option in the form of donating their whole body to science. What kind of person does this, and might this unusual step be right for you?
Most folks detest random call center calls with a vengeance, so imagine receiving a "random digit dialing" research call from folks wanting to find out if you'd theoretically be willing to donate your body to science! That is exactly what happened to a whole bunch of Maryland residents — there's no greater way to start the internal process of thinking about "how to prepare for my death and funeral", no? Interestingly, 49 percent ultimately said that they would indeed be willing to consider donating their whole body to science after death. [1] The practice is on the rise in the US [2] and my own country, the Netherlands, has also seen a real boost in bodies available for medical research [3]. Ultimately, however, few people really do donate their bodies to science.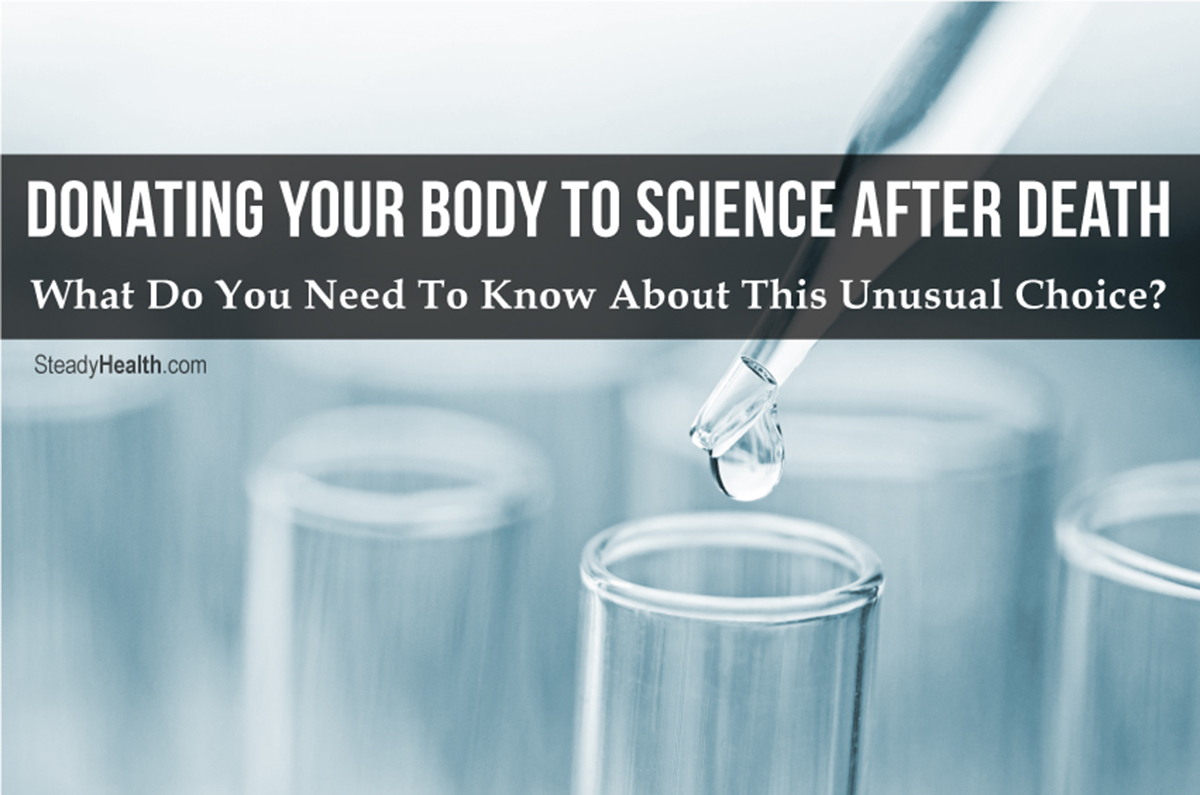 What kind of person donates their body to science after they die? Research conducted among people from wildly Differing geographical locations (New Zealand, Ireland, and the Republic of South Africa) reveals that most "body donors" do not have a religious affiliation, do have siblings and a history of long-term committed relationships, and their main motivation is a "desire to aid medical science" [
4
].
A Dutch study of people already enrolled in the "body donor database" of a major teaching hospital, meanwhile, suggests that [3]:
People who donate their body to science are most likely to be of Dutch ethnicity and not religiously affiliated. 
A quarter of the respondents, who had a mean age of 69, were healthcare professionals, while 11 percent were educators. 
Most interestingly, three overlapping motivations were uncovered — " a desire to be useful after death", negative or ambivalent attitudes toward the idea of funerals in general, and a desire to express gratitude (for life in general or the healthcare they received from the medical profession, along with a keen awareness that healthcare workers' knowledge has got to come from somewhere.)
Being a carer to the elderly, I have had the privilege of getting to know numerous wildly interesting individuals, in turn leading to some true friendships. The other and less sunny side of the coin is, of course, that many of the people I've gotten close to over the years die "under my watch". Of the many who have passed away while I knew them, two have chosen to donate their body to science. I've already shared part of Danielle's story when I wrote about assisted suicide in the Netherlands, and because putting a human face to what many could easily perceive as a cold transaction ending in being dissected on a mortuary slab, here's some more of her story. 
Danielle didn't care for the "pomp" associated with funerals, and being able to donate her body to science was extremely important to her. She registered with the exact same "body donor" database referenced in the study above, but because the UMCG had already received quite a few bodies, they were not initially sure they would need hers. She was over the moon when it turned out that they could use it. After she passed away (peacefully), bells were rung at her hospice center in her honor, and a hearse with her body was driven past her house before she went onto her final destination as a teaching moment for young doctors. Danielle was a mature, atheist, individual who was grateful that she'd still serve a purpose. She was not repulsed by the thought of what might happen to her physical body, but rather excited by it. 
If you're like her, you, too, might consider donating your body to science. 
What Might Actually Happen To Your Body If You Donate It To Science?
Your body may be used to study human anatomy [5], forensic science, to practice certain surgical procedures, or in clinical research studies [6].  Though the thought sounds uncomfortable to many people — who certainly shouldn't agree to have their bodies donated to science and can even sign "opt-out clauses" in some jurisdictions — access to donated bodies (cadavers) is, by scientific consensus, "invaluable". [7] In some cases, you may be able to suggest what you'd be comfortable with and what not, but anyone donating their body to science should fully embrace the fact that this is ultimately out of their hands. 
Who Should Consider Donating Their Body To Science After Death?
To put it bluntly, you may consider the step of donating your whole body to science after death if:
You have no squeamish or spiritual ideas about what should happen to a human body (your human body) after death.  
You wish to continue to be useful, or make a contribution to humanity at large, after you've passed away. 
Your loved ones are supportive and people you care about don't have objections to the idea of your body being donated to science. 
You don't care what happens to your body after death and want (your relatives) to save money on funeral costs.
How To Donate Your Body To Science
If you die suddenly without leaving instructions as to what kind of funeral arrangements you'd prefer, your immediate relatives get to decide. While it's better to consider whether you should choose cremation or burial in advance, you'll still end up with either of these two options. Should you have your heart set on donating your body to science, however, as Danielle did, you will usually need to set this up in advance, before you die — yourself. You could start by inquiring with major teaching hospitals, in the knowledge that not every body that is offered is accepted. Those living in the US could contact the American Associated of Tissue Banks [8] as well. Acceptance depends on need as well as the physical state of your body — death from infectious causes rules it out. Depending on your jurisdiction, you may have greater or lesser knowledge as to what your body will be used for if accepted, and you may have the option of signing consent forms (or choosing not to) for different things. 
Research suggests [3] that people who donate their bodies to science have a kind of "infectious" effect on those around them, causing others to at least consider this still fairly unusual option. I hope to honor Danielle's memory with this article — if it causes you to contemplate something that might otherwise not have crossed your mind, she continues to fulfill her wish of being useful even in death. 
Photo courtesy of SteadyHealth.com