Death is always hard, but an unexpected death is traumatizing as well. How do you cope emotionally?
The death of a loved one is always hard — research recognizes it as one of life's "greatest stresses" and acknowledges that bereavement has a physical as well as emotional impact [1]. Sudden and violent deaths are, however, especially difficult to cope with. Bereaved people grieving for a loved one who died suddenly have had no chance to prepare for a death and funeral emotionally, may be overwhelmed by funeral arrangements they might have to make without any advance warning, and may additionally have to process the nature of the death.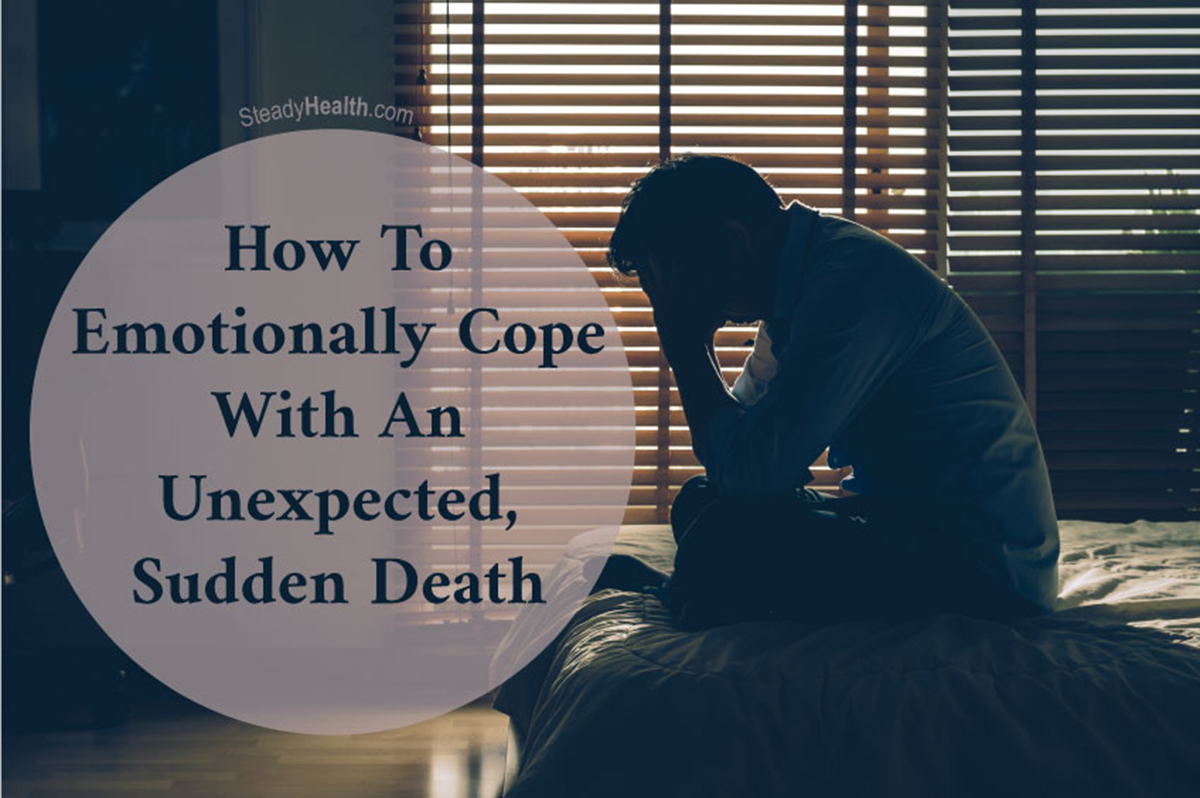 Sudden deaths include a death within 24 hours of being admitted to a hospital, a death that occurred as the result of an overdose, death due to an accident, from suicide, related to surgical procedures, and death from an unknown cause. One British paper notes that sudden death is sometimes defined as "any death not due to terminal illness; or a death the family was not expecting", but goes on to note that the timing of death may be unexpected in people who had a terminal illness as well. [2]
While the circumstances of every sudden passing are unique, they share one thing in common — the person's relatives and friends didn't see it coming. 
What Is The Emotional Impact Of A Sudden Death?
One study shows that people experience anxiety significantly more often after a loved one commits suicide [3], while those people who lose a loved one to a violent incident are much more likely than those who lose someone to a natural death to experience post-traumatic stress disorder or depression [4]. Sudden losses of any kind can be traumatic, however — the most common traumatic experience around, actually — and they can lead to prolonged grief, substance abuse, depression, anxiety, phobias, panic disorders, manic episodes, and other psychiatric disorders. [5]
Grieving After The Unexpected And Sudden Loss Of A Loved One
Recognize that there is no "normal way" to deal with your loss — you are dealing not only with bereavement, but also trying to make sense of the way in which you lost your loved one. Having had no time to prepare for what was coming, you find yourself in completely new territory. Whatever you are feeling is highly unlikely to neatly fit into the so-called "five stages of grief", and whatever you are feeling is as human as you are. 
There are, however, healthy and unhealthy ways to cope with a sudden bereavement, and unhealthy ways include prolonged denial, alcohol or substance abuse, and long-term social withdrawal. Participation in religious activities can, on the other hand, help — and having a supportive network of friends and relatives and allowing yourself to rely on them, both emotionally and practically, makes a very big difference. [6]
It can be especially helpful to talk with people who were also close to your lost loved one, both about your shared memories of them and about your loss. A funeral, whether a cremation or burial, itself serves as an important grief processing event during which people who loved the deceased person come together and grieve together. Planning a memorial service is another way to simultaneously honor your loved one and come together in mourning.
In addition, research shows that attending a support group with people who have experienced a similar kind of loss can be extremely beneficial [7]. While the fact that fellow support group attendees will be complete strangers to you when you first start going can seem a bit intimidating, it may, in fact, be one of the factors that allow you to open up more completely, thereby facilitating the processing of your grief. 
Bereavement counseling, or grief counseling, is another option you could consider. Numerous studies actually question its value, noting that under most circumstances, there is no evidence that it helps people deal with grief. Knowing that you may be dealing with shock and trauma alongside grief after a sudden death, however, grief counseling is something to seriously consider. People who have reached at a stage at which they "are desperate" and "know they need help" are especially likely to benefit from bereavement counseling. [8]
How To Help Someone Else Cope With A Sudden Death
Death is hard to deal with, and even a bit taboo. From personal experience, it's not uncommon to find people who will either totally a bereaved person and their grief, or who feel the need to offer useless and frankly offensive platitudes like "he is with God now" or "nothing happens without a reason". Drawing on those experiences, I'd say that the best thing you can do for a recently bereaved person is to be present — physically and emotionally. Listen more than you speak, try to get them to engage in social activities, and offer to do things like cook meals or clean their house. 
Do not avoid talking about the deceased person — too many do! Instead, share your favorite memories, or simply ask the bereaved person how they are feeling. Accept the fact that grief doesn't have an expiry date, and the person you want to support will probably have the need to talk about their grief months, years, and even decades from now. When they do, let them. 
Photo courtesy of SteadyHealth.com