Everyone dies, and most people care about their funeral arrangements, but not everyone plans their own funeral. How can you broach the subject of death and funeral with (dying and elderly) loved ones?
I once attended the funeral of a dyed-in-the-wool atheist and feminist whose only son — who was in charge of the funeral arrangements — was going through a particularly religious phase when she passed away. Let's just say that the service did not reflect his mother's personality, her life, and her beliefs in any way — the experience was bad enough to briefly make me hope that there really is no life after death, just so she wouldn't be able to witness it all. 
The risk that those left behind after you pass away will run amok with your memory and do stuff you really don't want is a convincing reason to start wondering "How can I prepare for my death and funeral?", along with the wish to allow your loved ones to just grieve, rather than worry about organizing a funeral.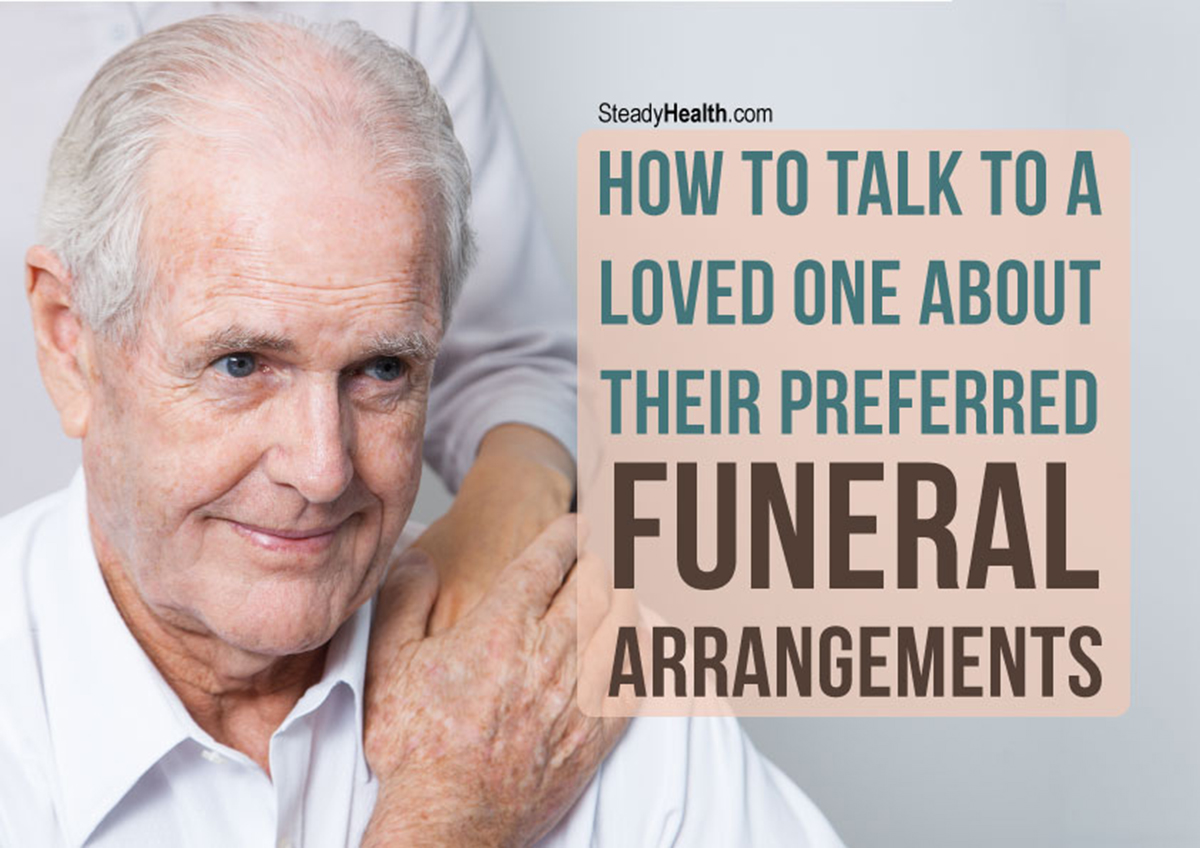 What about your loved ones, though?
Research shows that 69 percent of Americans consider their funerals important enough that they'd like to prearrange it themselves, but only 17 percent have taken the step of doing so in practice [
1
]. While I'm pretty darn certain that most people truly try to honor their loved ones in the last tribute that a funeral constitutes, you can take the guesswork out by talking to a loved one about their funeral arrangements. Initiating a conversation about a funeral with an elderly or terminally ill loved one may seem a bit grim, mind you. How do you do it?
Death Discourse: Don't Leave It Too Late
Not only may it be upsetting to all parties to have a conversation about death and funerals with someone who is likely to die soon, older people may also develop dementia. The least loaded funeral conversation is one you have in a timely manner. It's always good to know whether immediate relatives and loved ones, like parents, siblings, your partner, or best friend, have made formal funeral plans and what their wishes might be. 
My sisters and I had the funeral talk with my parents — who had already bought plots at the cemetery where many of our relatives are buried — shortly before they moved to a retirement home, more than five years before my dad passed away. It went no differently than any of the other conversations we frequently had with them about administrative matters — and because we were heavily involved in their daily lives, there were a lot of those. We talked about their wishes, and they made sure to update their wills. At the same time, we also discussed our own funeral preferences and related matters (like who would best be situated to look after my sister's children if she and her partner died) and updated our own wills. 
It doesn't have to be a morbid conversation; the National Funeral Directors' Association indicates that Baby Boomers and beyond see funerals as a crucial part of grieving, and find meaning in funerals that aren't only personalized, but also creative [2]. This can more easily be achieved by the advance planning of a funeral. That's to say, some people might smile at the thought of their friends and family dancing to their favorite punk band during their funeral service, and if you're one of them, those who attend your funeral will also find comfort in doing this after you've left them with those instructions. A preplanned funeral offers one last chance to leave your loved ones with a unique message from you, and preparing it might even be a fun experience. 
Funeral Wishes: Beyond Cremation vs Burial
So, what kinds of sub-topics should be discussed during a conversation about somebody's funeral arrangements?
"Should you choose cremation or burial?" is a first obvious question to ask. Those who wish to be buried can then go on to consider where, and those who choose cremation can think about whether and where they would like their ashes to be scattered, or whether they would like their urn to be displayed somewhere. Once someone knows whether they wish to be buried or cremated, they can also start planning the cost of the funeral, which is generally cheaper for cremations [3]. 
"Would you consider donating your body to science after death?" is another question you could ask. Though an unusual choice, nearly half of people would seriously contemplate taking this step, which means they can continue making a contribution to humanity even after death [4]. For those who will be buried or cremated, talking about their stance on organ donation is a good idea. While some people have religious or personal objections to the idea of posthumous organ donation, others who would like to be donors neglect to complete the relevant paperwork [5], making it one of the things we can play a role in reminding our loved ones to take care of. 
Other questions you may ask about a loved one's funeral preferences include:
If the person is religious, what spiritual leader will ideally lead the funeral service?
Is there any particular music you'd like to have played at your funeral, or any particular readings you'd like?
Who would you like present at the funeral? Who should eulogize you?
What food should there be?
What flowers, if any, would you like?
What, if the person chooses burial, should their headstone say? (Grave markers are among the most permanent things we can leave behind! Years after your death, researchers from the future may analyze their meaning [6].)
What kind of casket would they like? 
Natural burials are on the rise. Is this something your relative or friend would be interested in?
While the topic of wills and also living wills (advance healthcare directives) is slightly different, they're both things you may also talk about at the same time. 
A Final Word
Everyone dies. While funeral rites can be a crucial part of the onward journey of religious and spiritual people, they can be a final ode to, and message from, deceased atheists. Death is now becoming less taboo, and funerals more personalized, and discussing funeral arrangements with your relatives can help you ensure that they get what they want from theirs. Such talks don't have to be unpleasant — one paper even describes funeral planning as a "singular kind of family solidarity" [7]. You don't have all the time in the world, so why not have this important conversation? 
Photo courtesy of SteadyHealth.com