Smoking increases the risk of type 2 diabetes; plus it's important for diabetics to stop smoking if they want to regain their health. But a new study shows that during the first three to five years after diabetics who have quit, face greater health risks.
It is a proven fact that cigarette smoking is a primary cause of many diseases, including cardiovascular disease and cancer. Smoking is also known to increase the risks associated with insulin resistance, and the possibility of developing diabetes. At the same time, quitting smoking is recognized as an important means of modifying the risk factors for chronic diseases, including diabetes, and is seen as a way to prevent complications from diabetes, and to control diabetes.
Research into the cause, effect, prevention and risk of diabetes is ongoing, and this includes studies that focus on cigarette smoking and its role in the life of diabetic patients. Overall the evidence that those suffering from type 2 diabetes (also called type 2 diabetes mellitus or T2DM) will benefit long-term from not smoking is overwhelming, although a new study warns that there are short-term risks.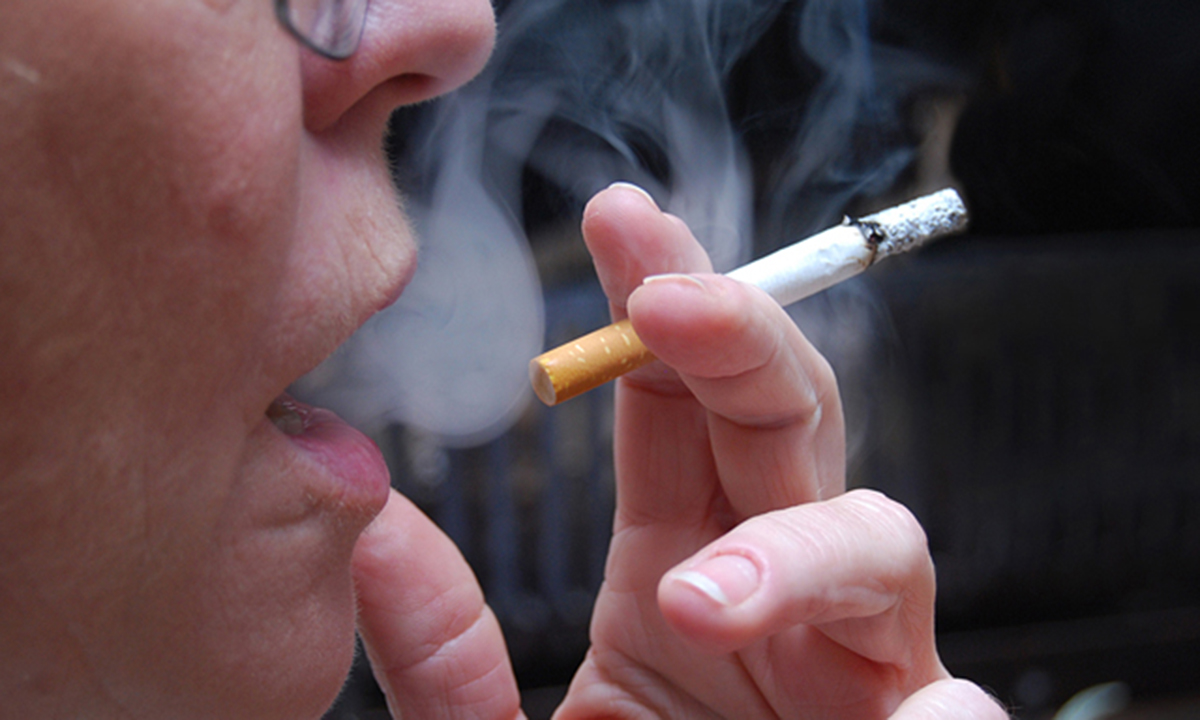 New Study On Smoking And Diabetes
One of the most recent studies involving diabetes and smoking was published in The Lancet Diabetes & Endocrinology in June this year (2015). Titled The association between smoking cessation and glycaemic control in patients with type 2 diabetes: a THIN (see below) database cohort study, it found that a variety of health risks were commonly experienced for three to five years after diabetics had quit. 
So while those quitting were doing so to improve their health, it appears that they were temporarily putting themselves at risk, specifically because control of T2DM deteriorates during the first year after stopping smoking. But long term, they will assuredly be better off.
According to the study that took place over a five-year period from January 1, 2005 to December 31, 2010, diabetics who don't stop smoking do not face the short-term health risks those who do quit face. Previous studies show that those who do manage to quit take just 10 to 12 years to get to a situation where their health risks are equal to those of diabetics who have never smoked tobacco. So even though there's a risk, it's a calculated risk that many, if not most should be willing to take.
The study, which was retrospective, involved 10,692 adult smokers with type 2 diabetes, some of whom had abstained or quit. Data was obtained from a large UK primary care database, The Health Improvement Network (THIN). Researchers examined altered diabetes control in relation to smoking and quitting, taking weight change into account. Their primary finding was that hemoglobin A1c (a pigment in the blood that carries oxygen and is bound to glucose, also referred to as HbA1c) increased within the first year after a large percentage of smokers with T2DM had quit, and then gradually decreased. After three years, the HbA1c of smokers and those who had given up was the same. 
Researchers found that weight change did not play a role in the change. More specifically:
A total of 3,131 (29 percent) of those who quit smoking for at least a year experienced a 0.21 percent increase in HbA1c. This level decreased gradually over the next two years for those who did not start smoking again.
A total of 5,831 (55 percent) of those who continued to smoke experienced a very gradual increase in HbA1c. After three years these levels were equal to those of the quitters.
The bottom line is that when diabetics stop smoking there is a clear deterioration in glycaemic control that last for about three years. Although temporary, the study report states that this rise might increase microvascular and other complications related to diabetes.
Principal study researcher from the British Coventry University's Faculty of Health and Life Studies, Dr Deborah Lycett states that she believes it is crucial for diabetics to stop smoking. If they don't, she warns, complications of the disease can (and do) lead to "early death." For this reason, people who suffer from diabetes should do everything possible to quit. But because of the deterioration in control of blood glucose levels when they do give up, it is essential to take extra care to ensure that blood glucose is well controlled. As far as she is concerned, this is an essential way to maximize the benefits of stopping smoking.
READ Hypnosis to Quit Smoking and Stop Addictions - Hypnosis as Addiction Treatment
The knowledge that blood glucose control will deteriorate when they stop smoking will help those with diabetes to prepare, and prompt their clinicians to "be proactive in tightening their glycaemic control during this time," she said. 
Continue reading after recommendations
www.coventry.ac.uk/primary-news/study-links-quitting-smoking-with-deterioration-in-diabetes-control/?theme=main
http://www.bmj.com/content/321/7258/405 (1)
http://www.onlinepcd.com/article/S0033-0620(03)00011-2/abstract (2)
http://www.ncbi.nlm.nih.gov/pmc/articles/PMC1466617/ (3)
http://www.nature.com/nrendo/journal/v5/n3/full/ncpendmet1066.html (4)
http://www.ncbi.nlm.nih.gov/pubmed/20048267 (5)
http://www.ncbi.nlm.nih.gov/pmc/articles/PMC3530709/ (6)
http://www.ncbi.nlm.nih.gov/pubmed/22879858 (7)
http://www.ncbi.nlm.nih.gov/pubmed/22494491 (8)
http://www.ncbi.nlm.nih.gov/pubmed/23483176 (9)
Cigarette smoking and diabetes mellitus: evidence of a positive association from a large prospective cohort study Julie C Will, Deborah A Galuska, Earl S Ford, Ali Mokdad, and Eugenia E Calle ©International Epidemiological Association, UK 2001 (10)
url=http://xa.yimg.com/kq/groups/20489237/1945084324/name/cohort%2Barticle.pdf&hl=en&sa=X&scisig=AAGBfm0SzgroHAjAB3fl2-MNBiDgGXEWxw&nossl=1&oi=scholarr&ved=0CBwQgAMoAjAAahUKEwiQqffVtoXHAhVEWRQKHUEWBwY
Photos © Penny Swift
Important notification about information and brand names http://www.steadyhealth.com/polices/terms-of-use#copyright