Cardiovascular disease is the leading cause of death worldwide. Although death rates from cardiovascular disease have been slowly falling in most of the United States, they remain persistently high in the Midwest. One community did something about it.
Obesity rates, diabetes rates, and deaths from cardiovascular disease have actually started falling in parts of the United States, but these problems are still getting worse in the upper Midwest, especially in rural communities in Minnesota. The New Ulm community in rural, southwestern Minnesota, about 100 miles (160 km) southwest of Minneapolis, has pioneered a community-based effort to control the most important controllable risk factor for cardiovascular disease, high blood pressure.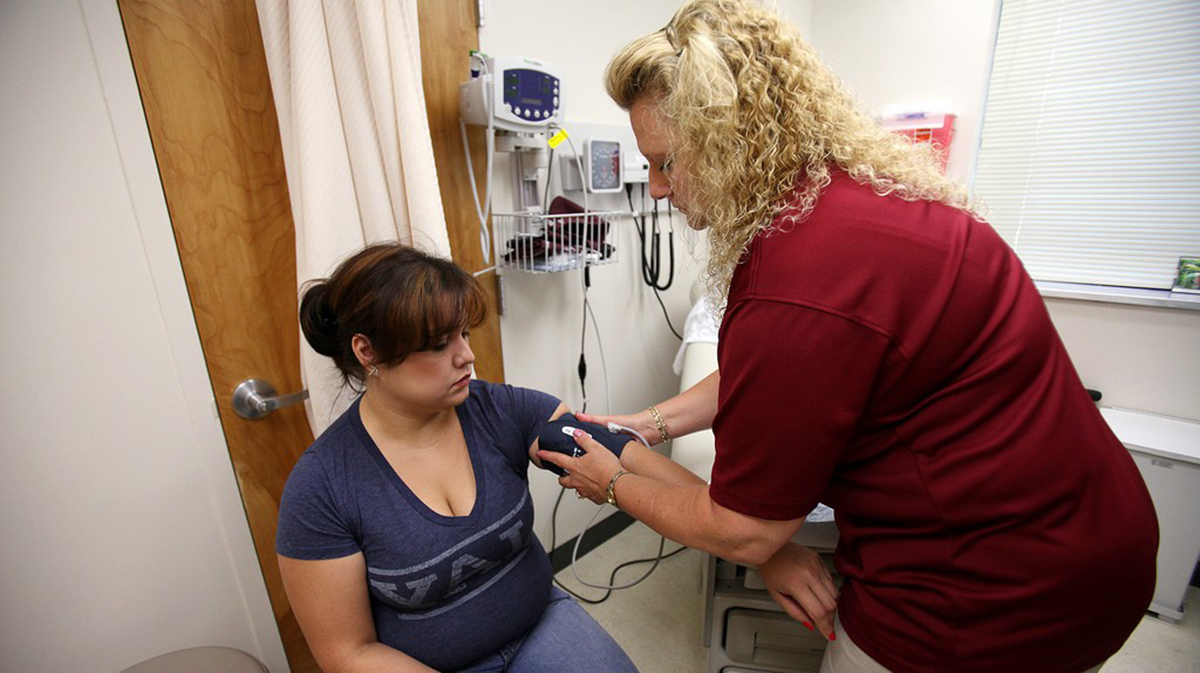 Why Focus on High Blood Pressure (Hypertension)?
People who have high blood pressure (persistent readings over 140/90) are two to three times more likely to develop atherosclerosis, the condition also known as hardening of the arteries. Uncontrolled high blood pressure is a more significant risk factor in the development of cardiovascular disease than high cholesterol, diabetes, smoking, or family history, although all of those factors count. The National Health and Nutrition Examination Survey (NHANES) study found that nationwide, in the United States, about 31% of men and about 33% of women have high blood pressure.
That's nearly 75 million adults just in the USA who have high blood pressure. Of those 75 million adults, 4.1 million men and 6.9 million women have stage 2 hypertension, systolic pressure over 160 and diastolic pressure over 100. 
Worldwide, the World Health Organization estimates, about 20% of adults under the age of 60 and about 50% of adults over 60 have high blood pressure.
Many people who have high blood pressure don't know it or don't do anything about it. In the US, the Centers for Disease Control estimate that:
Up to 80% of the uninsured aged 20 to 39 who have high blood pressure don't get any treatment.
Up to 35% of the uninsured aged 40 to 64 who have high blood pressure don't get any treatment.
Even among people aged 20 to 64 who have private insurance, 20% have high blood pressure that goes untreated, especially among the very young.
And even people who receive Medicaid or Medicare still don't get high blood pressure medication.
Treating hypertension isn't difficult, and isn't expensive.
In the USA, many of the most common medications for high blood pressure are available for just $4 or $5 per month.
Changing diet also helps, although the results of cutting back on salt and eating more vegetables usually are not dramatic.  The most important task in treating high blood pressure, many experts believe, is simply making sure people know they have high blood pressure and that they need simple medical interventions along with exercise and diet.
See Also: Signs and Symptoms of High Blood Pressure
Community-Based Interventions for Hypertension
There's basically no way for people to get prescriptions for high blood pressure if they never see a doctor, and people who don't know they have high blood pressure won't see a doctor. The bridge the gap, many communities have organized blood pressure awareness campaigns.
These campaigns usually don't work. The Stanford Five-City program eventually lowered untreated hypertension rates by 4% in five northern California cities, mainly reaching women. This outreach took five years. The Massachusetts WISEWOMAN project reduced high blood pressure rates among women by 7%. But essentially no community-based blood pressure awareness programs resulted in more men getting treated, and before an experiment in New Ulm, Minnesota, almost none had reached rural America.
Continue reading after recommendations
Sillah A, Sidebottom AC, Boucher JL, Pereira R, VanWormer JJ.Program participation and blood pressure improvement in the Heart of New Ulm Project, Minnesota, 2009-2011. Prev Chronic Dis. 2014 Mar 27.11:E48. doi: 10.5888/pcd11.130205.PMID: 24674634.
Photo courtesy of Fort George G. Meade Public Affairs Office by Flickr : www.flickr.com/photos/ftmeade/7349088852
Photo courtesy of Morgan by Flickr : www.flickr.com/photos/meddygarnet/3489151194