Weight loss is one of the most talked about health issues, as losing weight can significantly improve health and lower the risk of heart disease and other serious conditions.
This article discusses five fat burners that actually help shed pounds very quickly.
Pears
Pears are members of the rose family and related to the apple and the quince. It is an ideal weight loss fruit. A study conducted in the University of Rio de Janeiro put forth women who ate three pears a day consumed fewer total daily calories and lost more weight than those who didn't. Rich in fiber (one pear packs 15% of your daily recommended amount), pears help you feel full and keep you from overeating. Its gritty fiber may also help prevent cancerous growths in the colon. Enough of the fiber is soluble that it provides the same stomach-filling, cholesterol-lowering, sugar-blunting effect as other fruits. It is rich in heart-healthy potassium too.
An ideal way to eat a pear is to consume it before a meal to help curb hunger. Ditch the peeler because most of the fruit's beneficial fiber is in the skin.
Pears are also a good source of Vitamin C, copper and Vitamin K. Vitamin C and copper are antioxidant nutrients that help protect cells in the body from oxygen-related damage due to free radicals. Vitamin C is also critical for good immune function.  Fruit and cereal fiber has also been proved protective against postmenopausal breast cancer. Pear is a hypoallergic fruit and is less likely to cause any allergic response in comparison to other fruits.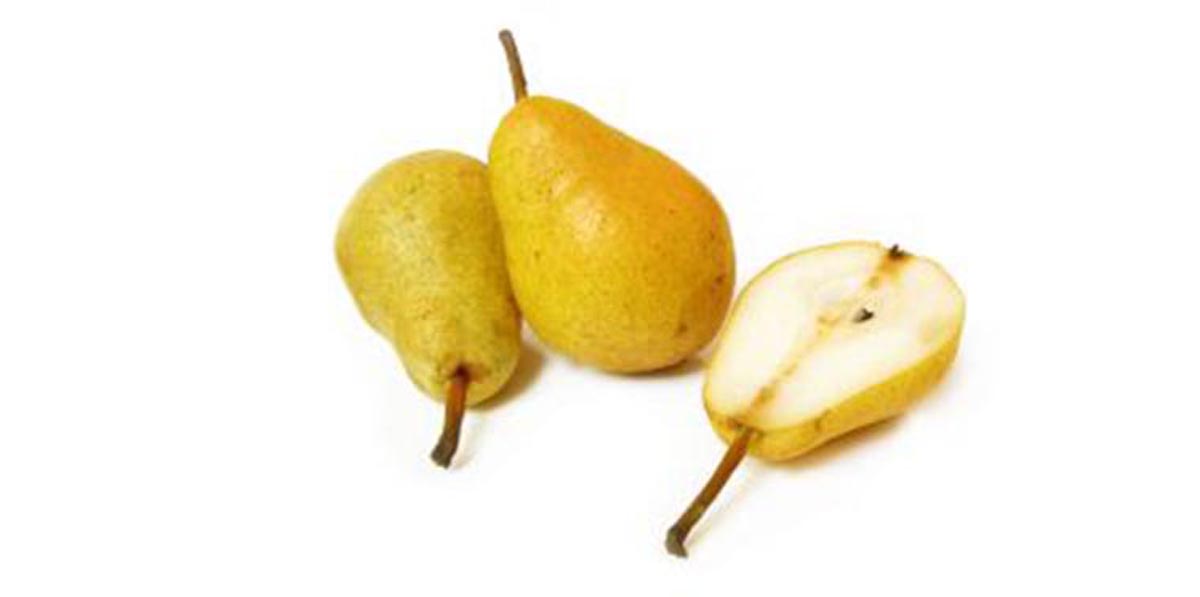 Nutritional value of a medium sized pear:
Calories: 98
Fat: 0 g
Saturated Fat: 0 g
Cholesterol: 0 mg
Carbohydrate: 25 g
Protein: 1 g
Dietary Fiber: 6 g
Sodium: 2 mg
Vitamin C: 7 mg
Copper: <1 mg
Potassium: 198 mg
Carotenoids: 97 mcg
Grapefruit
Grapefruit is low in calories, and its soluble fiber content is decent enough to fill you up, discouraging you from overeating. According to researchers at Scripps Clinic in California, eating half a grapefruit before each meal may help you lose weight up to one pound a week even if you make no other changes to your diet. Grapefruit helps regulate insulin, a fat-storage hormone, and thereby helps people lose weight.
An ideal way to consume grapefruit is to peel and segment; then cut into chunks and add to spinach salad. It is also a great companion with shrimp or peeled, sliced jicama.
Grapefruit is an excellent source of vitamin C, which is beneficial for promoting cardiovascular health. It is also a good source of vitamin A, potassium, folate, and vitamin B5. It contains pectin, a form of soluble fiber that has been shown to slow down the progression of atherosclerosis. 
Grapefruit is a storehouse of powerful phytochemicals such as flavonoids, terpenes, and limonoids. These naturally occurring substances may have cancer-preventing properties. Grapefruit contains lycopene that appears to have anti-tumor activity and has a high capacity to help fight oxygen free radicals.
Nutritional value of grapefruit:
Serving Size: 1/2 fruit
Calories: 52
Fat: <1 g
Saturated: Fat 0 g
Cholesterol: 0 mg
Carbohydrate: 13 g
Protein: 1 g
Dietary Fiber: 2 g
Sodium: 0 mg
Vitamin A: 1,414 IU
Niacin: <1 mg
Vitamin C: 38 mg
Potassium: 166 mg
Carotenoids: 2,589 mcg
Almonds
Eating a handful of almonds a day, along with a healthy diet, can help you zap fat. A research published in the International Journal of Obesity suggested that an almond-enriched low calorie diet (which is high in monounsaturated fats) can help overweight individuals shed pounds more effectively than a low calorie diet high in complex carbohydrates. Diet-study participants who ate almonds daily for six months lost 18% of their body fat. Those who followed a diet with the same amount of calories and protein but swapped almonds for an equal number of calories in complex carbohydrates lost only 11%.
An ideal way to consume almonds is to make them your desk snack. 22 almonds add up to one serving. Another idea can be to chop them finely and add them to oatmeal or yogurt.
Almonds are high in monounsaturated fats, the same type of health-promoting fats as are found in olive oil, which have been associated with reduced risk of heart disease. Almonds' ability to reduce heart disease risk may also be partly due to the antioxidant action of the vitamin E found in the almonds. The flavonoids found in almond skin team up with the vitamin E in their meat to more than double the antioxidant punch either delivers when administered separately.
In addition to healthy fats and vitamin E, a quarter-cup of almonds contains almost 99 mg of magnesium (that's 24.7% of the daily value for this important mineral), and 257 mg of potassium. This makes almonds an especially good choice in protecting against high blood pressure and atherosclerosis.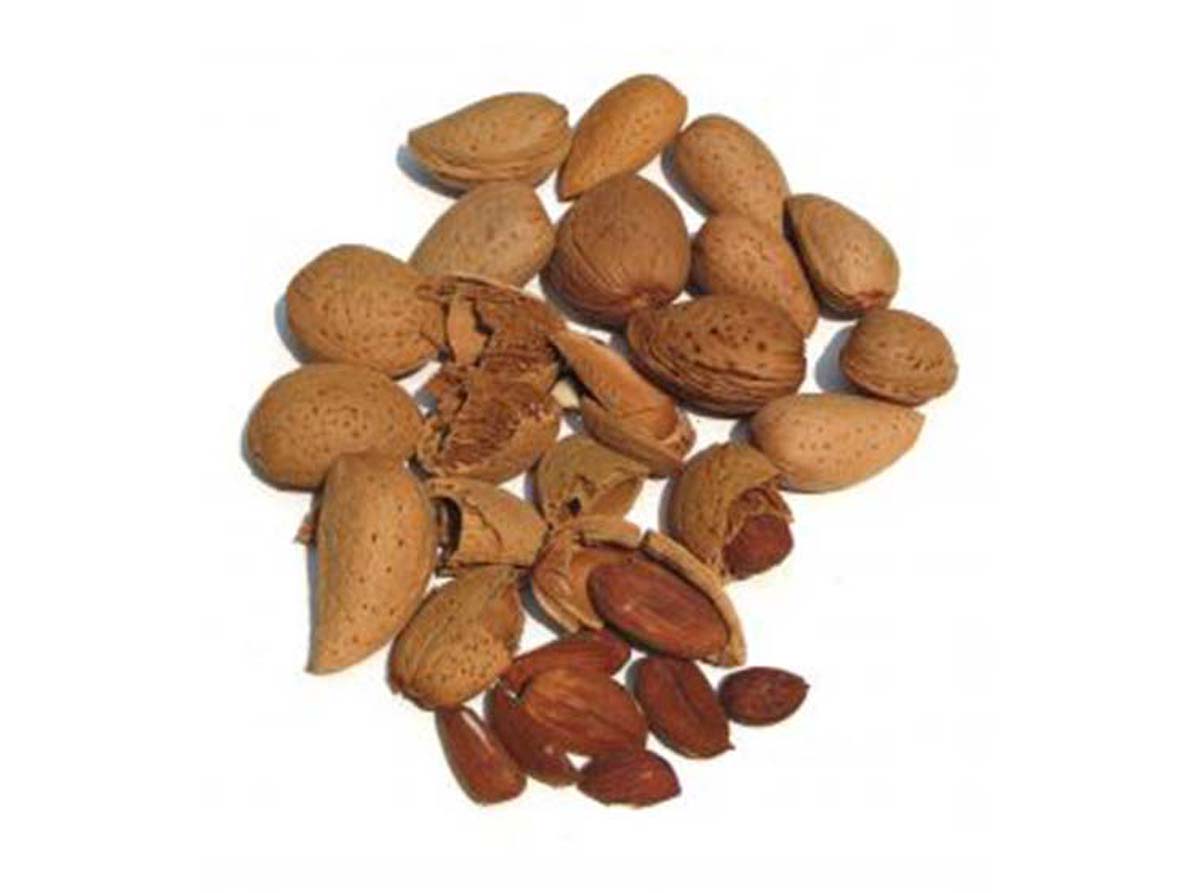 Nutritional value of almonds, dry roasted:
Serving size: 0.25 cup
Weight: 34.50 grams
Calories: 205.96 
Manganese: 0.90 mg    
Vitamin E: 8.97 mg
Magnesium: 98.67 mg
Tryptophan: 0.07 g    
Copper: 0.40 mg    
Vitamin B2 (riboflavin): 0.30 mg    
Phosphorus: 168.70 mg
Chocolate
Chocolate comes from the evergreen cacao tree, a type of shrub grown in hot climates. The nutritional composition of chocolate varies according to the percentage of cacao it contains and what is added to it (milk, nuts etc). Here are the average values for 100g:
Dark chocolate with 86% cacao solids: 567 kcal, 9.7g protein, 19.1g carbohydrate, 50.2g fat and 9.3g fiber.
Dark chocolate with 70% cacao solids: 561 kcal, 8g protein, 31g carbohydrate, 45g fat and 7g fiber.
Dark chocolate with 64% cacao solids: 521 kcal, 8g protein, 39g carbohydrate, 37g fat and 4g fiber.
Milk chocolate: 567 kcal, 6.7g protein, 51g carbohydrate, 37.3g fat, 1.3g fiber.
White chocolate: 543 kcal, 8g protein, 58.3g carbohydrate, 30.9g fat, 0g fiber.
Cacao paste used for dark and milk chocolate also contains a selection of vitamins and minerals (calcium, iron, fluoride, copper, Vitamins A, B and E) and molecules (theobromine, caffeine, serotonin, tyramine and polyphenols).
It's important to note that, when it comes to conferring weight loss benefits, dark chocolate reigns supreme. According to new research from Taiwan published in the Journal of Agriculture and Food Chemistry, dark chocolate may help prevent the accumulation of fat cells in the body, a precursor to heart disease and obesity. Theobromine, found in abundance in cocoa, is associated with weight loss and increased energy.
An ideal way to consume chocolate is to melt a half-ounce of dark chocolate in the microwave for 30 seconds and spread it on half a graham cracker; it is just 98 calories.
READ The Superfood That Boosts Your Weight Loss
Navy beans
Navy beans are loaded with resistant starch, a powerful fat burner (one half-cup serves up nearly 10 grams of resistant starch). As per the researchers at the University of Colorado, eating navy beans and other foods rich in resistant starch in just one meal a day can burn 25% more fat than a person would otherwise burn. 

Navy beans are a good source of cholesterol-lowering fiber, as are most other beans. In addition to lowering cholesterol, navy beans' high fiber content prevents blood sugar levels from rising too rapidly after a meal, making these beans an especially good choice for individuals with diabetes, insulin resistance or hypoglycemia. Their contribution to heart health lies not just in their fiber, but in the significant amounts of folate, magnesium and potassium these beans supply. Navy beans are ready to promote your cardiovascular health by being a good source of this mineral. They are also a good source of many minerals including phosphorus, iron, and copper. In addition, navy beans are a good source of protein and vitamin B1.
An ideal to consume navy beans is to sauté diced onion and garlic in olive oil, then add two cans of drained navy beans; purée and serve.
Nutritional value of navy beans, cooked:
Serving size: 1.00 cup
Weight: 182.00 grams
Calories: 258.44
Folate:    254.62 mcg    
Tryptophan: 0.19 g    
Manganese: 1.01 mg    
Dietary fiber: 11.65 g    
Protein: 15.83 g    
Phosphorus: 285.74 mg    
Copper: 0.54 mg    
Magnesium: 107.38 mg    
Iron: 4.51 mg    
Vitamin B1 (thiamin): 0.37 mg