Despite a continuous effort by various agencies to spread information about sexually transmitted diseases, they continue to affect a large percentage of the population in the U.S. And a large chunk of those affected is comprised of the young population.
Among the Three Major Sexually Transmitted Diseases, only Syphilis Shows Some Signs of Decline
According to the latest statistics provided by the U.S. Centers for Disease Control and Prevention, tackling sexually transmitted diseases (STDs) remains one of the major challenges facing health professionals. Of the three major STDs, only syphilis shows some signs of decline, while Chlamydia and gonorrhea continue unabated.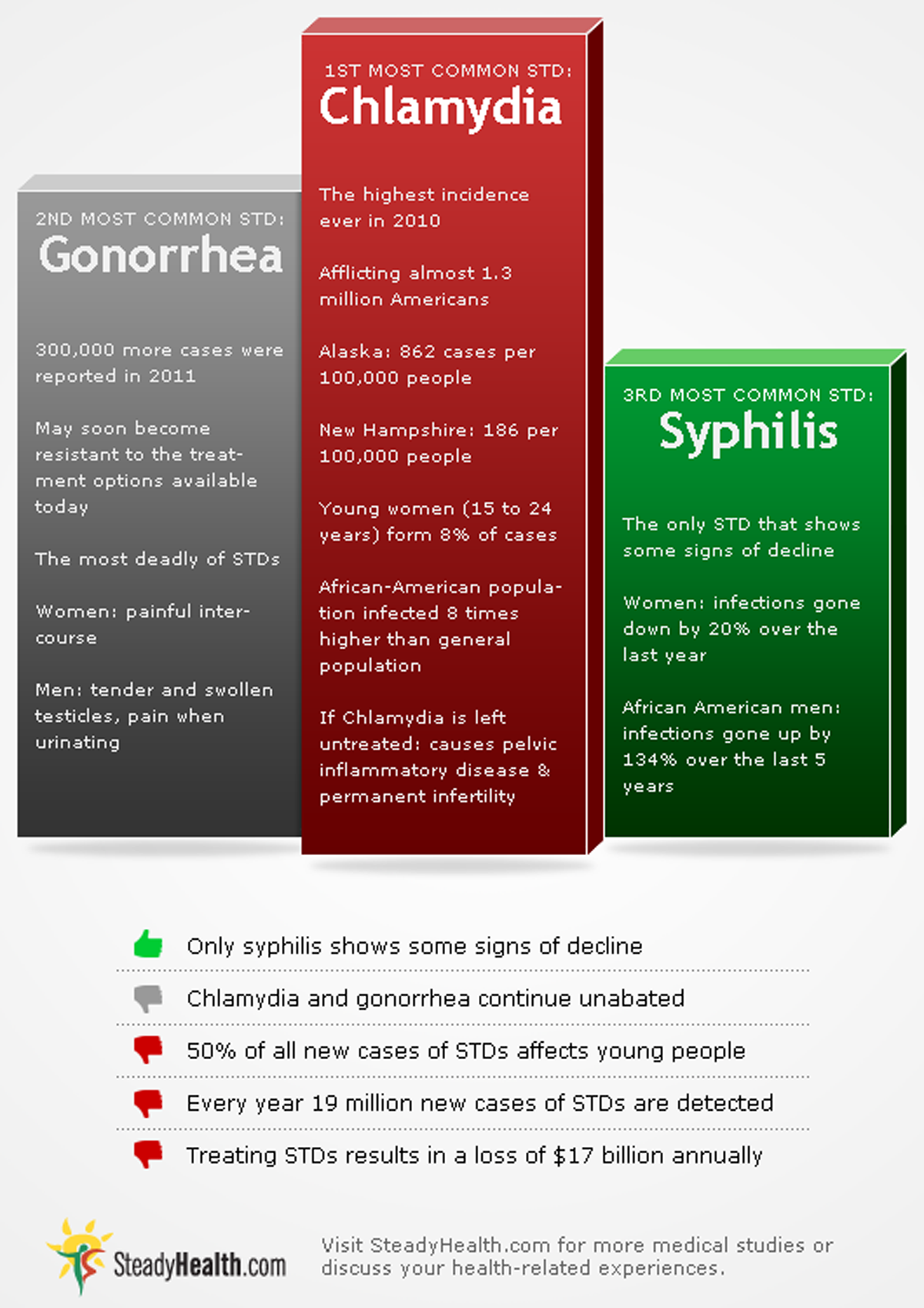 However, the incidence of syphilis has also gone up by 134% in African American men over the last five years. It is only in women that the incidence of syphilis has gone down by 20% compared to that a year ago.
The major brunt of these diseases is borne by African Americans and Hispanics
. And despite the untiring efforts of the health department in spreading awareness about the STDs, it continues to show a rising trend among the youths.
Almost 50% of all new cases of STDs were reported in young people
. This fact is particularly worrying, as STDs can produce life long impact on the health of an individual, if left untreated.
STDs are a huge drain on the exchequer. The CDC reports that every year 19 million new cases of STDs are detected, and treating them results in a loss of $17 billion annually.
People Suffering from Sexually Transmitted Diseases are more prone to Infection with Human Immunodeficiency Virus (HIV)
These statistics are all the more upsetting as it is a well known fact that people suffering from sexually transmitted diseases are more prone to infection with human immunodeficiency virus (HIV).
Chlamydia
continues to be
at the top of all STDs
. Its incidence was the highest ever in the past year, afflicting almost 1.3 million Americans. Its incidence varied widely from place to place. While in Alaska, its rate was as high as 862 cases per 100,000 people, the rate dropped to 186 per 100,000 people in New Hampshire. Young women in the age group of 15 to 24 years formed 8% of these cases.
The rate of
chlamydial infection
in African-American population was eight times that of the general population. However, the rising incidence rate does not necessarily mean that more people are being infected with Chlamydia. It could also be due to an
increase in the screening rate
of the people. It is necessary to screen more and more people suffering from Chlamydia as untreated infection can result in
pelvic inflammatory disease (PID)
and
permanent infertility
in 10 to 155 of all infected women.
The rate of the second most common STD, i.e.
Gonorrhea
showed a marginal increase compared to the figures in 2010. Around 300,000 more cases of gonorrheal infection were reported this year. But these figures are still low compared to what we saw in the past. However, the bad news on this front is that there has been a rise in
drug resistant gonorrhea cases
. According to the CDC, gonorrhea may soon become resistant to the treatment options available today.
The results show that the awareness programs launched by the various health agencies have still not been able to meet their target. A lot has to be done before we can bring these potentially life threatening infections under control.
"Syphilis rates drop, but STDs still big problem", by Julie Steenhuysen, Reuters, published on November 17, 2011, accessed on November 22, 2011. Retrieved from http://www.reuters.com/article/2011/11/17/us-usa-stds-idUSTRE7AG1XD20111117
"National Overview of Sexually Transmitted Diseases (STDs), 2010", Centers for Disease Control and Prevention, published on November 17, 2011, accessed on November 22, 2011. Retrieved from http://www.cdc.gov/std/stats10/natoverview.htm
"Chlamydia Tops List of STDs Reported to CDC", by Daniel J. DeNoon, WebMD Health News, published on November 17, 2011, accessed on November 22, 2011. Retrieved from http://www.webmd.com/sexual-conditions/news/20111117/chlamydia-tops-stds-reported-cdc?src=RSS_PUBLIC