Maverick, who came to Catalan Spain from Colombia as a child, faced immense obstacles in adapting to her new culture, school, and language. What can new immigrant families learn from her experiences?
"I had no friends, since I was excluded from the group from the first moment I arrived, and suffered bullying with everything that it includes," begins Maverick, who arrived in a small town near Barcelona, Spain, as an eight year old Colombian girl. While some would immediately assume that Spanish speakers would have an easier time adapting in Spain, Catalan is the predominant language in Barcelona — and it's the language in which primary public school students are instructed. Maverick was pretty lost at the beginning then, surrounded not just by a new culture but a new language, as well. 
SteadyHealth recently posed the question: Will your immigrant or expat child magically learn a new language while attending a local school? We also looked at how you can help your elementary child transition after moving schools. Largely based on scientific studies, these articles offer glimpses into what you may expect. Maverick's story, however, comes from personal experience — it highlights some of the experiences children may face when they start school in a new language and culture, and shows that assimilation depends on a whole lot more than the will power of an immigrant alone.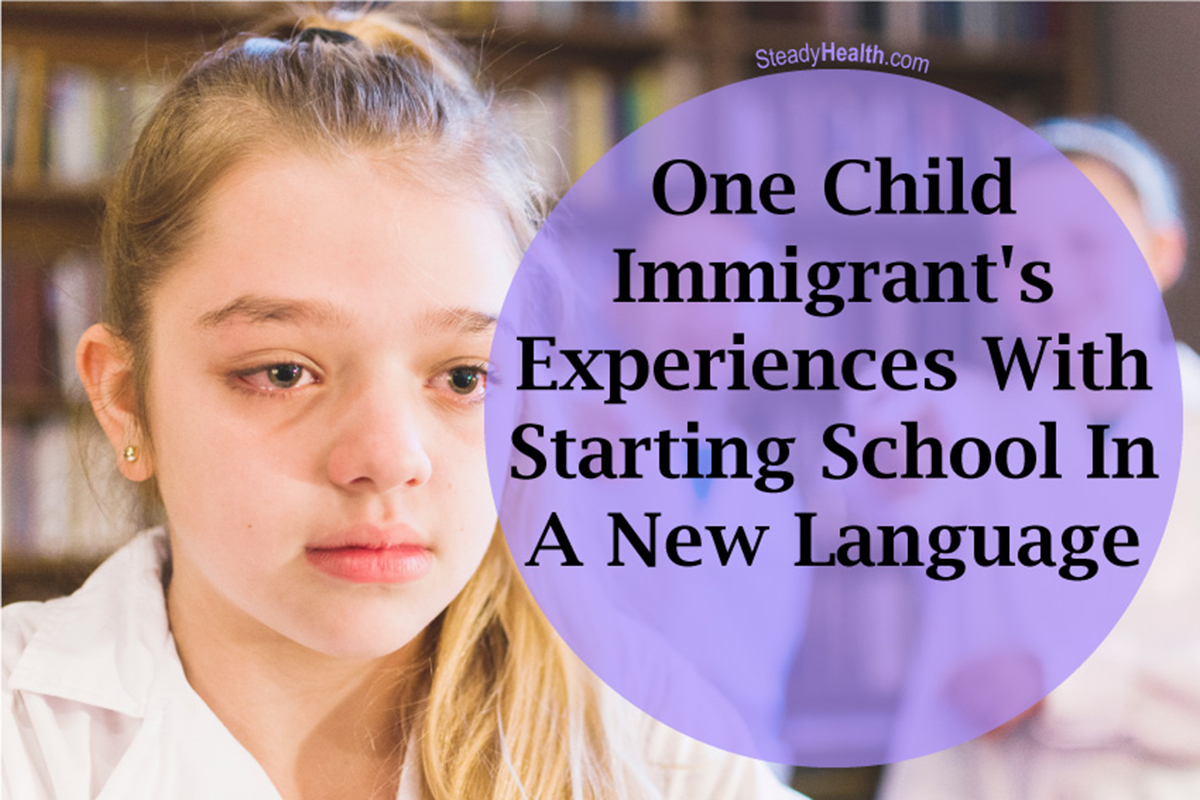 Maverick still isn't quite sure why she became the target of bullies (read more about that in: What makes a school bully, and who is a vulnerable target for school bullying?), but guesses that "among others", her "nationality and [society-wide] ignorance surrounding many topics" were to blame. (That is to say, she came face to face with anti-immigrant sentiments.) This level of exclusion is a heavy burden to bear for a child, and in Mave's case, fellow students were not the only ones who made her life difficult. "I had more than one problem with a teacher because sometimes they reflected discriminatory behaviors and acts because I was a foreigner, and after being very quiet, I had to tell my family and put an end to these problems."
Amid all this cultural turmoil, Maverick had the task of learning a new language. If your child, too, is due to start school in a new language, you may assume that children soak new languages up very quickly — and that the total immersion of a school environment will only help them make faster progress. This was not Maverick's experience. She says: 
"Nearly all communication took place in Catalan, which I did not understand. Being so young and struggling with the internal fears that come with being in a totally new place made it even more difficult to understand. I remember that the teachers only spoke in Catalan so I would learn faster, or so they said. In my case this did not work, and I did not learn much until I entered a class with other foreign students. That's where I found a good teacher who knew how to exercise her vocation, who really motivated me and helped me learn in an easy and didactic way. She played a very important role in helping me feel included and learning a new language."
Not only did a classroom with other foreign students help Mave make new social connections which whom she progressed in learning Catalan, her new teacher went above and beyond by listening to her concerns and providing advice. "She knew the treatment I received from my classmates," Mave says, "and helped me a lot to tell my family and ask for help."
Did the school play an important role in Mave's mastering the Catalan language, I wondered, or were other factors more crucial? Mave shares: "It really was an important pillar, but all the little things, like friends, movies, cartoons, series helped a lot more to learn the language and its culture."
What advice would Maverick have for parents of children who will soon find themselves in the position she was in? Emotionally, she'd tell them to prepare and help their child prepare. "I would tell parents to anticipate everything that is going to happen in the life of a child, explaining that this is a gradual process." Adapting to a whole new culture and language won't happen overnight, but will take time — and that is normal. Present struggles won't last forever. 
Educationally, Mave sees great value in supplementing the language learning a child undertakes at school with activities at home and beyond. She says:
"I would recommend a support person, baby sitter, educator or something similar, to take care of them, play, interact and learn vocabulary little by little. It is important that you begin to recognize these new sounds and give them meaning. Cartoons, games etc, under supervision, with control of time, good values and fun for them, will make progress quickly."
Friendships, too, can play a crucial role: "Another important point would be to seek new relationships with people of your age before starting the learning or the new school, that will give them security and moral support making them learn the new language faster."
What would Mave say to teachers who are faced with the difficult task of helping a child learn a new language — perhaps with little to no training and preparation? "I would say to teachers that they should get to know their students better in order to adapt to their way of learning, as we all do it in a different way. Make learning what it is, something fun, useful for the future, for the student's development and a new challenge to undertake, like life itself."
Mave's struggles might have shaped her as a person, but she's taken many positive lessons from them. "Today I can say that thanks to my past experiences and especially in my childhood, I am a person trained in languages, and happy with myself every day, after all if we know how to learn from our past experiences, we can evolve in life and adapt more and more quickly to changes and constantly improve ourselves."
Parents who are moving abroad with kids will almost certainly wonder what kind of impact this will have on their cultural identity. Though we can always be sure there is one, your child's will evolve with time. The difficulties Maverick faced didn't put her off learning more languages, and today she speaks four. Her experiences taught her never to be a quitter, and to have much appreciation for all sorts of different cultures: "When we learn a new language, we learn a new way of thinking and communicating differently. In the expressions and typical vocabulary of each country, you can see the character of society in general. A language opens doors and brings new people into our lives, therefore the effort is always rewarded."
Photo courtesy of SteadyHealth.com