Being able to talk is a vital life-skill for your baby. Here, we explore 12 simple, fun ways to encourage your toddler to talk in your everyday life.
Being able to communicate is a vital skill. It helps your child to form relationships, make themselves understood, and accelerate their learning.
By the time your child is due to start school or kindergarten at the age of four or five, they should already be competent with spoken language, able to:
Understand verbal instructions
Understand sequences of events: "First we are visiting the supermarket, then we will visit the park".
Use formed sentences
Be interested in the meaning of new words
Use most sounds correctly
However, children of this age still make grammatical mistakes (such as "sheeps", rather than "sheep"), and will still struggle to pronounce more complicated words (like "hippopotamus"). This does not mean your child has a
speech disorder or aphasia
.
So, how can you help your child to learn to speak so that they're ready for those vital early schooldays?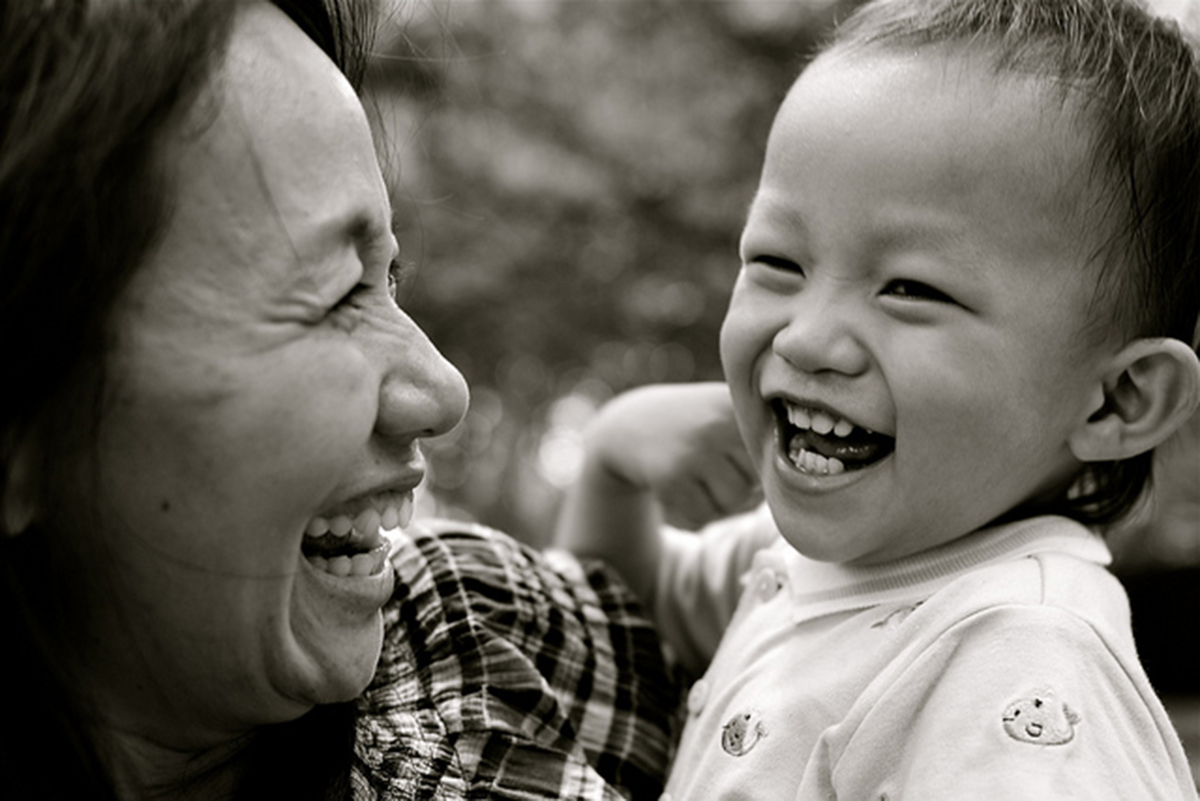 Begin at Birth
Your child begins to understand speech long before they can produce speech, so begin the day your baby is born. Don't keep up a constant whir of one-sided conversation. The baby will eventually tune you out.
Instead, look at your baby. Make faces, noises, and ask questions: "Would you like to go for a nice walk?", "Would you like some milk", and then leave a pause.
Of course, the newborn baby can't answer, but they will start to get the message that what they think and feel is important, and they will know you want to be able to communicate. Over time, their desire to answer will grow stronger.
When you take your baby out, point out interesting things: "There's a car". Add more details as the baby gets older and begins sitting in a forward-facing pushchair, "There's a blue car."
Nursery rhymes and songs (such as Row, Row, Row Your Boat, Pat-a-Cake and This Little Piggy) are a fun way to play with your baby and improve language-development. Ones with actions (such as the ones listed) are especially memorable and enjoyable for young children.
Match What You Say to an Action
When you have a toddler, linking words to an action can help your child to understand the meaning behind the words. So say: "Coat off." and remove her coat. Similarly, when it's mealtime pull out her chair, put her plate on the table and say: "It's dinnertime."
Those visual cues will help her learn.
But Don't Bore your Child
Nothing makes a child less inclined to learn than sitting there, while you hold up various objects and say what they are. Parent holds up a ball: "Ball"; parent holds up a doll: "Dolly".
Instead, weave words seamlessly into what your child's doing: "Do you want to dress your dolly in the pink dress," (hold up pink dress), "or the blue jeans?" (hold up the miniature jeans). New words: "dolly", "dress", "pink", "blue", and "jeans".
But don't talk to them all the time. Give them time to just play.
And remember, if you do talk to your baby or ask them a question, give time to answer.
Use Their Name
If you want to get your child's attention, use their name at the beginning of the sentence.
Continue reading after recommendations