Despite high breastfeeding initiation rates in Serbia, Bosnia, and Croatia, fewer mothers are still nursing when their babies are six months old. What obstacles prevent mothers in this region from nursing for longer? SteadyHealth investigates.
In order to find out how knowledgeable our participants believed their healthcare providers to be about breastfeeding, we presented them with an open-ended question.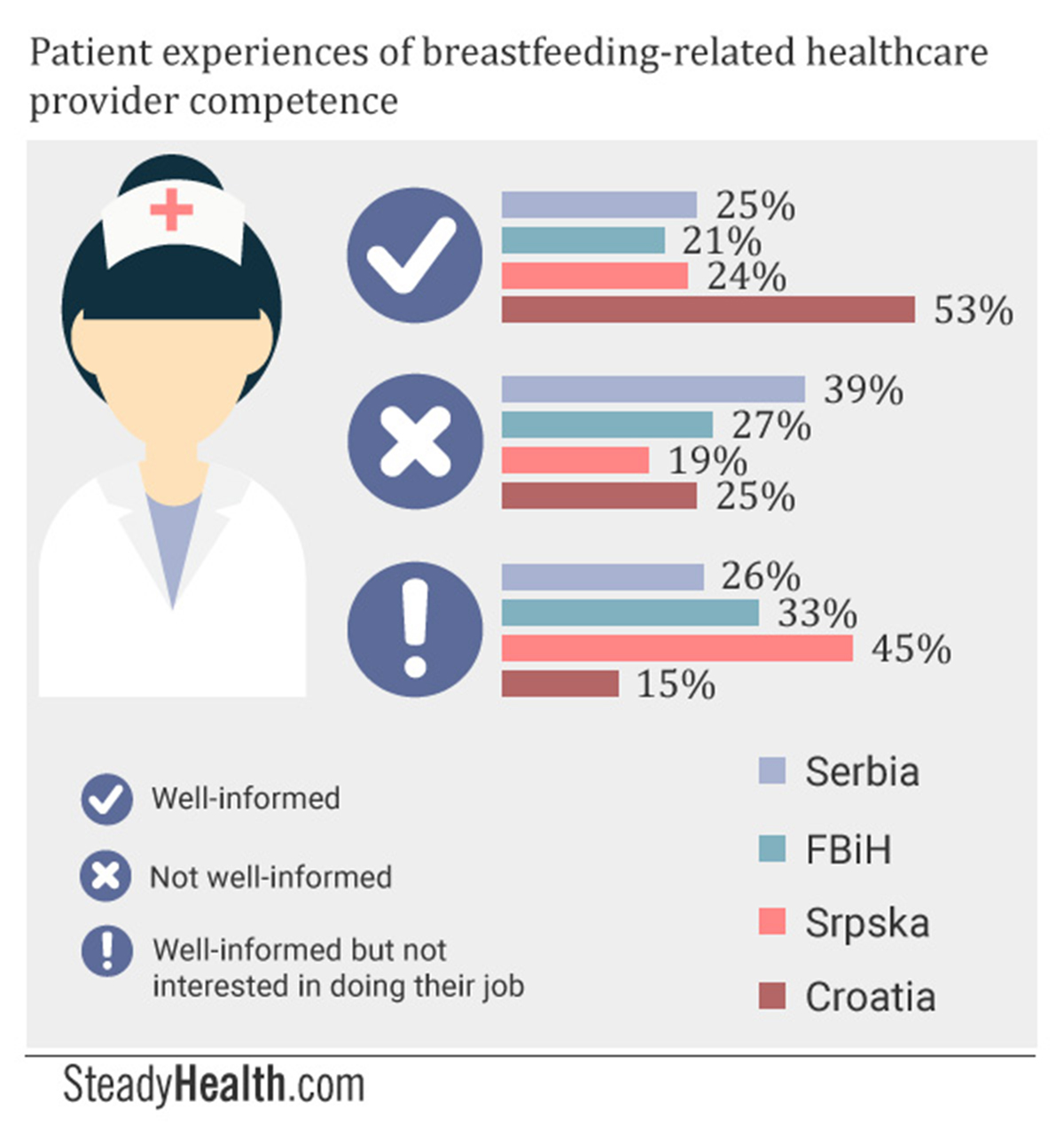 Our results were as follows:
In Serbia, a quarter of participants said they believed their healthcare providers to be well-informed about the benefits of breastfeeding, about the possible complications mothers might encounter, and about ways in which these challenges could be overcome. A full 39% thought their healthcare providers ill-informed.

In the Federation of BiH, 20.7% believed their healthcare providers to be well-informed, while 27.3% held that they were not knowledgeable enough.

In Srpska, a higher percentage, 24.36%, thought that their healthcare providers were sufficiently knowledgeable about breastfeeding than not (19.12%).

Croatia was the only region in which a majority of participants, 52.94%, had confidence in the knowledge of their healthcare providers. A full quarter still believed that the staff involved in their maternity care did not know enough about breastfeeding to be able to adequately support them, though.
In a surprising twist, large numbers of respondents replied to our open-ended question (and thus independently of one another, without the wording of our survey planting ideas in their minds) that their healthcare providers were "well-informed, but not interested in doing their jobs".
A total of 44.87% of participants from Srpska, 32.5% from FBiH, and 26% from Serbia, responded this way. Meanwhile, our Croatian respondents worded the same idea slightly differently, using phrases such as "they are not patient enough", or "they do not take the time to show each mother how to breastfeed successfully". In this case, a significantly lower 14.71% held this view.
We also asked our participants to share examples of the kind of breastfeeding-related care they received. We explicitly prompted respondents to talk about both positive and negative experiences. Whether because high-quality care tends to be taken for granted and negative experiences are simply more memorable, or because negative experiences indeed dominated among participants, the majority of mothers did not share positive experiences.
Some of their responses include:
"I was prescribed medication that was incompatible with breastfeeding." (FBiH.)

"All healthcare providers I came into contact with are very much in favor of breastfeeding." (Serbia.)

"One midwife told me, soon after I gave birth, that I have neither breasts nor milk and that all I've got is water." (Srpska.)

"A doctor asked me: 'Would you like me to prescribe you medication to make your milk stop, if you don't intend to nurse?'" (Croatia.)

"When I told a pediatrician that my 18 month old was still nursing, he told me I was creating a living Oedipus complex." (Serbia.)

"They're not that interested. If you think you don't have enough milk… there's always formula, particularly the brand they will receive a commission from recommending." (FBiH.)

"My health visitor told me that I had to drink milk to make milk." (Croatia.)

"Nurses told me that breastfeeding small babies doesn't meet their needs and that they'd feed them formula right after." (Serbia.)

"I was told to breastfeed once every three hours, not on demand." (Srpska.)
SteadyHealth asked Dr Gordana Mucibabic, a pediatrician at the private hospital Jelena in Banja Luka, Republika Srpska, what she thought of these findings. She answered:
"Despite the fact that we're talking more about the benefits of breastfeeding and the differences between breast milk and formula than ever before, it also seems to me that breastfeeding rates are at an all-time low in this region. Why is that? Like every other problem, this too is multifactorial: factors surrounding mothers, newborns and their social circles are involved, as well as the fact that any labor and delivery induces stress. The breasts themselves can be engorged and painful, and the nipples sensitive. Then there are social factors, in which people tell a new mother: 'Why are you suffering through this? Just give your baby a bottle, can't you see you don't have enough milk?'

I'll tell you that less than 1% of mothers who give birth at our hospital decide not to breastfeed for at least three months. How do we achieve this? Through workshops that explain the practical and theoretical side of breastfeeding during pregnancy, encouraging mothers to nurse right after their baby's birth depending on their health condition, and having a team at our disposal to ensure breastfeeding success in a comfortable environment during the first few days.

You asked why so many mothers believe they don' have milk, and why they think their healthcare providers are not devoted enough. I can't comment on the situation in clinics besides our own, but I believe the answers to the following questions would reveal all:

Are expectant mothers well-informed? What percentage attends prenatal classes?
How devoted are healthcare providers? If not very, why not? Are we talking about a lack of goodwill, ambitions, apathy, insufficient wages, an unrealistic workload, or something else?
Are babies placed on the mother's chest right away?
How much time do healthcare providers spend helping to get lactation started?
How many times do health visitors see new mothers and how effective are those visits?
Is our society able to offer adequate healthcare to new mothers and babies?
Are mothers able to focus solely on nursing their babies or do they have existential worries, such as what they should do if their employer asks them to return to work early?
How patient and helpful are new mothers' relatives?
How educated are healthcare providers?
Do pharmaceutical companies pressure healthcare workers to promote formula?"
Continue reading after recommendations
Infographics by SteadyHealth.com