Coconuts are very nutritious and a rich source of dietary fiber, minerals and vitamins which are important for the body. The oil found in coconuts contains healing properties which are greater than any other dietary oil and is used in Asian and Pacific.
The coconut comes from the coconut palm and is a member of the family Arecaceae, and the only species in the genus Cocos.  The coconut palm is grown in tropical regions and used for culinary and decorative purposes.  The origins of the plant remain a source of controversy and speculation, with some experts claiming the species is native to South Asia and others claiming it came from Southern America.  Fossil records indicate the coconut palm existed as many as 15 million years ago, with older fossils being found in Kerala, Thennai, Rajasthan and the banks of the River Palar.
Where are Coconuts Grown and How to Grow Them?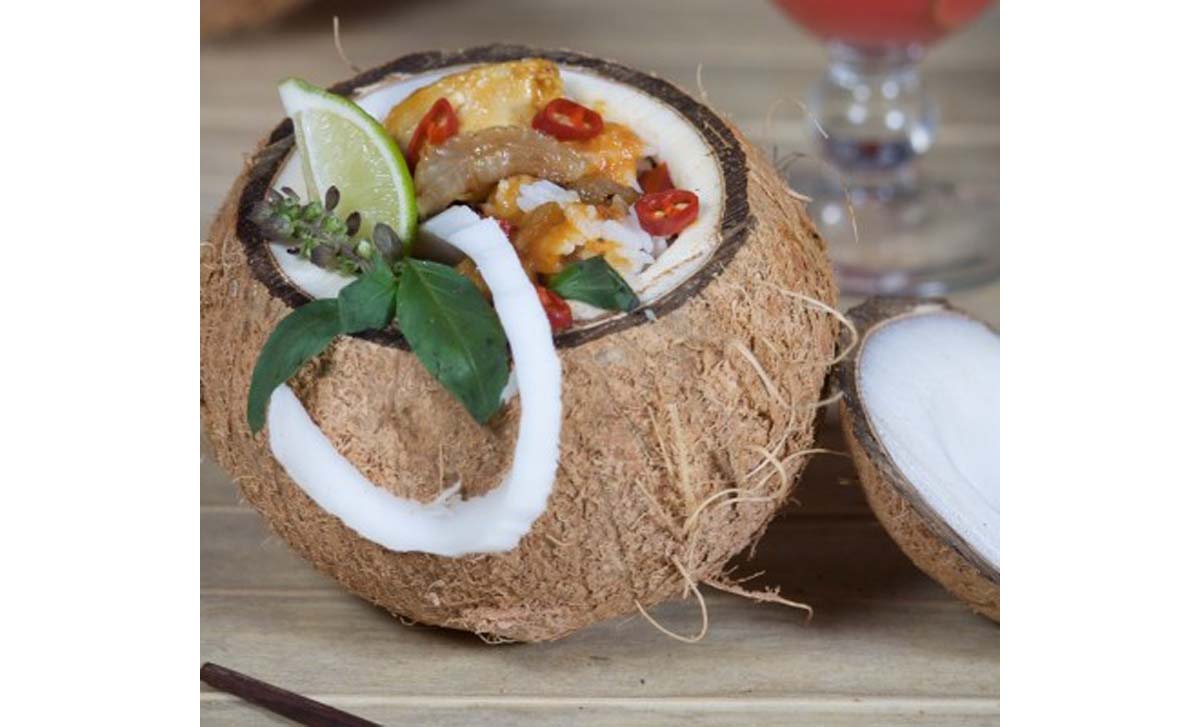 There are many countries which cultivate coconuts with the main production coming from the Middle East, Dhofar region of Oman.  Other countries which produce coconuts include; Myanmar, Philippines, Malaysia, Papua New Guinea, Indonesia, Sri Lanka, India, Brazil, Thailand and Vietnam.
Coconut trees are very difficult to establish in dry climates and will not grow at all without the proper irrigation.  In drought conditions, new leaves will not open and older leaves may writher, fruit also tends to die and be shed.
Nutrients Found in Coconuts
Coconuts contain many different vitamins, minerals and nutrients which can benefit the human body.  Such nutrients include the following;
magnesium, potassium, phosphorus, calcium, folate, selenium and vitamin A.
  Other trace nutrients found in coconuts are
vitamin B6, pantothenic acid, niacin, riboflavin, copper, iron and zinc
.
Healthy Ways to Prepare Coconuts
To preserve the content of vitamins, minerals and nutrients found in coconut it is best to serve the meat raw and fresh.  Other healthy ways to prepare coconuts include roasting or toasting the meat, adding to salads, pureed and added to salad dressings, sauces, soups and broths.
Health Benefits of Coconuts
Coconuts are very nutritious and a
rich source of dietary fiber, minerals and vitamins
which are important for the body.  The oil found in coconuts contains healing properties which are greater than any other dietary oil and is used in Asian and Pacific traditional medical practices.  Coconut oil used by Pacific Islanders is thought to be a cure for certain ailments and is referred to as the "
tree of life.
"
Coconuts and coconut oil has been used for thousands of years to treat a variety of conditions such as
constipation, dysentery, jaundice, skin infections, gastrointestinal upset, skin wounds, fever, cough, the common cold, asthma, bruises and burns. 
In addition to being used in traditional island medicine, coconuts are also being recognized by medical science for having a place in traditional medicine as well.
Studies published in medical journals have summarized the benefits of coconut to
kill tapeworms, fungi and yeast, bacteria, thrush, diaper rash, throat infections and ulcers. 
Researchers have also discovered the oil in coconuts can also kill the
viruses that cause measles, hepatitis, herpes, HIV/AIDS, influenza and much more
. [1]
Coconuts also increase energy levels and provide a nutritional source of
instant energy. 
The oil found in coconuts also supports and promotes skin health by
relieving sun burn, wounds, eczema, psoriasis, dermatitis and rashes. 
Other benefits include improvement of insulin secretion and relief of the symptoms of
Type II diabetes. 
Coconuts also prevent simple goiter which is an
enlargement of the thyroid gland, ease throat inflammation, prevent gingivitis and tooth decay
and help heal
mouth sores.
Coconuts contain lauric acid which is converted by the body into monolaurin which is effective in providing the body with
protection against cytomegalovirus, listeria monocytogenes, helicobacter pylori, and giardia lamblia,
which are all harmful to humans.  Coconut oil is often used by body builders and those who are trying to maintain or lose weight.  The oil contains fewer calories and the fat content is more easily converted into energy, so it does not lead to fat accumulation in the heart, blood vessels and arteries.
Coconuts and coconut oils can be very beneficial when added as a regular part of a healthy diet.  Medical researchers are currently studying mysterious fruit to determine a better understanding of everything coconuts and coconut oil have to offer the human body.