Want to freak people out or make their heart melt on Halloween? If you're pregnant or have recently had a baby, Halloween costumes are more fun than ever before!
To make sure you have the right costume reading for this creepy holiday, you need to prepare now. We have some ideas to help you out whether you want to make your own costume or get a ready-made one, and whether you're going trick or treating with your older kids or you're having a home Halloween do.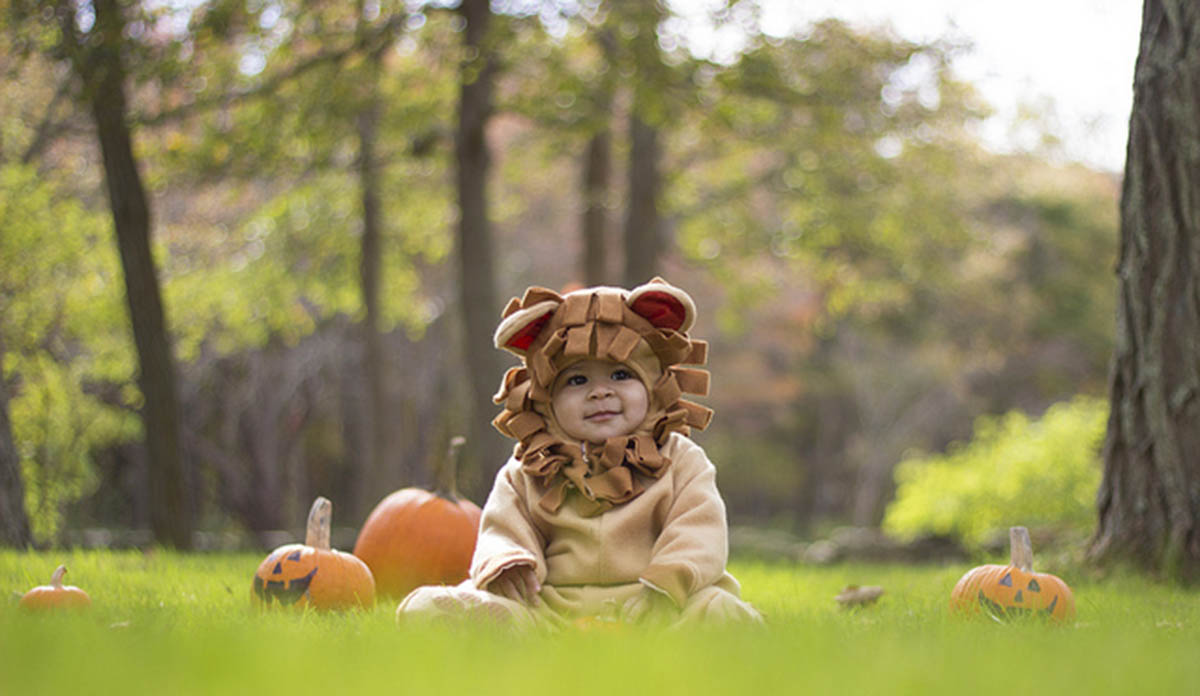 Thanks to Joe Bar/Flickr Creative Commons.
Cute baby costume ideas for Halloween
Have you got a little package of cuteness? Why not use the phrase "trick or treat" as the inspiration for matching costumes? You, wearing a magician's costume, can be the trick. As for the baby, just Google to find some of the positively adorable "treat" outfits on the market. The candy corn outfits are great, but you can choose from all different kinds of candy. Do you use a baby carrier, like a mei tai, Ergo baby carrier, or a Baby Bjorn?
Your carrier is an ideal dress-up base! You could dress your little one up as a spider by sewing a few extra legs for them and attaching a spider head to the head rest. As for you, you could serve as the "web": use all-white clothes and draw the pattern on with a fabric marker if you want it to be nice and easy. (Tip: Look in thrift stores for the clothes you'll be using!) One mom on Pinterest dressed her baby's carrier up as a popcorn container, which was really cute too. Or... dress up as an Egyptian mummy, but with a baby peeking out and fake blood at the edges to make it extra creepy. If you prefer to swaddle your baby, you can always wrap your baby up as a Mexican burrito, complete with fabric lettuce, tomatoes, and other goodies! I also loved seeing babies dressed up as chicks, frogs, little ghosts, and cupcakes!
READ Keep Halloween Healthy This Year
Pregnant?
You've got lots of options! If you're not all that creative, just dress your bump up as a pumpkin. (That's actually pretty cool, but you won't be the only one to do it.) Otherwise, here are some more ideas. Have you got older kids who will be dressing up too? You can do some mixing and matching. If your older (already born) kid is dressing up as one of the Ninja Turtles, you can decorate your bump with a turtle mask as well. Monsters Inc costumes are also out there, and you could have lots of fun with minion-themes get ups.
Are you solo? Go for a basketball, globe, octopus, disco ball, snowman, or "bun in the oven" (complete with a cardboard oven around your bump!) costume. Going to a Halloween party with your other half? I've seen some pretty cheesy things out there: milk cow/farmer, cook/bun in the oven, housewife/milkman, and nun/devil combinations. You could also both be pirates, bank robbers (baby can participate in that too, in the role of a "money bag"), and zombies, complete with a creepy skeleton fetus art on your bump. Have fun this Halloween!