Getting ready for Halloween? Choose from our healthy pumpkin recipes to get you through the evening without overdosing on sugar. Go for the pumpkin desert if you want a little sweetness without all that Halloween candy. .
Are you going to host a Halloween the dinner party for adults? Or are you just planning to fill your kids' tummies with healthy foods before they go out Trick or Treating? Pumpkins and Halloween have been connected since the Irish brought the tradition of jack-o-lanterns to America.
Pumpkins replaced the original turnips because they were more readily available. That's great, because pumpkins are rich in vitamin C, potassium and beta carotene. It's no surprise pumpkins are the key ingredient in most Halloween dishes. Here are our ideas for a spooky Halloween dinner.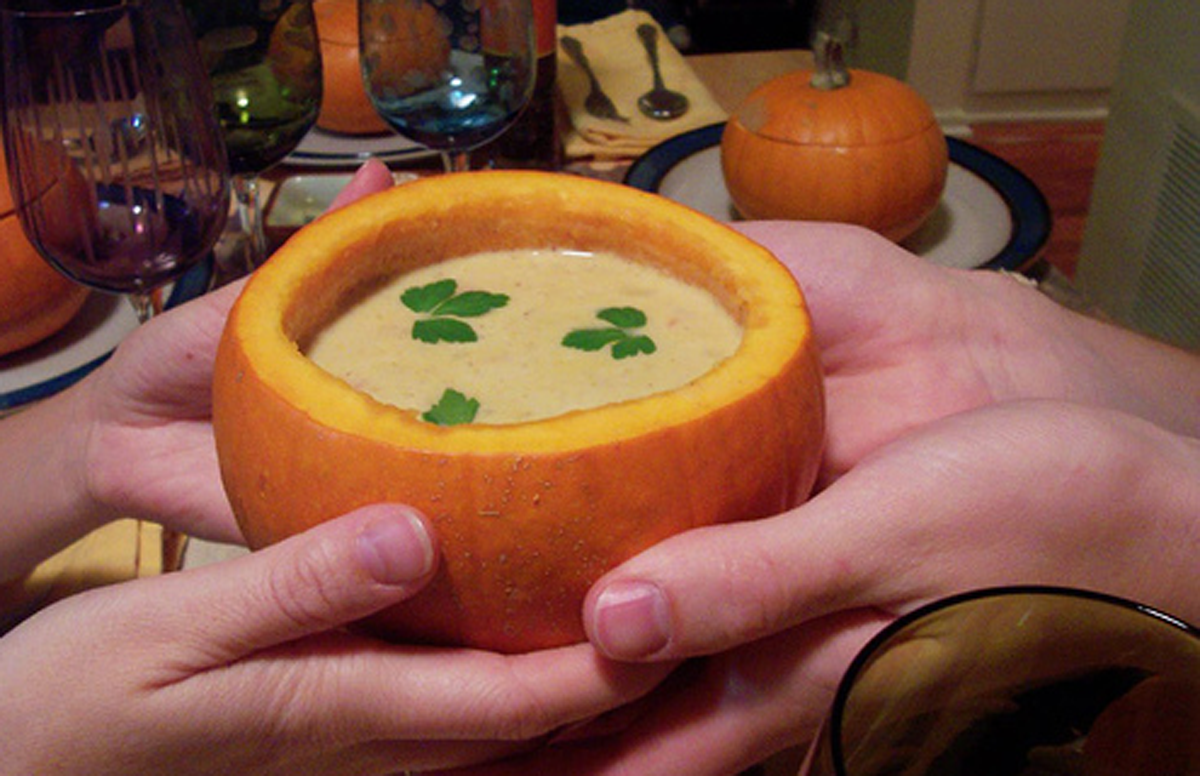 Pumpkin Soup
Pumpkin soup is a hearty, very filling dish. It can easily pass as a main course. If you are planning to serve pumpkin soup as a starter, stick to small bowls. A small pumpkin is enough for our family of four, and a loaf of bread turns it into a complete meal. If you have a larger family, or have guests, you will need to add a little more.
You will need a small pumpkin of around three pounds, some garlic, a few onions, a leek or two and some bell peppers if you like. You will also need some sour cream, olive oil, salt and a pepper, and curry powder (if desired). Two cubes of vegetable stock will make your pumpkin soup come together nicely.
To start with, fry your garlic, onions, chopped leeks and peppers. Peel your pumpkin, chop it into small bits, and take the seeds out. Don't throw them away — you can fry them and give them away as Trick or Treat gifts or enjoy them yourself. Fry your blocks of pumpkin at a medium heat for about 10 minutes before adding adding water, vegetable stock, salt and pepper as necessary. This is also the time to use your curry powder if you like things a little more spicy. Bring your soup to a boil and keep that going until the pumpkin is soft.
To turn your soup mixture into a real soup, simply use an immersion mixer (also known as stick mixer). At the end, pour in sour cream to taste, and you're done. Don't have too much pumpkin soup, or you won't feel like eating for days! French baguette is the perfect addition to pumpkin soup.
Continue reading after recommendations