One in eight men and one in four men over the age of 70 has degenerative arthritis in their hands. Caused by breakdown of cartilage and painful bony growths around joints, degenerative arthritis is the most common joint disorder.
Splints Steady Achy Joints to Relieve Pain
Aspirin and over-the-counter NSAID pain relievers such as Ibuprofen offer short-term relief of the pain of degenerative arthritis, but at a cost. Aspirin aggravates ulcers and heartburn. Other NSAIDs can contribute to liver damage. And both kinds of non-steroidal anti-inflammatory medications have a potentially devastating side effect: Even as they relieve pain, they accelerate the breakdown of cartilage.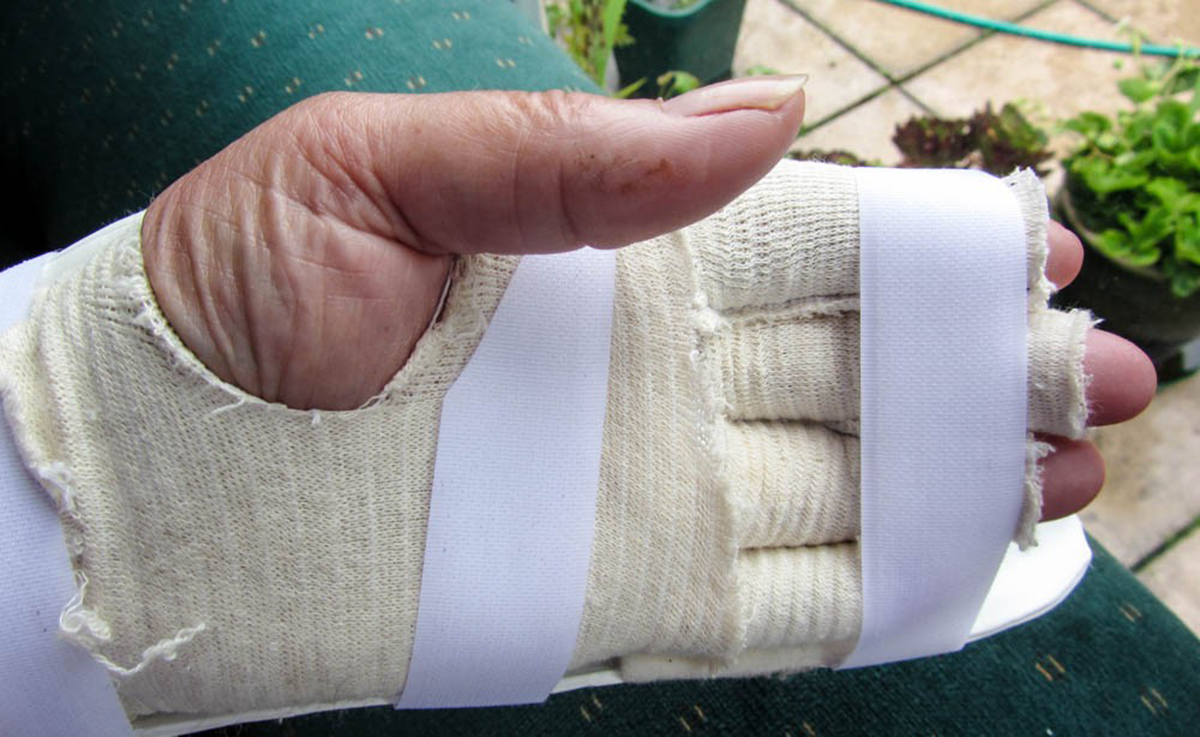 Arthritis researchers have experimented with various non-drug treatments for degenerative arthritis of the hands. Norwegian researchers have found that an extreme vegan diet, eliminating not just all meat, fish, eggs, and milk but also many common vegetables, sometimes helps. American researchers have experimented with exercises for the hands, but have had more success in treating carpal tunnel syndrome than in treating degenerative arthritis.

But Dr. Ingvild Kjeken and her associates at the Norwegian National Resource Center for Rehabilitation in Rheumatology at the Diakonhjemmet Hospital in Oslo observed that degenerative arthritis patients often get relief from thumb splints. Reviewing the medical literature, Kjeken and colleagues found 12 scientific studies for the use of strikingly different kinds of splints and exercises for the relief of pain. The Norwegian doctors decided to determine the best therapy for their patients.



Splints Relieve Pain, But Don't Remove It
The Norwegian researchers found evidence that wearing a tight, rigid hand splint all day lowered patients ratings of hand pain by about half. Wearing a hand splint at night had approximately the same effect. The benefits of using a hand splint were immediate. Using a splint for just one day lowered patient ratings of pain by a quarter.

What the splints did not do was to restore strength to affected hands. There was no one set of exercises that accomplished this, either. And the researchers in Norway were not able to determine whether it would be possible to reduce the use of pain medications with hand splints.

The ideal therapy, Dr. Kjeken believes, may be to use a small, inexpensive hand splint during the day to relieve pain, and then to sleep with a custom-made hand splint at night to treat bone deformities caused by years of untreated degenerative arthritis.

Read More: Numb hands relation to Carpal Tunnel Syndrome

The two treatments cost about the same as over-the-counter Ibuprofen or similar pain relievers. A generic hand splint for daytime use costs about $25. A custom-made hand splint for nighttime use correcting bone and joint deformities costs about $100, neither amount, of course, including the doctor's fee. The cost of pain medication is less than $10 a month, which suggests that if a splint can be used for a year, it is about as expensive as a very inexpensive over-the-counter drug, only without the side effect of making the underlying problem worse.

The Norwegian researchers promise further clinical investigations to create a protocol from reducing the dosage of pain relievers and for treating joint deformities. Splints can be used by anyone who has degenerative arthritis, of course, regardless of the pain medications they take.
Kjeken I, Smedslund G, Moe RH, Slatkowsky-Christensen B, Uhlig T, Hagen KB. A systematic review of design and effects of splints and exercise programs in hand osteoarthritis. Arthritis Care Res (Hoboken). 2011 Jan 10. [Epub ahead of print]
Photo courtesy of Jocelyn Kinghorn by Flickr : www.flickr.com/photos/joceykinghorn/11594443926/