Enjoy your Halloween party by all means. However, be careful while using decorative contact lenses. Ophthalmologists warn that a few hours of reckless festive revelry may not only burn a hole in your pocket but also cause permanent damage to your vision.
Sooner than later, Halloween spirit is bound to get on to you. Everyone tries his best to outdo others in his bid to look different. You get outlandish clothes, wear the most ghoulish makeup and even try to change the look of your eyes by using decorative non-corrective contact lenses. But ophthalmologists warn that these decorative contact lenses, when used without a prescription, can cause irreversible damage to your eyesight.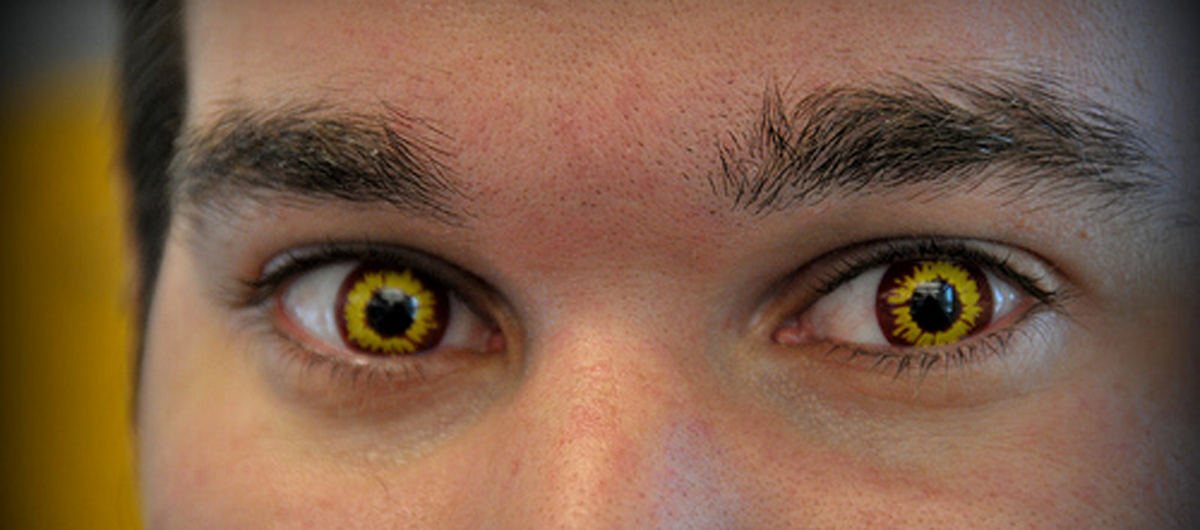 Although one has to be careful about his eye safety, it is during Halloween that maximum patients come to the emergency departments with eye injury. Every year around Halloween, FDA issues guidelines for eye safety. But people tend to ignore them and compromise the safety of their eyes.
FDA warns public to avoid using decorative contact lenses
The FDA has again joined hands with ophthalmologists from various associations, including the American Academy of Ophthalmology, the American Association for Pediatric Ophthalmology and Strabismus, the Contact Lens Association of Ophthalmologists and the American Optometric Association, to impress upon the public to avoid using decorative contact lenses.
Decorative contact lenses are also called by the names of fashion contact lenses, color contact lenses, Plano, zero powered or non-corrective contact lenses. They are used to change the color of the eye or to give the eye a weird look. They can make the eyes glow in dark or create an illusion of vertical eyes. It is because of this reason that these lenses sell like hot cakes around Halloween. One can easily Procure them from street vendors, salons, boutiques, flea markets, novelty stores, convenience stores, record and video stores, beach shops, and stores specializing in Halloween goods. These lenses can also be bought through internet. These lenses can be bought for as less as $20.
But the FDA warns that decorative contact lenses should never be bought from the aforementioned places. The sale of decorative contact lenses is governed by federal laws. They have been classified as prescription or medical devices and their sale is regulated by the FDA. They cannot be sold as over-the-counter merchandise.
Any place selling decorative contact lenses as cosmetics or without a valid prescription, is breaking the law and is liable for prosecution.
The FDA states that it is mandatory for any person wishing to buy a pair of decorative contact lens to consult an ophthalmologist before. The doctor would examine the eyes of the person and then prescribe the lenses according to the person's need. It is a misconception that contact lenses come in a single fit for all size and hence there is no need to involve a doctor. Your ophthalmologist would measure the size of your cornea and then prescribe lenses which are a perfect fit for your eye.
Continue reading after recommendations
Decorative Contact Lenses, by U.S. Food and Drug Administration, last updated on October 10, 2012, accessed on October 21, 2012.
"'Lucky 13' Tips for a Safe Halloween", by U.S. Food and Drug Administration, last updated on October 19, 2011, accessed on October 21, 2012.
"FDA Reminds Consumers of Serious Risks of Using Decorative Contact Lenses without Consulting Eye Care Professional", by U.S. Food and Drug Administration, published on October 27, 2006, accessed on October 21, 2012.
Photo courtesy of ArunKamaraj on Flickr: www.flickr.com/photos/arunkamaraj/3006035899/
Photo courtesy of drburtoni on Flickr: www.flickr.com/photos/84346589@N00/1888897667/