Sustaining care for a parent who has dementia is a long and difficult process. Here are five tips for surviving your years of doing the loving thing for your mother or father.
Think of all the things that adult children may find themselves doing to take care of parents who have dementia. They will probably have to keep up bills, do the shopping, and make sure the house stays clean. They take parents to their doctor appointments, drive them to social activities, and take care of their plants and pets. They prepare meals that they make sure get eaten, and they keep their parents safe.
For many children of parents who live with dementia it's like having another child, but one who may still expect to be in charge of you and who will never become independent.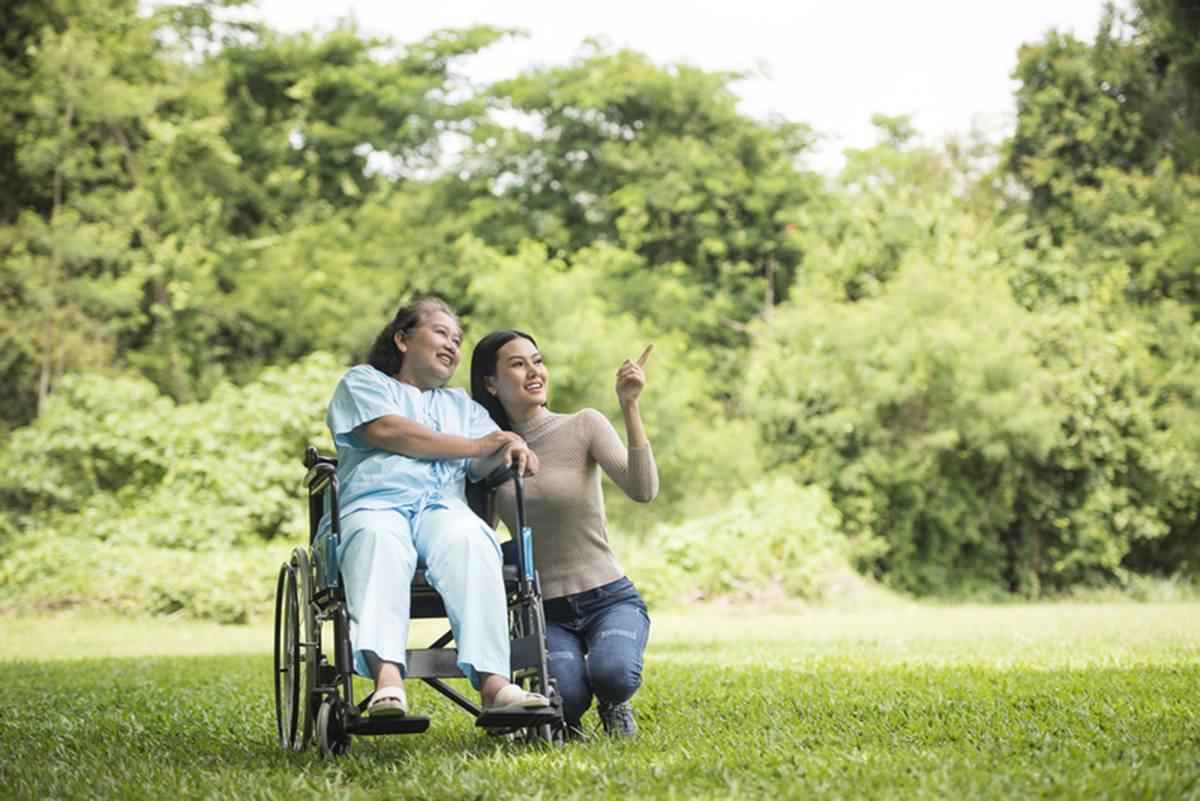 Taking care of parents who have dementia is a long, hard task, but there are certain attitudes that make it more bearable. Here are five tips for taking care of your mom or dad when they develop dementia. First we will consider two practical aspects of taking care of a parent who has dementia, and then we will consider three aspects of caregiver mental health.
Get ready for a very busy life
Children of parents who have mild dementia spend, on average, 10 hours a week doing personal care. Children of parents who have advanced dementia, even when the parent lives in nursing care facility, often spend 40 hours a week or more taking care of mom and dad. There are almost no families in which siblings share responsibilities equally. You aren't likely to be able to rely on your brother or sister for support, so look elsewhere early on.
In the United States:
The average adult caregiver for a parent who has dementia takes care of mom or dad for six years.
57 percent of adult children taking care of a parent who has dementia have to reduce their hours on the job.
7 percent of adult children taking of a parent who has dementia lose their job as a result.
Expect extra expenses and reduced income
As a general rule, anything you do to conserve a parent's assets (house, retirement accounts, investments) needs to be worked out before they are diagnosed with a moderate to advanced neurocognitive disorder. Even if the cost of nursing care is covered, you will have extra expenses from travel, eating out, co-pays at the pharmacy and the doctor's office, and services you hire to keep your own household going. You will also likely be earning less money from your job as your time and energy for work will be limited.
Unskilled home health care aides usually cost $15 to $20 an hour. In-patient care costs at least $48,000 per year.
Remember that all people who have dementia aren't alike
It's not unusual for children who have not seen their parents in a few months or a few years leading up to a dementia diagnosis to react with "Whaaaaat? That can't be them!" Children deal with their shock and grief by categorizing all people who have dementia together. The parent is lumped in with other "crazies" so the child doesn't have to deal with the struggle of recognizing what parts of their memories and personality remain. Children, teens, and young adults, as well as middle-aged adult children who are struggling with their own families, are prone to this reaction.
Stereotyping your parent is easier in the short term, but it deprives you of your relationship with them for the long term. It's OK to prioritize your responsibilities when dealing with your parents, but it's not OK to suppose that their identify is the same as their diagnosis.
Dementia doesn't always cause memory loss. Your parent may know who you are but lack the ability to communicate with you. And while people who have dementia often do embarrassing things, on their "good days" they may be self-aware. Part of being there for a parent who has this disease is keeping the good days better by establishing reasonable limits on behavior.
Keep in mind that dementia isn't their fault
Stigma and shame get in the way of care. When dementia is treated as a moral failing rather than as a disease, options for improvement are ignored. There are always things that your parent could have done differently, but there likely is very little that your parent could have done that would have prevented their disease.
Don't feel like an imposter
Dealing with a parent's dementia requires constant improvisation. As you deal with who they are becoming, you can feel like you don't know who you are. In the later stages of dementia, when both the neurocognitive disease and other health issues become unmanageable, it may seem that everything you try to do to help actually hurts. Don't let anyone shame you for the mistakes you make while you doing your best. But do listen to well-intentioned advice of people who have been through what you are going through.
Chen CK, Clayton K, Chodosh J. The Relationship Between "What We Believe" and "How We Care" Among Daughters Caring for a Parent With Dementia. Am J Alzheimers Dis Other Demen. 2017 Mar.32(2):90-95. doi: 10.1177/1533317517689875. Epub 2017 Jan 24. PMID: 28116927.
Hwang AS, Rosenberg L, Kontos P, Cameron JI, Mihailidis A, Nygård L. Sustaining care for a parent with dementia: an indefinite and intertwined process.Int J Qual Stud Health Well-being. 2017
12(sup2):1389578. doi: 10.1080/17482631.2017.1389578. Erratum in: Int J Qual Stud Health Well-being. 2017 Dec.12(1):1411003. PMID: 29050539.
Hwang AS, Rosenberg L, Kontos P, Cameron JI, Mihailidis A, Nygård L. Sustaining care for a parent with dementia: an indefinite and intertwined process. Int J Qual Stud Health Well-being. 2017
12(sup2):1389578. doi: 10.1080/17482631.2017.1389578. Erratum in: Int J Qual Stud Health Well-being. 2017 Dec
.2(1):1411003. PMID: 29050539.
Photo courtesy of SteadyHealth