Atrial fibrillation is a dangerous disease due to a number of life-style changes you need to make in order to handle this disease. Medications and surgery can help but they will not leave you symptom-free. Alternative therapies can supplement favorably.
Atrial fibrillation is the most common cardiac arrhythmia and is expected to become even more likely in the next four decades. Recent research predicts that this disease will become three times more common by 2050 [1].
With improvements in medicine, physicians are more hopeful than ever in being able to manage even severe forms of atrial fibrillation. Nevertheless, there are still some limitations in the current options for your atrial fibrillation treatment: 
Pharmacology is one potential avenue prescribed by your cardiologist or cardiac surgeon but there are harmful side effects that can hinder your therapy [2].
Cardiac ablation is the next level of therapy but there are also limitations in the effectiveness and patients are likely to suffer from residual episodes of atrial fibrillation even after this surgery [3].
These flare-up episodes can be managed with various antidotes related to nutritional habits — therefore you should follow these 3 diet tips for atrial fibrillation prevention. Atrial fibrillation episodes are also in relation to sedentary lifestyle. For this reason following exercise safety tips when you have atrial fibrillation is inevitable. In addition to modifying nutritional and exercise habits, a number of natural and alternative treatments are effective at reducing the number of atrial fibrillation episodes.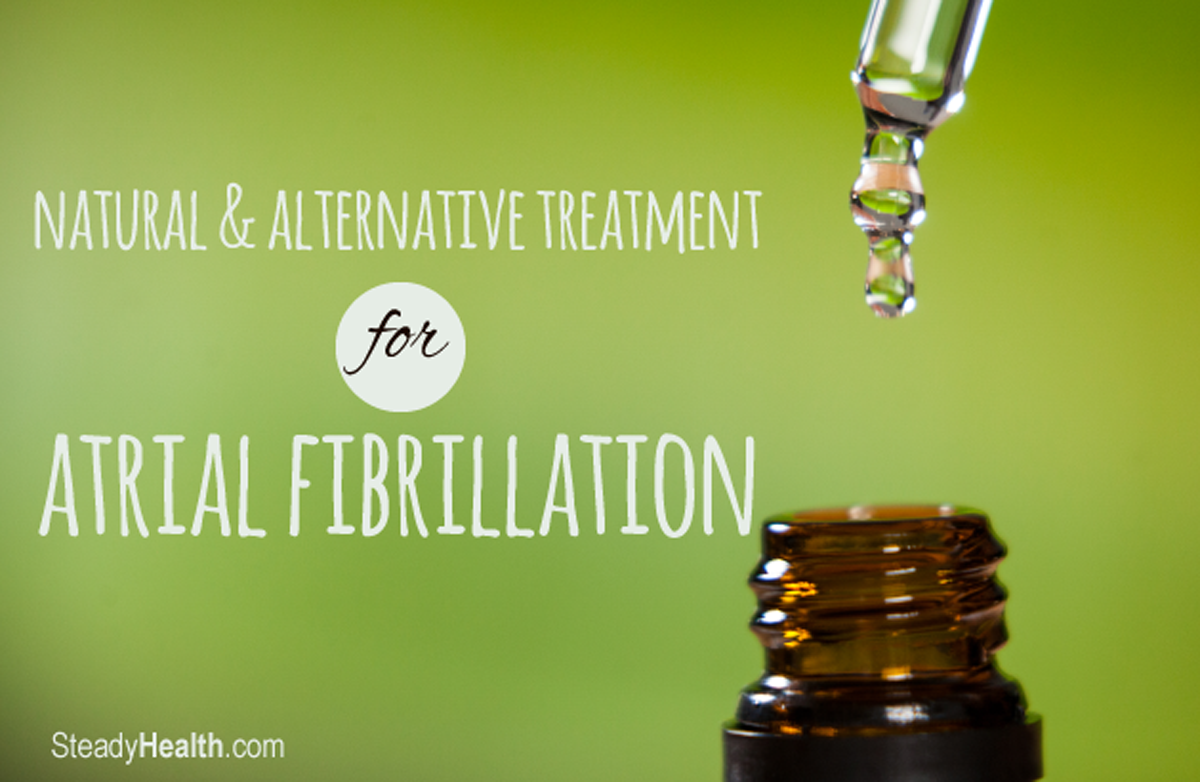 Natural Therapies to Treat Your Atrial Fibrillation 
Several studies have shown the effectiveness of therapies like:
yoga therapy,
acupuncture and
biofeedback [4].
Yoga has been linked with several beneficial effects when dealing with long-term co-morbidities and atrial fibrillation is no exception. In one study, 52 participants between the ages of 18 and 80 suffering from atrial fibrillation were enrolled in yoga classes. Patients completed one-hour training exercises for three times a week for 3 months and noticeable improvement was found in their atrial fibrillation symptoms.
There was nearly a 
50 percent reduction 
of
symptomatic
atrial fibrillation episodes as well as 
non-symptomatic episodes 
and a decrease in systolic blood pressure by nearly 
20 percent 
on average [
5
]. 
Acupuncture is another potential avenue that can treat your atrial fibrillation. Multiple studies have determined that acupuncture does have some obvious therapeutic benefits. In one study, patients suffering from episodic flare-ups of atrial fibrillation were treated with either acupuncture or amiodarone and the effectiveness of therapies was determined.
Acupuncture achieved an 
85 percent rate of cardioversion 
compared to a rate of only 65 percent rate of amiodarone. Acupuncture patients were also able to achieve a resolution of their atrial fibrillation symptoms
sooner 
than the patients just being treated with amiodarone. [
6
]
Biofeedback is the last natural therapy worth mentioning as a means of controlling your atrial fibrillation. Biofeedback involves practicing deep breathing exercises, progressive muscle relaxation, concentrating on specific colors and practicing meditations.
A few small-scale studies have shown that biofeedback has decreased heart rate variation, a precursor to atrial fibrillation. Biofeedback technique is the target to further studies to determine its total therapeutic potential but experts agree that this method is at the maximum efficiency when a patient is guided through the training with a professional instructor only. [7]
Natural Remedies to Treat Your Atrial Fibrillation 
Another line of alternative therapies that have garnished support for the treatment of atrial fibrillation is supplementation. The first branch we will focus on is the supplementation of omega-3 fatty acids. Omega-3 fatty acids have been thoroughly studied and the link with arrhythmias has been established. This compound is found in fish and fish oils [8]. It is believed that the omega-3 fatty acids naturally relax the heart conducting cells called cardiomyocytes and this results in the reduction in atrial fibrillation episodes. [4]
Vitamins and antioxidants are the second category worth mentioning in our investigation of natural therapies against atrial fibrillation. Several studies have linked the break-out of arrhythmias with vitamin deficiencies, most notably: 
vitamin C,
vitamin C,
vitamin C, E and
N-acetylcysteine [4]. 
Vitamin C supplement has been proven to decrease the incidence of atrial fibrillation recurrence after cardioversion [9]. Low Vitamin E levels were also found to be an independent link to causing more episodes of atrial fibrillation [10]. Both Vitamin C and E can be easily found in oranges, tomatoes, sweet peppers and olive oil, to name a few [11].
N-acetylcystein is another easily obtainable compound that has been linked to a decrease in atrial fibrillation episodes. After cardiac ablation surgery, patients were given Tylenol as a follow-up therapy and reported a reduction in atrial fibrillation episodes of over 33 percent compared to the control [12]. Cysteine can be primarily found in animal protein (pork, chicken, sausage, turkey, duck, as well as fish and lunch meats), including dairy sources such as ricotta cheese, cottage cheese, yogurt, and eggs. Vegans can find cysteine in grains and vegetables: granola, oats, broccoli, red pepper, onions, bananas, garlic, soybeans, linseed and wheat germ are significant sources of cysteine.
Herbal medications are the last line of alternative therapies and they also have a useful place in managing your atrial fibrillation symptoms. Shensongyangxin is a medication that has roots in Chinese medicine but has shown promise in a number of cardiac conditions, including atrial fibrillation. This medication is as effective as second-line therapies used in atrial fibrillation but has a much lower side effect panel [13]. 
Even if these methods do show some promise in alleviating your atrial fibrillation, bear in mind that cardiologists should be consulted throughout your management and help you decide what alternative method can help supplement your anti-arrhythmic medication and cardiac ablation therapy. 
Photo courtesy of SteadyHealth.com