In addition to building strength and losing weight, women with PCOS will also want to lower their insulin resistance and androgen levels through exercise. Which workouts should you include?
If you've got PCOS, you'll inevitably have come across contradictory advice about the kinds of exercise that are good for you — some folks who are really into either cardio or strength training will tell you that you should only engage in their preferred kind of exercise. They'd both be wrong, as no one kind of workout is ideal for PCOS patients. It's best to choose a mixture of both cardio and strength training, because:
Cardio — or aerobic — workouts get your heartbeat up, quickly spending energy and burning calories that will help you achieve weight loss if you're one of many women with PCOS struggling with excess weight, and maintain your fitness if you're already at a healthy weight. PCOS places you at a higher risk of heart disease, and cardio workouts will benefit you in that realm, too.
Strength training will strengthen your muscles, of course, but it also boosts your metabolism so you actually use more calories both while working out and resting.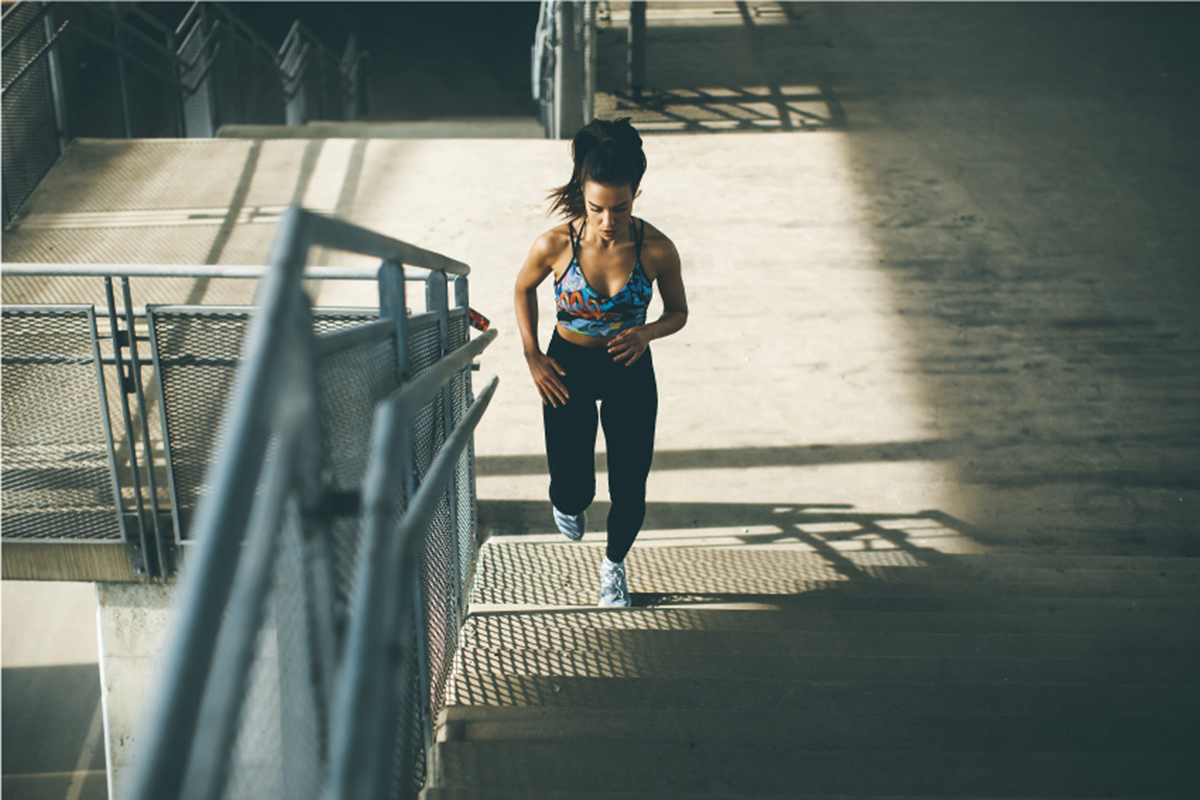 PCOS and cardio: What should you choose?
Cardio exercise is, at its most basic, any exercise that gets your heart rate up — but there are many different kinds, and you can consider including them all in your routine?
High intensity interval training (HIIT)
Steady state moderate intensity cardio
Intervals, which include both
HIIT is a much-discussed kind of workout right now. It mixes periods of, frankly, "tough as a mother" exercise with much slower recovery periods during which you're still working out, but much less intensely. This principle can apply to making different workouts, and examples include running followed by walking, or doing squats, burpees, and push-ups followed by a short period of rest. 
If you have been diagnosed with PCOS, HIIT is a great choice for you, as it does a better job working on your insulin resistance than other workouts do. Research shows, for instance, that PCOS patients doing HIIT were able to lower their fasting insulin by nearly a third, while the other group, which engaged in steady state cardio, only enjoyed a nine percent decrease. HIIT, you'll be pleased to know, also led to fat loss. 
Some exercises that you can include in a home HIIT routine include:
Butt kicks
Burpees, including with a single leg
Jumping squats
Russian Twists
Mountain Climbers
Forearm planks
Would you like to get into HIIT? You can do it with a personal trainer, of course, but you can also design your own home workout with the help of good old Mr Google. Keep in mind that HIIT is truly intense, but short too. To do it right, you need to give the workout your all, ideally until you feel pretty exhausted, but only for about half a minute or so. Then rest for 10 seconds, and repeat. Real HIIT workouts won't be long by definition, but they have a big impact.
Steady state cardio might be a new term if you're not really a workout geek, but the concept will definitely be familiar — you keep a moderate pace for a longer amount of time. This is something you can achieve in a wide variety of ways, like running on a treadmill, using a stationary or real bike, rowing, running, and even swimming.
While this kind of workout is much less intense than HIIT, it's still important not to overdo it if you haven't exercised in a while. Even committing to a steady 10 or 15 minutes will make a difference in the beginning, and you can then work up to half an hour over time. You're generally advised to include steady state cardio workouts in your routine between three and five times a week. 
Keep in mind that if if a workout doesn't really push you at all, and your heart rate stays pretty much the same, your exercise routine won't give you a whole lot of benefits, even if it's quite long. You do want to get sweaty and tired during a workout!
PCOS and strength training: What you need to know
A good exercise routine should focus on true fitness, not just on burning calories so you can lose weight. This is where strength training is really important, as it has numerous benefits that doing cardio alone won't offer you:
Strength training is going to work wonders for your insulin sensitivity! That's great news, because that means you'll lose weight more easily and feel better. 
Strength training also tackles excess androgen levels, which means it can help you with things like acne and hirsutism, as well as potentially improving your fertility.
Because strength training increases your metabolism, it will help you prevent the plateaus people who focus only on cardio so often experience and keep the pounds dropping.
Many people who are just starting an exercise program will also be dieting, which can cause you to lose muscle. That, in turn, lowers the amount of calories you actually require and makes it harder to reach a caloric deficit. Strength training, on the other hand, builds muscle, and muscle tissue requires more calories. This basically means that strength training will help you kick-start your weight loss, and keep it going.
Are you hoping to give strength training a go, but also feel a little scared? Try starting with two or three shorter workouts a week, alternating cardio and strength days, working all your major muscle groups with a variety of different exercises. You can do two sets of 10 or so repetitions to get started.
Try to include:
Plyometrics, also called jump training, is a kind of strength training in which you really work your muscles to the max for short periods of time. Squat jumps, box jumps, and power skipping are examples. Plyos will help create strong muscles and bones. It also, of course, burns calories.
Supersets are two sets of different exercises, one after the other, without resting in between. So, say, 15 bench presses followed by 15 leg presses. It's best if the different exercises work separate muscle groups.
Circuit training means doing a set of different exercises that all target different muscle groups, and then repeating the same set of exercises. You can switch the exercises included in such a program around for variety, which is good for your body as well as your mind (doing the same thing over and over again will have you bored in no time).