Hello! I'm 18, female, and worried!
I have always had throat issues growing up, strep, mono, just a sore throat.
I've had a sore throat for about three months now, but nothing very painful, obviously, or I wouldn't have ignored it for so long. But recently, just a few days ago, I woke up with a large, hard lump in my throat. It is located in the center of my throat..maybe a little to the right, and it's up near the bottom of my chin. When I first noticed it it was very large and you could see it sticking out underneath my chin with my head straight forward. I think it's gone down a little in size now you can only see it when I tilt my head back.
This lump has caused my sore throat to actually be painful. I am constantly feeling as if I am about to cry.. you know when you get that ball in your throat? I feel like this lump is pushing on my tonsils or something.
when I yawn, it feels as if my tonsils are swollen and being pressed up into my ears, so it hurts my ears to yawn.
I'm just wondering if I should be worried? or I don't know. any information you can give is very much appreciated. Thanks in advance!
My throat! :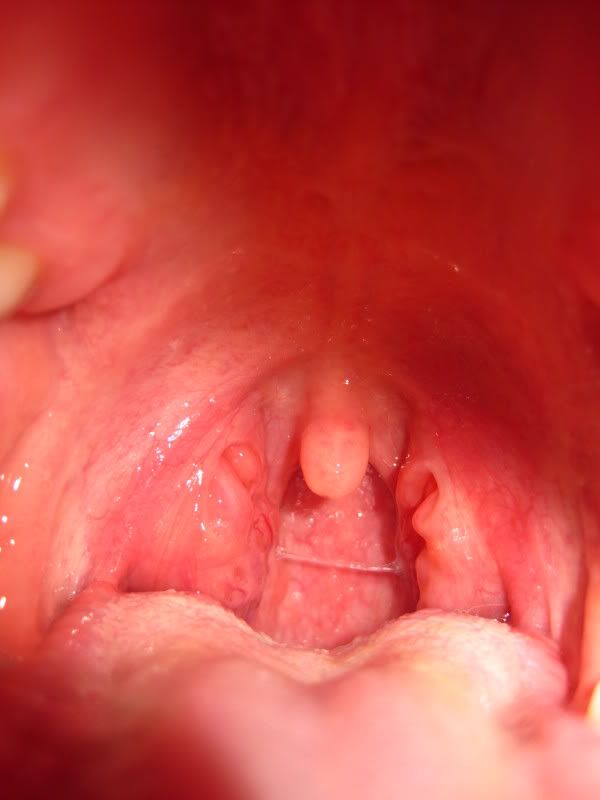 [/img]
Hi

I am suffering from the same problem since last 3 weeks , If you get better let me know how
I have had the same problem as you all of the summer of 08 and up to this point now.
I've spent 2 months going back and forth to the hospital to see what it is cause my tonsils got so badly swollen it was hard to breathe.
They told me I had mono.. and perscriped me to tons of pills and medications!
After about 3 months of this my ear started to bother me and I kept getting regular ear infections..
Currently everything is fine, but I have a hard ball that is un-noticeable underneath my chin.. IT is clearly there when I touch it though..
No doctor has said i should worry, they just tell me it will go away sooon...

Thanks doctors for all your shitty help
aha..
Hope you get better.
I'm sorry to hear that you feel like you didn't get very good help, but unfortunately there isn't very much they can do about mono. Unfortunately you don't like to hear that especially from a medical professional, but that's where we are at in terms of medical progress is right now. I know it's not something you want to hear but that's where we're at. I do agree that it's very frustrating though.
I have a similar problem .. and it is ruining my summer!!!
sidenote ... probably some of the most disturbing images i've seen in a while .. however .. tremendous clarity ... what a cam! :-)
sorry, just thought i'd add a little humor, but i have had the run around from docs aswell. they told me to take some pills and if it didnt go away in two weeks, to perhaps start thinking about .. cancer.. didnt mean to scare you, but you wouldn't be alone .. i sure wish i wasn't.
Do they really think that it might be cancer? I don't think that what you're describing as symptoms would be cancer and I'm really stunned that your doctor would worry you like that unnecessarily. HOw long have oyu been going to this doctor? I'd go to a new one...
So what did it turn out to be? Did it ever go away?