Exercise training used for Tough Mudder consists of months of strenuous fitness programs. For those beginning training one month from competition there are ways you can prepare to not only finish the race, but compete like you have trained for months.
Tough Mudder is a recreational weekend warrior adventure forged in blood, sweat, tears and of course, mud. What makes these events so popular is their unique, challenging obstacles that include freezing pools of murky water, trenches lined with live wires and the ability to push the human body to lengths only understood when you sign the accidental death waiver.
The obstacles within the race can seem out of reach for individuals unconvinced they are ready to push themselves to the limit, but rest assured effective training methods can be the difference between withdrawing from competition and becoming a recurring Mudder junkie.
Typically participants sign up months in advance and prepare daily for this muddy adventure, but in some cases participants sign up last minute and have only weeks to train. Although a setback, this is not a problem. It will require more time in the gym and more discipline to guarantee a successful race. During this one month of training the participant will not only be the participant but also the coach and the personal trainer. It is important to discipline oneself during your training and as you train you will not only build physical strength and endurance, but mental toughness as well.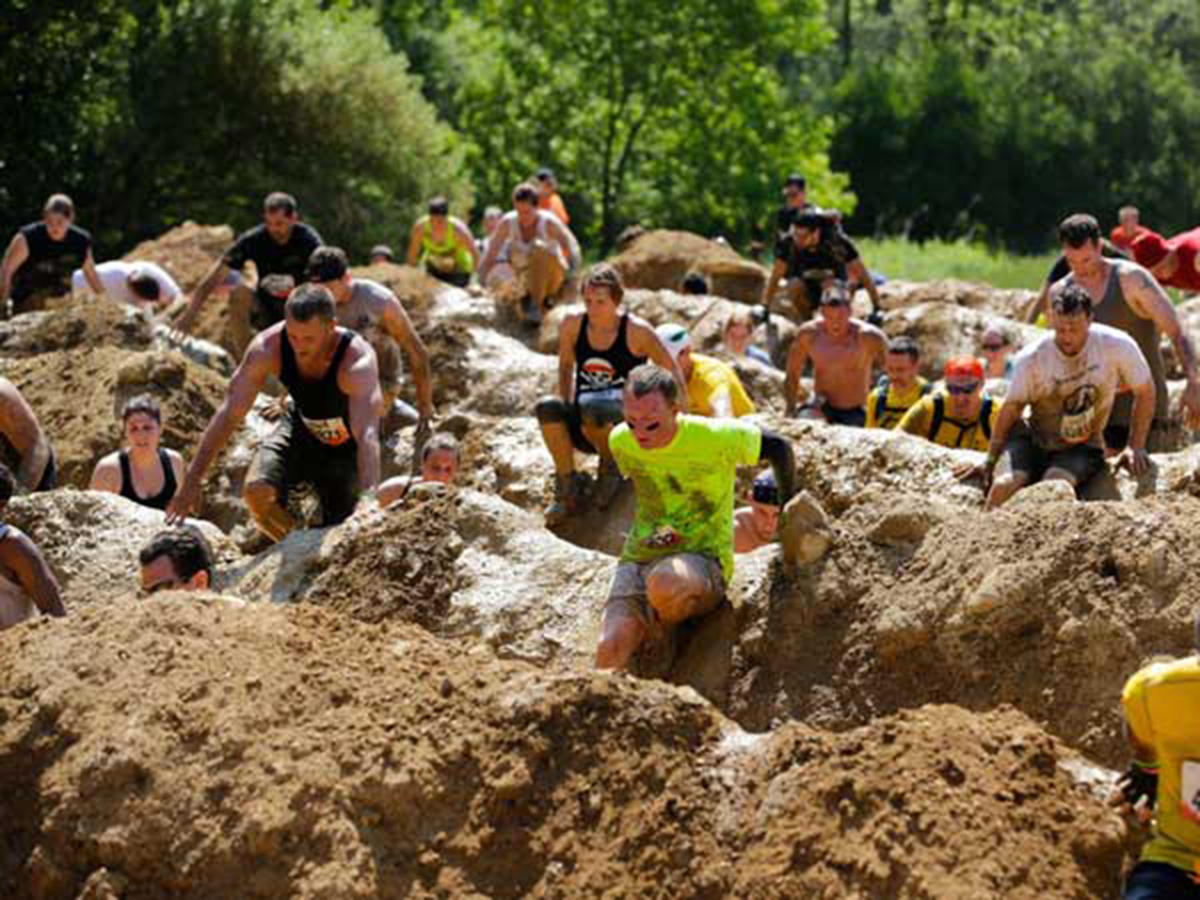 The creation of your workout regimen (or any regimen) should aim to emulate your goal, in this case: Tough Mudder. Tough Mudder competitions consist of twenty to twenty-five obstacles that stretch across a ten to twelve mile course. How do you encompass all of that into your workout session during your lunch break or while the kids are at soccer?
The answer is interval training and creativity
Interval training demands the competitor to choose a variety of exercises that could include pull-ups until exhaustion followed by uphill treadmill running followed by more high intensity demanding exercises to allow your body to accommodate to the demanding workload. We will first take a look at interval training and touch up on creativity later on. 
Benefits of interval training include building endurance, increasing strength, improving V02 Max and several other factors as well. Similar to Fartlek training, you want the body to be able to shift intensities during exercises without interruption in order to compete in long distance events such as Tough Mudder; both the aerobic and anaerobic systems will be working on the day of competition. 
READ Why Your Interval Training Isn't Tabata
When a competitor goes to the gym to train for Tough Mudder by participating in interval training, it is recommended to do a dynamic warm-up to begin.
Before you start stretching hamstrings and quads, take a few laps around the track or jog on the treadmill at a speed of 3 mph. This can promote oxygen in blood flow to the muscles before stretching.
Participants should then engage in warm-ups like lunges, lunges with trunk twist, butt kicks, high knees, jumping jacks - these will allow you to activate your muscles for weight training. Be sure to engage your core as well, perhaps with some crunches, or by simply contracting your abdomen and keep strong posture during dynamic warm-ups. Your core muscles is the bridge between your upper and lower body, ignoring it does not allow your body to work together as a single unit.
Continue reading after recommendations
Photo courtesy of Nathan McFadden
Photo courtesy of Philly.com
Photo courtesy of Blueridgelife.com