Crisis Pregnancy Centers may be a true lifesaver for pregnant women who are scared, alone, and need help to continue a surprise but wanted pregnancy. They also have a darker side, however. What is the real agenda of these centers?
Imagine this. Your period is late. At first, you think nothing of it — you've been under a lot of stress recently, and you know that can mess with the timing of your menstruation. With each passing day, however, your suspicions of pregnancy grow, to the point where you're pretty sure you're expecting a baby. The timing couldn't have been worse. You're broke, and you feel scared and alone. You may be in a happy or unhappy relationship or marriage, or you may be single. Your current circumstances are difficult, but know, in your heart, that you want to nurture this tiny being growing inside of you. You just don't know how, or with what. You need help, for starters with the pregnancy test you really cannot afford to buy.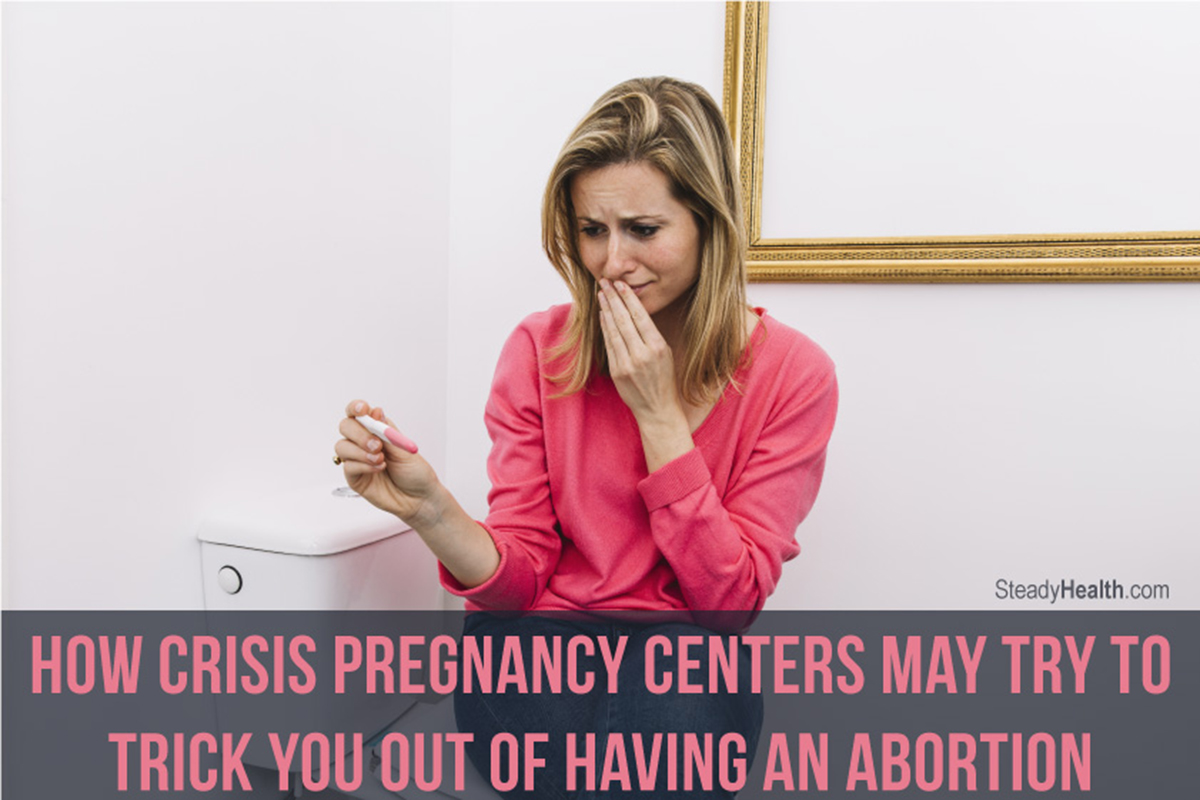 Luckily, there's this place up the road from you that you know provides free pregnancy tests — you've seen the signs outside. Nothing to lose, you make an appointment. Not only do you get the pregnancy test you need, which confirms what you really already knew, the Crisis Pregnancy Center also, it turns out, offers free ultrasounds. Unlike your mom, neighbor, or friend, the grandmotherly peer counselor doesn't tell you that it's best to just get an abortion, that broke people, or young people, or unmarried people should end their pregnancies and delay having children until the right time comes along. She supports you, and commends you for choosing life. What's more, the Center also provides diapers, burp cloths, baby clothes... anything you might need to get on your feet. Now, you're not so alone anymore. You're starting to feel like maybe you can do this. 
When you hear the term "Crisis Pregnancy Center", that's the kind of story you may think of. Crisis Pregnancy Centers may, indeed, be a lifeline for women just like this fictional one who nonetheless certainly exists somewhere out there right now — women facing an unplanned pregnancy they want to continue with a burning desire, but who are scared, who don't know where to turn, who benefit from a shoulder to cry on and to plan with as well as material resources, and who do not mind the ideological bent (Christian, nearly always) of the place they end up at. 
Such women include those who participated in one study [1], who mainly visited a Crisis Pregnancy Center because they
provided access to diapers (87 percent),
baby clothes and other items (44 percent),
and counseling related to parenting and parenting resources (55 percent).
Only six percent of the study subjects looked to the pregnancy resource center to provide them with help in considering pregnancy decisions, while an even smaller two percent "discussed abortion during peer counseling". 
Women attending Crisis Pregnancy Centers, another study found, generally did so with parenting, not abortion, in view, and most "recognized the CPC was antiabortion, ideologically Christian, and not a medical establishment" [
2
]. 
For these women, Crisis Pregnancy Centers fulfill a very real need during a very difficult time. There's a darker side, however — a much darker side. 
The Problem With Crisis Pregnancy Centers
Now imagine this. Your period is late. At first, you think nothing of it — you've been under a lot of stress recently, and you know that can mess with the timing of your menstruation. With each passing day, however, your suspicions of pregnancy grow, to the point where you're pretty sure you can't not be pregnant. You're broke, scared, and alone. You know that if you are indeed pregnant, you really can't, really don't want to, continue your pregnancy. Not that your reasons why should matter when it comes to receiving support, but perhaps you were raped or are in an abusive relationship with a man you most definitely do not want a child with. 
You take to Google to find out where in your hometown you can get an abortion, and the site of a local clinic pops up immediately. Relieved, you give them a call and ask what they'd charge for a first-trimester termination. The man on the other end of the line tells you that they don't usually discuss pricing over the phone, and encourages you to come in for a free pregnancy test and a chat to discuss your options. 
So you make an appointment. The center looks medical enough, but they're nothing like Planned Parenthood. After asking you to pee into a cup, the staff of the center ask you probing questions about your personal life, before plonking you down in front of an old VCR playing a video about the horrors of abortion. There are Bibles in the room, and you're offered an ultrasound that supposedly determines you're further along than you could ever have suspected. Your baby is now this big, the volunteer announces, pulling out one of a series of plastic models of fetuses. (If you're extra "lucky", they may even tell you you're welcome to keep it.) Also, if you have an abortion, you'll probably wind up with major depression and perhaps even breast cancer. The center still hasn't told you they don't actually offer pregnancy terminations, but the atmosphere grows creepier by the minute.
What Purpose Do Crisis Pregnancy Centers Truly Serve?
That right there cuts to the heart of what Crisis Pregnancy Centers are there for. Major organizations that run these facilities — also referred to as Pregnancy Resource Centers — in the US include Care Net [3] and Heartbeat International [4]. Let's hear what they're all about directly from the source. 
"Pregnancy Centers are local, nonprofit organizations that provide compassionate support to women and men faced with difficult pregnancy decisions,"
Care Net shares, adding:
"Pregnancy isn't always expected and can often come at a difficult time; that's where Care Net pregnancy centers come in."
Services their centers may offer, they note, include free pregnancy tests, ultrasounds, and information about possible options. At the very bottom of their page on what they do, Care Net subtly notes that they do not provide abortions.
While the particular page that details the organization's activities seems to be partially addressed to women who may use their services, the rest of their website is clearer about their aim — preventing women from having abortions. 
Heartbeat International takes a similar approach. Though their website is quite clear about the fact that their mission is to "reach and rescue as many lives as possible", clicking the Pregnant? button on the top right of their homepage directs you to a completely different website — OptionLine [4]. That site volunteers that "it can be a good idea to take a couple of days to get as much information as you can about all your options to make the best choice for you" if you're currently considering terminating your pregnancy. Elsewhere, they give a nod to the idea that "this is your choice to make", but again, they only add that they don't provide abortions or refer anyone to abortion providers in small print at the bottom of the page. 
Let's be clear — though I've seen Care Net refer to the women they see as "patients" in one of their YouTube videos, and though these centers carry out pregnancy tests and ultrasounds, they are not medical facilities, and they're not a friendly chat over a cup of tea either, not unless you embrace their viewpoints. They are, rather, organizations with a very specific agenda.
Though they may hide that agenda from the women they see, they're clear enough with their own supporters. Crisis Pregnancy Centers are, at heart, propaganda machines that are meant to frighten and trick women into continuing pregnancies they don't want, usually in the name of religion. 
Next Stop: Lies
The misleading information — yup, that's another term for "lies" — Crisis Pregnancy Centers dish out may start with not being open about the fact that they don't provide pregnancy terminations over the phone in other to get women in the door, go on to include claims that a woman is further along in her pregnancy than she really is to give her the impression that it's too late to terminate, and almost always involves scare tactics to try to talk women out of an abortion. 
Research reveals that [6]:
80 percent of pregnancy crisis center websites provide "at least one false or misleading piece of information". 
48 percent made false claims about the ways in which abortion impacts mental health. (For the record, most women who have abortions do not regret them [7].)
20 percent falsely claimed that having an abortion increases a woman's risk of breast cancer. (It doesn't [8].)
13 percent made false claims about abortions leading to future infertility. 
The authors' shockingly obvious conclusion? "States should not list agencies that provide inaccurate information as resources in their directories." Unfortunately, many do, and some Crisis Pregnancy Centers are even funded with the help of taxpayer money. Crisis Pregnancy Centers are a public health risk, another study concludes, in that they "often provide inaccurate information that may delay or interfere with women's access to abortion and contraceptive services, improperly influence women's reproductive health decisions, and potentially increase the number of unintended births". [9]
Pregnant Women Deserve Transparency
Abortion clinics in the US have been closing at an alarming rate since 2010, with at least 300 bits of legislation being introduced to restrict women's access to safe terminations of pregnancy across the country. For women whose nearest abortion clinic closed, the mean travel distance to the next closest clinic is 85 miles [10]. 
With Crisis Pregnancy Centers — who aren't always open about the fact that they do not provide abortions — now outnumbering real abortion clinics 4000 to 730 [11], it's becoming more and more likely that a pregnant woman inadvertently ends up in a place that's nothing like the one she was looking for. What's more, these Crisis Pregnancy Centers receive political support from prominent pro-life politicians, including Vice President Mike Pence [12], which means they're unlikely to go anywhere any time soon. 
There's certainly a time and a place for these centers — just look at the fictional woman from the beginning of this article. There should not, however, be any space for trickery. If the people running these centers believe their work is just and right, they should surely be able to carry it out without lying about the services they provide and the medical consequences of abortion? 
Photo courtesy of SteadyHealth.com