A woman named Emily recently announced her pregnancy... by posing for a picture with Will Smith and a handwritten sign telling the world she was expecting.
Blogs joked around about Will Smith being the father, but he obviously isn't and he just did an awesome thing by helping Emily tell the world her happy news.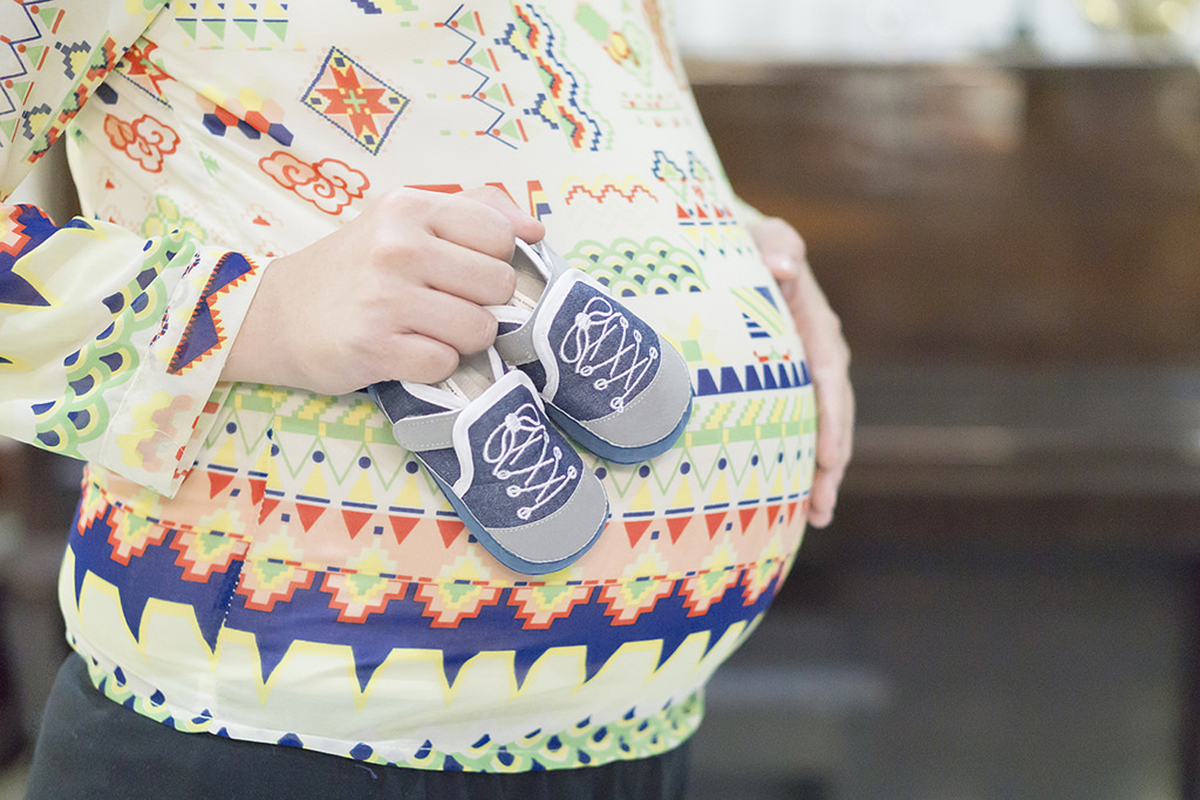 Pregnancy announcements pre-Facebook
Folks who are trying to conceive and those who are newly pregnant may find themselves wondering how they can announce their pregnancy in an original and eye-catching way. In this high-tech age, there are plenty of ideas to be found on Facebook and Pinterest. When we just started trying to conceive, Facebook hadn't taken off yet and announcing your pregnancy wasn't that big a deal yet. Some friends invited their family over for dinner, and served mashed potatoes in a big pan. At the bottom of the pan was a note that they were pregnant. Saving your pregnancy test and wrapping it up in gift paper for the grandparents to-be was another thing some people did, and you could of course frame a picture of your first ultrasound and give it to relatives. You'll see plenty of pictures of positive pregnancy tests on Facebook, but announcing a pregnancy is a Big Deal these days. Many people have really creative ideas on how to go about it.
Pinterest's pregnancy announcement ideas
You could have an older child announce your pregnancy by wearing a "big brother" or "big sister" shirt and posting that on the web. You could make the old "pregnancy test display" a bit more interesting by including it in a scrapbooking page, with cute buttons and pregnancy-related pricey but cute scrapbooking accessories. Another cute thing I saw on Pinterest was a picture of a couple with their birth years written in chalk on the sidewalk, and baby shoes with "Coming Soon" underneath next to them. That was pretty cute, I thought. "For sale, or trade for crib", was the caption of another picture.
The expectant mom was holding up her hot bikini, and the future dad was preparing to part with his video games. Yet another expectant couple posted a picture of themselves wearing boxing gloves, with the message "Knocked up round one!" With so many funny ideas to explore on Pinterest, there's no doubt that you can put a smile on the face of everyone who sees your pregnancy announcement. Be careful, though. Some pregnancy announcements are just weird. I didn't see much humor in the picture of a crying little girl in a crib that sported a note that said "eviction notice new tenant moving in on [X date]".
Way to battle sibling rivalry in the early days. I didn't like the picture of a mom to-be vomiting and an expectant dad lying on the floor in "desperation" either. Or a pregnancy announcement that started with "Roses are red, violets are blue". Come on folks please stay away from the uber-cheesy, and anything involving gender stereotypes is soooo last century!
When to announce your pregnancy
However you choose to announce your pregnancy, people are usually excited. A simple "I'm pregnant" is really just as good as something that involves hiring a professional photographer. You're still bound to wonder when you should tell people you are pregnant. This is a very personal decision and there are no rights or wrongs, but there are a few things to take into account. The main thing is that your risk of miscarriage is highest in the first 12 weeks, or the first trimester of pregnancy. Around one in five pregnancies end in miscarriage during the first trimester.
READ Should You Have Your Baby Screened For Genetic Diseases During Pregnancy?
Before you excitedly tell everyone you are expecting, ask yourself if you would be OK with those same people knowing you had a miscarriage too. People tend to say hurtful stuff when you experience a pregnancy loss. That's usually completely unintended, but it happens and it can add to your grief. Then again, some women really need the support of others if they miscarry, and it will be so much easier to talk about your loss if you already told people you were pregnant. But... back to the positive stuff. Are you trying to conceive a baby, or are you already excited to be expecting a little one? We'd like to hear all about how you are going to announce your pregnancy!